The number of people detained by Turkish authorities following the failed coup to oust President Recep Tayyip Erdogan has passed 26,000.
The justice minister, Bekir Bozdag, told the state-run Anadolu Agency that 16,000 of those had been formally arrested and taken into custody while 6,000 detainees were being processed and almost 8,000 suspects remain free but under investigation.
Mr Bozdag did not give details on the status of the remaining 4,000 suspects out of the 26,000 reportedly detained and it was unclear whether any had been released.
Thousands of members of the armed forces, police, judiciary, civil service and public sector have been removed from their posts over alleged links to the Gulen or "Hizmet" movement, which was blamed for the coup.
Around 50,000 passports were cancelled, journalists and academics have been arrested and more than 130 media outlets were shut down.
Authorities say the attempt on 15 July was staged by a military faction loyal to the exiled Muslim cleric Fethullah Gulen, but it has denied any involvement.
Hundreds of soldiers armed with fighter jets, helicopters and tanks took control of key areas of the capital while Mr Erdogan was on holiday but were defeated after the President flew into Istanbul to make a defiant speech against an "act of treason and rebellion".
Western governments and human rights groups have condemned the coup attempt, in which at least 246 people were killed and more than 2,000 injured, and also expressed concern over the extent of the crackdown tightening Mr Erdogan's grip on power.
In pictures: Turkey coup attempt
In pictures: Turkey coup attempt
1/17

Turkish President Erdogan attends the funeral service for victims of the thwarted coup in Istanbul at Fatih mosque on July 17, 2016 in Istanbul, Turkey

Burak Kara/Getty Images

2/17

Soldiers involved in the coup attempt surrender on Bosphorus bridge with their hands raised in Istanbul on 16 July, 2016

Gokhan Tan/Getty

3/17

A civilian beats a soldier after troops involved in the coup surrendered on the Bosphorus Bridge in Istanbul, Turkey, 16 July, 2016

REUTERS/Murad Sezer

4/17

Surrendered Turkish soldiers who were involved in the coup are beaten by a civilian

Reuters

5/17

Soliders involved in the coup attempt surrender on Bosphorus bridge

Getty

6/17

Supporters of Turkish President Recep Tayyip Erdogan wave flags as they capture a Turkish Army vehicle

Getty

7/17

People pose near a tank after troops involved in the coup surrendered on the Bosphorus Bridge in Istanbul, Turkey, 16 July, 2016

Reuters

8/17

Turkish soldiers block Istanbul's Bosphorus Brigde

Getty

9/17

A Turkish military stands guard near the Taksim Square in Istanbul

Reuters

10/17

Pierre Crom/Twitter

11/17

Turkish soldiers secure the area as supporters of Recep Tayyip Erdogan protest in Istanbul's Taksim square

AP

12/17

Murad Sezer/Reuters

13/17

Turkish soldiers detain police officers during a security shutdown of the Bosphorus Bridge

Reuters

14/17

Turkish Army armoured personnel carriers in the main streets of Istanbul

Getty

15/17

Chaos reigned in Istanbul as tanks drove through the streets

EPA/TOLGA BOZOGLU

16/17

Turkish President Tayyip Erdogan speaks to media in the resort town of Marmaris

Reuters

17/17

Supporters of President Erdogan celebrate in Ankara following the suppression of the attempted coup

Reuters
Turkish authorities say Gulen's followers used messaging apps to communicate with each other in the years ahead of the coup attempt, allowing Turkey's national intelligence agency, to identify at least 56,000 operatives in the network since 2014.
"Our assessment is that 150,000 unique operatives used ByLock to communicate with others," a senior Turkish official said, adding that the group has also used another app called Eagle, which could be disguised as other popular instant messaging apps such as Whatsapp and Tango.
Turkey's Haberturk newspaper reported that the High Council of Judges and Prosecutors has carried out work for another round of purges for 1,500 judges and prosecutors after nearly 3,000 were suspended in the days after the coup attempt. 
The country has also been restructuring its armed forces after 1,700 military personnel were dishonourably discharged, including a large proportion of senior generals. 
The Director of US National Intelligence, James Clapper, warned that the purges were hampering the fight against Isis by sweeping away Turkish officers who had worked closely with international partners.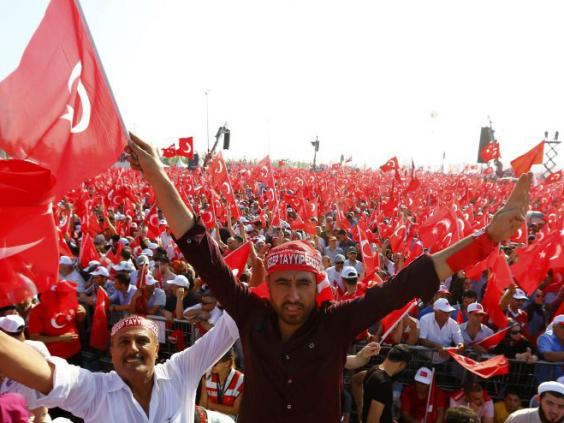 Talks over Turkey's possible accession to the EU have been strained amid the continuing crackdown, with foreign minister Mevlut Cavusoglu threatening to back out of the refugee deal if visa-free travel is not granted and the EU responding with accusations of "blackmail". 
The EU demands that Turkey fulfil a list of criteria including amending its anti-terrorism laws so they cannot be used to target academics, journalists and political dissenters. 
Mr Erdogan has accused countries raising concern over the response to the coup of supporting the plotters and targeted Amnesty International for a report alleging that some people detained in connection with the attempt had been tortured. 
He insisted that Turkey had a policy of "zero tolerance toward torture" and accused the human rights organisation of ignoring violence committed by plotters during the attempt. 
Additional reporting by Reuters