Turkish police have reportedly detained the brother of Fethullah Gulen, as Recep Erdogan's government continues its purge of the exiled cleric's supporters following the summer's failed coup.
Qutbadin Gulen was detained in western Turkey on suspicion of being involved in the coup attempt which saw soldiers on the streets of Ankara and Istanbul in July.
Police, acting on a tip-off, detained Mr Qutbadin Gulen at the home of a relative in the Gazziemir district of the Izmir province, Agence France Presse reported.
State news agency Anadolu said he was accused of "membership of an armed terror group" and is currently being questioned by anti-terrorism police. Anadolu said books written by his brother had been found in the house and confiscated by police.  
Following his successful suppression of the uprising – which killed 265 people – Mr Erdogan has purged the armed forces, police and civil servants of "Gullenists" after claiming Fethullah Gulen was behind the plot. His nephew, Muhammat Sait Gulen, was one of those arrested in the first days after the coup.
Turkish police have so far arrested an estimated 32,000 people in connection with the coup and a further 58,000  have been sacked.
In pictures: Turkey coup attempt
In pictures: Turkey coup attempt
1/17

Turkish President Erdogan attends the funeral service for victims of the thwarted coup in Istanbul at Fatih mosque on July 17, 2016 in Istanbul, Turkey

Burak Kara/Getty Images

2/17

Soldiers involved in the coup attempt surrender on Bosphorus bridge with their hands raised in Istanbul on 16 July, 2016

Gokhan Tan/Getty

3/17

A civilian beats a soldier after troops involved in the coup surrendered on the Bosphorus Bridge in Istanbul, Turkey, 16 July, 2016

REUTERS/Murad Sezer

4/17

Surrendered Turkish soldiers who were involved in the coup are beaten by a civilian

Reuters

5/17

Soliders involved in the coup attempt surrender on Bosphorus bridge

Getty

6/17

Supporters of Turkish President Recep Tayyip Erdogan wave flags as they capture a Turkish Army vehicle

Getty

7/17

People pose near a tank after troops involved in the coup surrendered on the Bosphorus Bridge in Istanbul, Turkey, 16 July, 2016

Reuters

8/17

Turkish soldiers block Istanbul's Bosphorus Brigde

Getty

9/17

A Turkish military stands guard near the Taksim Square in Istanbul

Reuters

10/17

Pierre Crom/Twitter

11/17

Turkish soldiers secure the area as supporters of Recep Tayyip Erdogan protest in Istanbul's Taksim square

AP

12/17

Murad Sezer/Reuters

13/17

Turkish soldiers detain police officers during a security shutdown of the Bosphorus Bridge

Reuters

14/17

Turkish Army armoured personnel carriers in the main streets of Istanbul

Getty

15/17

Chaos reigned in Istanbul as tanks drove through the streets

EPA/TOLGA BOZOGLU

16/17

Turkish President Tayyip Erdogan speaks to media in the resort town of Marmaris

Reuters

17/17

Supporters of President Erdogan celebrate in Ankara following the suppression of the attempted coup

Reuters
Soldiers seized control of a major television station, the main airport and both bridges on the Bosphorus strait in Istanbul at around 10pm on 15 July and forced a newsreader to read out a prepared statement saying they were now running the country. 
But Mr Erdogan, who was on holiday in the south of Turkey at the time, called on his supporters to take to the streets to defend the regime during an interview conducted via FaceTime on a private news channel.
In the days following the attempted coup Mr Erdogan claimed the 75-year-old, who has lived in exile in Pennsylvania since 1999, was behind the plot and demanded his extradition by the US authorities. Washington has repeatedly denied the request until the Turkish government can provide evidence that Mr Gulen was involved.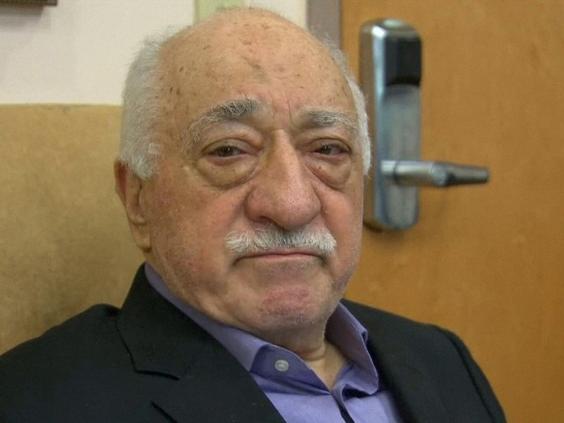 Fethullah Gulen leads the Hizmet movement which promotes interfaith dialogue and has supporters from all over the world. 
He was once an ally of Mr Erdogan but their relationship collapsed after he was accused of secretly organising a corruption probe against members of Mr Erdogan's AKP party in 2013. He has denied any involvement and claimed that Mr Erdogan may have staged the coup as an excuse to purge his followers during a press conference at his US home.
Additional reporting by agencies
Reuse content