As he emerged before the jubilant crowds on the eve of his election victory, one might have expected Recep Tayyip Erdogan to be in a conciliatory mood.
His ruling Justice and Development party (AK) claimed a resounding victory in Sunday's municipal elections – largely viewed as a referendum on Mr Erdogan's leadership after a corruption crisis – further entrenching its 12-year rule. But it was revenge the Prime Minister had on his mind.
"We are going to go into the caves of those traitors," he told the cheering crowds. "Some might try to run away tomorrow but they are going to pay for what they have done."
His words were  directed towards his enemies – chief among them his arch-rival Fethullah Gulen, a moderate Islamic cleric whom Mr Erdogan blames for a widening graft probe and bribery scandal embroiling the premier and his entourage. Tensions between the two, and how Mr Erdogan  will address those tensions, could have worrying repercussions for the country's economy – which ranks in the world's top 20 – and polarise a country where a pious heartland coexists with progressive Muslims living in cities.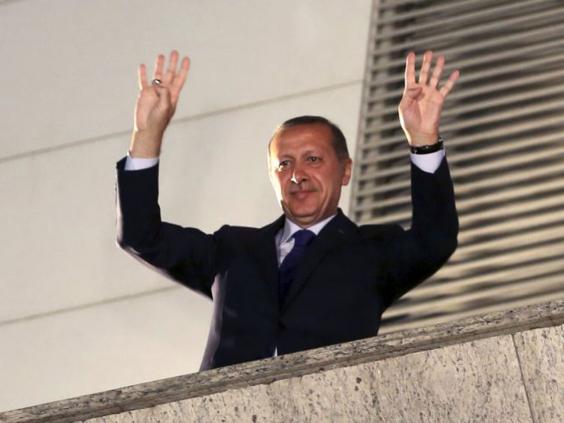 Mr Gulen, who lives in self-imposed exile in the United States, used to support Mr Erdogan until a widening rift between the two men turned into open conflict in December. The country's judiciary, where Mr Gulen is thought to have a strong influence, targeted the sons of Erdogan's ministers, making a series of corruption-related arrests while several anonymous recordings linking the premier himself to bribery scandals were leaked.
Erdogan struck back by reassigning hundreds of people in the judiciary and police, while his government gained enhanced controls over the courts. When the leaked wiretappings continued to expose his dictatorial traits and alleged corruption, the premier shut down social media Twitter and YouTube.  
The main opposition, the People's Republican Party (CHP) made small gains after focusing its campaign on criticising the Erdogan administration. But it failed to capitalise on his woes, and many voters viewed its policies as weak. It also failed to garner support from the more traditional, working-class Turks whom it had long ignored.  According to semi-state press agency Anadolu, AKP  won 45.56 per cent of the votes while CHP received 27.91 per cent.
"The CHP and other parties are pathetic," said Ayse Ozdenir, a mother of two who voted for the AK. "Erdogan has promised and delivered social services, an effective administration and good life – voting against that would be treason."
Observers say the election victory is likely to embolden Mr Erdogan in going after Mr Gulen's followers.
"We will see more pressure on the borders of legality after the elections because the judiciary, police and Gulen movement will be cleaned and that will not be very democratic," said Can Paker, from TESEV, a think tank. But Mr Paker was confident Erdogan's administration, which has been accused of being increasingly authoritarian, will eventually be reined in.
"A progressing middle class which aspires to personal freedoms – do you think [they] will allow a leader to suppress them?" he said.
Mr Erdogan is unable to run for a fourth term as premier unless the constitution is amended. An alternative would be to run for president at this summer's elections, but he will need the backing of a clear majority of the Turkish electorate. The latest polls suggest he will need to make some unlikely alliances, and some suggest that he may even approach the Kurdish parties in order to secure a win.
Reuse content