Europeans across the world will not be able to walk the streets safely if they keep up their current attitude towards Turkey, President Recep Tayyip Erdogan has warned.
Turkey has been mired in a diplomatic row with Germany and the Netherlands after they banned Turkish officials from campaigning in support of an April referendum on boosting the Turkish President's powers.
"If Europe continues this way, no European in any part of the world can walk safely on the streets," Mr Erdogan told journalists in Ankara. 
He added: "We, as Turkey, call on Europe to respect human rights and democracy."
Turkish government officials are still participating in events for expatriate Turks across Europe, but are not campaigning for the referendum, the Turkish deputy prime minister has said.
Numan Kurtulmus said the row had helped Turks in Europe better understand the constitutional changes proposed in the referendum. 
He said the "footsteps of neo-Nazism and extreme racism" were being heard in Europe.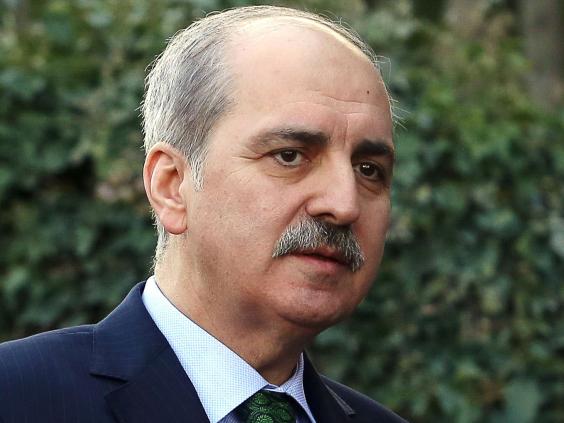 Germany's new President, Frank-Walter Steinmeier, used his first speech in the role to accuse Mr Erdogan of jeopardising everything Turkey has achieved in recent years.
"The way we look [at Turkey] is characterised by worry, that everything that has been built up over years and decades is collapsing," Mr Steinmeier said.
"President Erdogan, you are jeopardising everything that you, with others, have built," he said, adding he would welcome "credible signs" to ease the situation.
Nato member Turkey has repeatedly accused Germany of using Nazi tactics and has caused anger by detaining German-Turkish journalist Deniz Yucel.
"End the unspeakable Nazi comparisons," Mr Steinmeier added. "Do not cut the ties to those people who want partnership with Turkey. Respect the rule of law and the freedom of media and journalists. And release Deniz Yucel."
Mr Erdogan has previously branded the Netherlands "Nazi remnants" and accused Germany of "fascist actions".
He has said his country may review its ties with Europe after the referendum, which he hopes will give him sweeping new powers, and has described Europe as "fascist and cruel", saying it resembles the pre-Second World War era.
In pictures: Turkey coup attempt
In pictures: Turkey coup attempt
1/17

Turkish President Erdogan attends the funeral service for victims of the thwarted coup in Istanbul at Fatih mosque on July 17, 2016 in Istanbul, Turkey

Burak Kara/Getty Images

2/17

Soldiers involved in the coup attempt surrender on Bosphorus bridge with their hands raised in Istanbul on 16 July, 2016

Gokhan Tan/Getty

3/17

A civilian beats a soldier after troops involved in the coup surrendered on the Bosphorus Bridge in Istanbul, Turkey, 16 July, 2016

REUTERS/Murad Sezer

4/17

Surrendered Turkish soldiers who were involved in the coup are beaten by a civilian

Reuters

5/17

Soliders involved in the coup attempt surrender on Bosphorus bridge

Getty

6/17

Supporters of Turkish President Recep Tayyip Erdogan wave flags as they capture a Turkish Army vehicle

Getty

7/17

People pose near a tank after troops involved in the coup surrendered on the Bosphorus Bridge in Istanbul, Turkey, 16 July, 2016

Reuters

8/17

Turkish soldiers block Istanbul's Bosphorus Brigde

Getty

9/17

A Turkish military stands guard near the Taksim Square in Istanbul

Reuters

10/17

Pierre Crom/Twitter

11/17

Turkish soldiers secure the area as supporters of Recep Tayyip Erdogan protest in Istanbul's Taksim square

AP

12/17

Murad Sezer/Reuters

13/17

Turkish soldiers detain police officers during a security shutdown of the Bosphorus Bridge

Reuters

14/17

Turkish Army armoured personnel carriers in the main streets of Istanbul

Getty

15/17

Chaos reigned in Istanbul as tanks drove through the streets

EPA/TOLGA BOZOGLU

16/17

Turkish President Tayyip Erdogan speaks to media in the resort town of Marmaris

Reuters

17/17

Supporters of President Erdogan celebrate in Ankara following the suppression of the attempted coup

Reuters
European leaders have made repeated calls for Turkish officials to avoid Nazi comparisons and the head of the Central Council of Jews in Germany accused Mr Erdogan of disrespecting the memory of the victims of the Holocaust.
"The comparisons between today's Federal Republic of Germany and National Socialism, which we have heard in recent days, are not only insulting and absolutely false – they also relativise the Nazis' rule of terror," Josef Schuster said.
"The comparison is monstrous and denigrates the suffering of the victims of the Shoah."
German Chancellor Angela Merkel has said Turkey should stop Nazi comparisons "with no ifs or buts".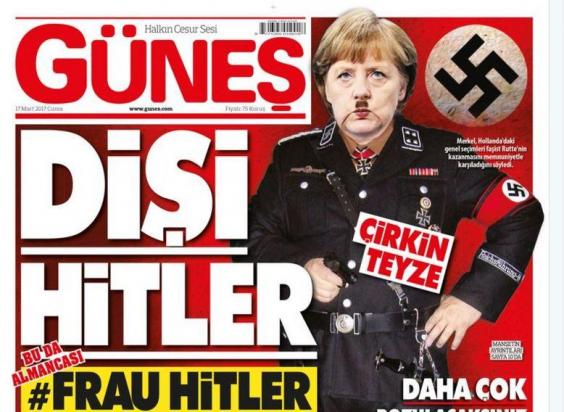 The controversy deepened last week when a Turkish pro-government newspaper depicted Ms Merkel as Adolf Hitler on its front page, branding her "Mrs Hitler".
The right-wing tabloid accused the German chancellor of attempting to lead a fascist movement against Turkey.
It came days after Germany's biggest-selling newspaper Bild attacked Mr Erdogan for threatening the stability of Europe through his "lust for power".
"Bild tells the truth to Erdogan's face – you are not a democrat! You are hurting your country! You are not welcome here!" the German newspaper said.
Turkish hackers also spread Nazi accusations across high profile Twitter accounts, posting pro-Erdogan messages from accounts including Amnesty International, BBC North America and Forbes.
While tensions between Turkey and Europe have boiled over in recent weeks, acrimony over Turkey's belief some European countries are harbouring suspected terrorists has festered for years.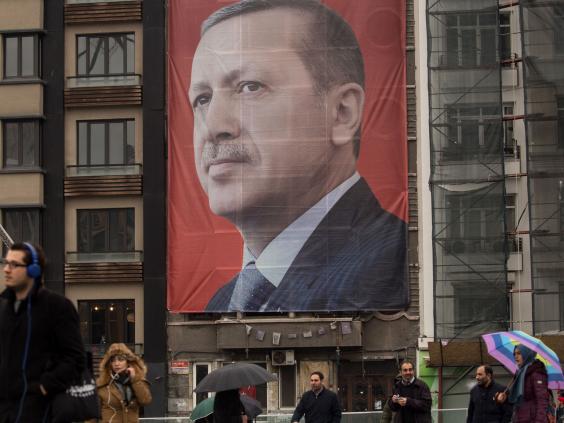 Europe has questioned whether fugitives would get a fair trial in Turkey and said free speech laws and other rights protect many dissidents. 
A Turkish official, speaking on condition of anonymity, told the Associated Press that Turkey will ask the Netherlands to extradite a Turkish leftist militant. 
Mr Erdogan criticised Germany for allowing a weekend rally of Kurds, some of whom expressed support for a jailed rebel leader in Turkey.
In January, Turkey condemned a Greek court ruling granting asylum to eight Turkish military servicemen allegedly involved in a failed coup to oust Mr Erdogan last year. 
Reuse content