The Turkish purge of suspected Isis militants and banned Kurdish groups was launched in Sultangazi, a notoriously unruly Kurdish neighbourhood of Istanbul. After security forces descended overnight and launched a series of raids, hundreds of young men fought back.
Rioting broke out on the streets of one of Istanbul's newest inner-city districts. "They are using Isis as an excuse to come after us," said 27-year-old "Khalil", an activist who stood watching the unrest. Hundreds of young men fought against Turkish security forces, running around street corners then attacking with rocks. They were met with tear gas and water cannon.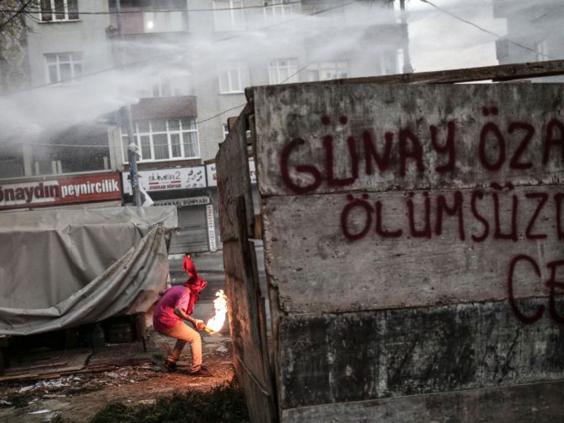 Up to 5,000 police were involved in the sweep against suspected extremists across Turkey, said the state-run Anadolu Agency. The crackdown followed the claimed Isis bombing of an activist meeting in Suruc, near the border with Syria, on Monday.
Turkish police launched raids on Isis and Kurdish militants in 13 provinces. Authorities said they were determined to fight all "terrorist" groups "without distinction".  However, Khalil, a member of the same group of Kurdish activists targeted in Monday's suicide bombing which killed 32, said he had little faith that the arrests of Isis members would eradicate Turkey's growing domestic terror threat. 
In pictures: Suruc explosion
In pictures: Suruc explosion
1/9 Suruc explosion

A woman cries next to the coffin of a victim after an explosion in the town of Suruc

2/9 Suruc explosion

A Turkish soldier helps people as they carry a coffin, after an explosion rocked the Turkish city of Suruc near the Syrian border

3/9 Suruc explosion

Officials carry the bodies of victims after an explosion in the town of Suruc

Getty

4/9 Suruc explosion

People try to help wounded people after an explosion at a cultural center in Suruc

5/9 Suruc explosion

People search for survivors of the bomb blast in Suruc, Turkey

Reuters

6/9 Suruc explosion

People carry coffins of victims after an explosion in the town of Suruc

7/9 Suruc explosion

An explosion has killed at least 27 people and wounded nearly 100 in the Turkish town of Suruc near the Syrian border

8/9 Suruc explosion

People try to help wounded man, in Suruc

9/9 Suruc explosion

20 people were killed and some 100 wounded in a suicide

EPA
Many of the raids in Sultangazi targeted Kurdish members of the outlawed Kurdistan Workers' Party (PKK), the Revolutionary People's Liberation Party-Front (DHKP-C). and Isis cells. One DHKP-C suspect, a woman, was killed in a gunfight with police.
Authorities said those detained in Sultangazi included Halis Bayuncuk, an alleged Isis cell leader in the city who is suspected of having helped recruit supporters. Anadolu said Bayuncuk was previously arrested over alleged al-Qaeda links and wrote articles for Isis publications.
In Khalil's neighbourhood, local reports said the PKK had killed a man with alleged links to Isis. The man, Mursel Gul, was said to have returned to Turkey seven months ago after being injured fighting with Isis against the Kurds in Syria.
In Sultangazi, old men and children spluttered from gas as they tried to go about their lives. All of the diners in a restaurant which kept its doors open were showered by water cannon as officers pursued  rioters. Often, boys as young as nine led the charge, hurling stones at police vehicles. "They are patriots," said Khalil. 
Residents were last night braced for more violence. "The Kurds are fighting each other," said Bilal, 19, a waiter. "It will continue." The state news  service reported nearly 300 people had been arrested nationwide, including 37  foreigners.
Turkey's national security has been brought into sharp focus in recent days after the bombing at Suruc. Both the prime minister and president reiterated that the raids and heightened security were a "first step" in what promises to be an extended operation.
"I don't like to talk about politics," said Samir, sitting in his car with a pocket Koran hanging from his rear-view mirror, in Sultangazi, "but the war is coming here. The ground has been prepared for two or three years now."
Turkey's President Recep Tayyip Erdogan said: "The targets are obvious — ISIL [Isis] firstly, the separatist terror organisation the PKK, the DHKP-C and other organisations.
"Their names might be different but all of them are terrorist organisations and our government will take the necessary steps… This night has become an important starting point." He later added: "It wasn't a one-night operation and it will continue with determination."
Reuse content