Turkish President Recep Tayyip Erdoğan has said equality between men and women is "against nature" at a summit in Istanbul.
He sparked outrage with the speech made at a convention organised by women's groups campaigning to eliminate gender discrimination in all its forms.
"You cannot make women and men equal; this is against nature," Mr Erdoğan told the meeting full of women including his own daughter, Today's Zaman reported.
"You cannot subject a pregnant woman to the same working conditions as a man.
"You cannot make a mother who has to breastfeed her child equal to a man. You cannot make women do everything men do like the communist regimes did…this is against her delicate nature."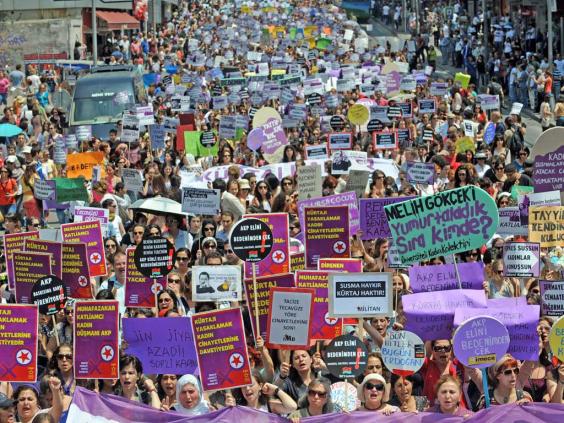 The President reportedly claimed that Islam dictated motherhood to be the prime role of women, reciting a hadith saying that "heaven lies at your mother's feet".
Telling delegates he used to kiss his own mother's feet, Mr Erdogan added: "My mother would be shy, but I used to say, 'Mother, don't pull your feet away, because the scent of heaven is there.' Sometimes, she would cry."
Mr Erdogan blamed opposition to his ideas and policies on feminists who "don't accept the concept of motherhood."
Instead of equality, he recommended what he called "equivalency", the Hurriyet Daily News reported.
"Equality is turning the victim into an oppressor by force or vice versa," the President said. "What women need is to be able to be equivalent, rather than equal."
The Women and Justice Summit, hosted by the Women and Democracy Association (KADEM), will see debates on women in politics, wage gaps, job distribution, human trafficking, domestic violence and exploitation.
Recep Tayyip Erdogan's craziest quotes
Recep Tayyip Erdogan's craziest quotes
1/8 The Turkish President's craziest quotes

Just a week before he was elected President, he called Erdogan Amberin Zaman, the Turkey correspondent for 'The Economist', a "shameless militant woman disguised under the name of a journalist" after she had asked an opposition leader whether "Muslim society is able to question" the authorities. "Know your place," Erdoğan said. "They gave you a pen and you are writing a column in a newspaper. "And then they invite you to a TV channel owned by Doğan media group and you insult at a society of 99 per cent Muslims," he said he said according to Today's Zaman newspaper.

Sascha Schuermann/Getty Images

2/8 The Turkish President's craziest quotes

Turkish people are pictured chanting slogans during an anti-government protest on Taksim square in Istanbul, on 29 June, 2013. The protests were sparked by brutal police action against a local conservation battle to save Istanbul's Gezi Park, and soon turned into nationwide demonstrations against the government. Amid the protests - the worst in Turkey for years - Erdogan accused demonstrators of being "arm-in-arm with terrorism," according to Reuters. "This is a protest organized by extremist elements. We will not give away anything to those who live arm-in-arm with terrorism," he said.

GURCAN OZTURK/AFP/Getty Images

3/8 The Turkish President's craziest quotes

During last year's protests, activists used social media to organise and disseminate information. Several dozen tweeters were arrested following the protests, according to local media reports. Erdogan responded by calling the technology a "menace". "There is now a menace which is called Twitter," Erdogan said. "The best examples of lies can be found there. To me, social media is the worst menace to society," BBC New reported.

Vladimir Astapkovich/RIA Novosti via Getty Images

4/8 The Turkish President's craziest quotes

Not helping to allay accusations of authoritarianism, after Turkish police detained 49 people, including well-known business people and those close to the ruling party, Erdeogan ominously told reporter that Turkey "is not a banana republic" that can be affected by unnamed "operations", according to Today's Zaman newspaper. "People who are backed by the media and certain funders cannot change this country," he said. "People backed by certain dark gangs both inside and outside Turkey cannot mess with the country's path. They cannot change conditions in Turkey. Turkey is not a country that anyone can launch an operation into. The [Turkish] nation will not allow that. The [ruling Justice and Development Party] AK Party, which is governing this nation, will not allow this." "Those people, if they are confident, they should run in the elections and deal with the nation. We will not permit those people to have the reckoning they want outside the polls. Turkey is not a banana republic."

Alexander Hassenstein/Getty Images

5/8 The Turkish President's craziest quotes

Friends and relatives of the miners who died in an explosion at the Soma mine are pictured praying following the burial in Soma cemetery of the last body to be recovered from the mine in May 2014. At the time, the then-Prime Minister badly misjudged the Soma mining disaster, in which 301 workers died. He told the relatives of dead and dying miners that "these types of incidents are ordinary things", following allegations that the government had ignored safety concerns about the privately owned mine, the Guardian reported. In his defence, Erdogan recounted in a separate speech a list of mining disasters which occurred abroad, including a British disaster in 1862, and one in America "which has every kind of technology".

Oli Scarff/Getty Images

6/8 The Turkish President's craziest quotes

Palestinians pictured attending Friday noon prayers in a destroyed mosque that was hit by Israeli strikes, in Gaza City. As Prime Minister, Erdogan has condemned Israel, accusing it of deliberately killing Palestinian mothers and warned that the it would "drown in the blood it sheds." Speaking to thousands of supporters during a rally in Istanbul ahead of the 10 August election, Reuters reported him as saying: "Just like Hitler, who sought to establish a race free of all faults, Israel is chasing after the same target." "They kill women so that they will not give birth to Palestinians; they kill babies so that they won't grow up; they kill men so they can't defend their country ... They will drown in the blood they shed," he said.

AP

7/8 The Turkish President's craziest quotes

Amid the worst protests in Turkey for years which had spread across dozens of cities last June, Erdogan accused demonstrators of being "arm-in-arm with terrorism," according to Reuters. A demonstration to halt construction in a park in an Istanbul square grew into mass protests against a heavy-handed police crackdown and what opponents called Erdogan's authoritarian policies. "This is a protest organized by extremist elements," Erdogan said before departing on a trip to North Africa. "We will not give away anything to those who live arm-in-arm with terrorism," he said.

Sascha Schuermann/Getty Images

8/8 The Turkish President's craziest quotes

In March 2014, Erdogan accused a 15-year-old boy who died from injuries sustained in last year's anti-government protests of being linked to terrorism. Berkin Elvan, who became a symbol of anti-government protests, had gone to pick up bread when he was hit with a teargas canister - sending him into a nine-month coma before he passed away, BBC News reported. Following his death, riot police used water cannon, tear gas and rubber pellets to disperse tens of thousands of protesters who took to the streets of Turkey's largest cities chanting "Everywhere is Berkin, everywhere is resistance." In a speech broadcast on state TV, Erdogan said of Berkin: "This kid with steel marbles in his pockets, with a slingshot in his hand, his face covered with a scarf, who had been taken up into terror organisations, was unfortunately subjected to pepper gas. "How could the police determine how old that person was who had a scarf on his face and was hurling steel marbles with a slingshot in his hand?"

ADEM ALTAN/AFP/Getty Images
Speakers at the two-day event were due to include the UN's regional director for women, global rights activists, academics, journalists and businesswomen.
One participant who attempted to ask a question during a speech by Turkey's family and social policies minister, Ayşenur Islam, was allegedly taken out of the hall by security guards, who covered her mouth.
Mr Erdogan has been criticised for his recent statements declaring that every Turkish women should have three children and proposing to limit abortion rights, access to the morning-after pill and caesarean sections.
His socially conservative AKP party has been accused of attempting to erode Turkey's secular principles in favour of Islamism and limiting civil liberties, as well as practicing media censorship and blocking Twitter.
Reuse content