On the fifth floor of a business block on the edge of Turkey's financial district, dozens of young people are busy pumping out social media content. These Istanbul urbanites are a far cry from the usual conservative profile of supporters of Turkey's ruling Justice and Development Party (AKP). But they are all working to ensure the party secures a super majority in Sunday's election.
On Twitter, Facebook, YouTube and almost any other social media, 180 content-makers, monitors and field communicators work in shifts 24 hours a day to spread positive messages about the party. 
The New Turkey Digital Office has been hailed as the AKP's attempt to counteract the thousands of Gezi Park online activists who used the social media platform to organise the protests that hit the government two years ago.
Its critics compare it to a Putinesque troll machine, but Gokhan Yucel, the young Oxford-educated head of President Recep Tayyip Erdogan's "digital army", prefers to think of it as more like Obama's social media strategy circa 2008.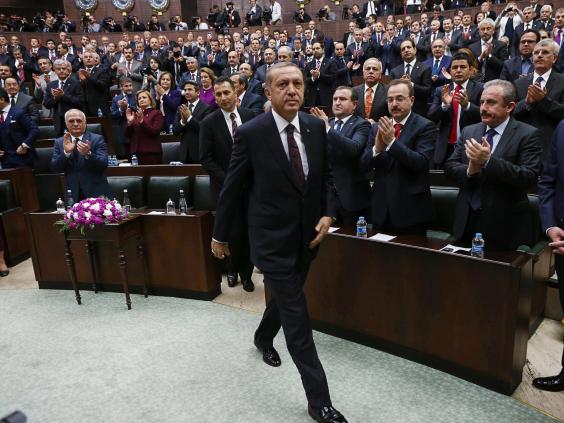 "I am not the chief troll," says a weary Mr Yucel, clearly tired of the question. "Look, we're not hiding anything. If we were trolling, I wouldn't invite journalists here."
Tweets go through the official AKP account as well as hundreds of others that target groups such as the Kurds, women and first-time voters.
Mr Yucel is excited about a mysterious new in-house social media platform developed by the office itself, although he says its name can't be revealed for "security reasons". He says he gets hacked by opposition activists. "But I guess it's the price we pay for the success of our strong PR," he says.
The new platform will be launched after the election. At the moment the staff are too busy dealing with hackers and coordinating their wholesome election messages.
But while the in-house-produced content may have reached millions of Turks, it's the punchy, organic grass-roots efforts of the opposition that have grabbed national and international press attention.
The latest example came last Monday, as President Erdogan attended a rally in the northeastern province of Igdır. A group of women, apparent supporters of the pro-Kurdish HDP, turned their backs during his speech.
Recep Tayyip Erdogan's most controversial quotes
Recep Tayyip Erdogan's most controversial quotes
1/8 The Turkish President's craziest quotes

Just a week before he was elected President, he called Erdogan Amberin Zaman, the Turkey correspondent for 'The Economist', a "shameless militant woman disguised under the name of a journalist" after she had asked an opposition leader whether "Muslim society is able to question" the authorities. "Know your place," Erdoğan said. "They gave you a pen and you are writing a column in a newspaper. "And then they invite you to a TV channel owned by Doğan media group and you insult at a society of 99 per cent Muslims," he said he said according to Today's Zaman newspaper.

Sascha Schuermann/Getty Images

2/8 The Turkish President's craziest quotes

Turkish people are pictured chanting slogans during an anti-government protest on Taksim square in Istanbul, on 29 June, 2013. The protests were sparked by brutal police action against a local conservation battle to save Istanbul's Gezi Park, and soon turned into nationwide demonstrations against the government. Amid the protests - the worst in Turkey for years - Erdogan accused demonstrators of being "arm-in-arm with terrorism," according to Reuters. "This is a protest organized by extremist elements. We will not give away anything to those who live arm-in-arm with terrorism," he said.

GURCAN OZTURK/AFP/Getty Images

3/8 The Turkish President's craziest quotes

During last year's protests, activists used social media to organise and disseminate information. Several dozen tweeters were arrested following the protests, according to local media reports. Erdogan responded by calling the technology a "menace". "There is now a menace which is called Twitter," Erdogan said. "The best examples of lies can be found there. To me, social media is the worst menace to society," BBC New reported.

Vladimir Astapkovich/RIA Novosti via Getty Images

4/8 The Turkish President's craziest quotes

Not helping to allay accusations of authoritarianism, after Turkish police detained 49 people, including well-known business people and those close to the ruling party, Erdeogan ominously told reporter that Turkey "is not a banana republic" that can be affected by unnamed "operations", according to Today's Zaman newspaper. "People who are backed by the media and certain funders cannot change this country," he said. "People backed by certain dark gangs both inside and outside Turkey cannot mess with the country's path. They cannot change conditions in Turkey. Turkey is not a country that anyone can launch an operation into. The [Turkish] nation will not allow that. The AK Party, which is governing this nation, will not allow this."

Alexander Hassenstein/Getty Images

5/8 The Turkish President's craziest quotes

Friends and relatives of the miners who died in an explosion at the Soma mine are pictured praying following the burial in Soma cemetery of the last body to be recovered from the mine in May 2014. At the time, the then-Prime Minister badly misjudged the Soma mining disaster, in which 301 workers died. He told the relatives of dead and dying miners that "these types of incidents are ordinary things", following allegations that the government had ignored safety concerns about the privately owned mine, the Guardian reported. In his defence, Erdogan recounted in a separate speech a list of mining disasters which occurred abroad, including a British disaster in 1862, and one in America "which has every kind of technology".

Oli Scarff/Getty Images

6/8 The Turkish President's craziest quotes

Palestinians pictured attending Friday noon prayers in a destroyed mosque that was hit by Israeli strikes, in Gaza City. As Prime Minister, Erdogan has condemned Israel, accusing it of deliberately killing Palestinian mothers and warned that the it would "drown in the blood it sheds." Speaking to thousands of supporters during a rally in Istanbul ahead of the 10 August election, Reuters reported him as saying: "Just like Hitler, who sought to establish a race free of all faults, Israel is chasing after the same target." "They kill women so that they will not give birth to Palestinians; they kill babies so that they won't grow up; they kill men so they can't defend their country ... They will drown in the blood they shed," he said.

AP

7/8 The Turkish President's craziest quotes

Amid the worst protests in Turkey for years which had spread across dozens of cities last June, Erdogan accused demonstrators of being "arm-in-arm with terrorism," according to Reuters. A demonstration to halt construction in a park in an Istanbul square grew into mass protests against a heavy-handed police crackdown and what opponents called Erdogan's authoritarian policies. "This is a protest organized by extremist elements," Erdogan said before departing on a trip to North Africa. "We will not give away anything to those who live arm-in-arm with terrorism," he said.

Sascha Schuermann/Getty Images

8/8 The Turkish President's craziest quotes

In March 2014, Erdogan accused a 15-year-old boy who died from injuries sustained in last year's anti-government protests of being linked to terrorism. Berkin Elvan, who became a symbol of anti-government protests, had gone to pick up bread when he was hit with a teargas canister - sending him into a nine-month coma before he passed away. In a speech broadcast on state TV, Erdogan said of Berkin: "This kid with steel marbles in his pockets, with a slingshot in his hand, his face covered with a scarf, who had been taken up into terror organisations, was unfortunately subjected to pepper gas. "How could the police determine how old that person was who had a scarf on his face and was hurling steel marbles with a slingshot in his hand?"

ADEM ALTAN/AFP/Getty Images
"If you have a modicum of politeness, honour and ability, then the place for politics is parliament," railed Mr Erdogan. Thousands of women across Turkey then posted similar photos on social media and "we are turning our backs" eventually became the third top-trending hashtag.
If the HDP succeeds in its aim to reach the 10 per cent threshold needed to enter parliament in tomorrow's elections, it will be a serious blow to the AKP's goal to create the super-majority needed to change the constitution and grant Mr Erdogan more presidential powers. Its funds, however, as it takes on the ruling party, are short, meaning social media campaigns are all the more important.
The HDP is not alone in facing the might of the AKP's digital army, The biggest opposition party, the secular left-leaning CHP, remains unconvinced by Mr Yucel's protestations that this is  more than simply organised trolling.
Fatih Guner, the digital group head of the CHP election campaign, claims his party has not only found it difficult to advertise with traditional media, but also that PR agencies have refused to work with it for fear of repercussions in going up against the AKP.
"They are employing high-school tactics, these AkTrolls," he said, referring to the colloquial name for the group.
Reuse content