Two Spanish students are facing a year behind bars after they were reportedly caught cheating on an exam. 
The young men are facing 12 months each in prison after one was accused of impersonating the other on a test. 
The pair, from Almeria, southern Spain, attempted to hoodwink invigilators for an entrance exam for vocational studies, reported The Local. 
But prosecutors in the country are accusing the duo of falsifying public documents, a crime in Spain, as the imposter sat the test under the other's name using their ID card. 
Officials are pushing for 12 months in prison plus €6 per day behind bars – which equates to £1,699.
One of the student's defence attorneys labelled the sentence as "barbaric" and entirely out of proportion with the incident. 
Attorney José Carlos Segura argued the exam should not be considered an official document. 
He said: "They have not harmed anyone and even though this conduct was reproachable, it does not create social alarm enough to have them sent to prison," according to Europa press. 
"That this case is going to trial is already disproportionate and I believe it could be solved with an administrative fine or sanction of academic consequences.
"This kind of punishment threatens them with a loss of liberty and records them permanently as criminals."
Perhaps the most widespread and brazen example of cheating occurred in India last year when the Supreme Court had to launch a federal inquiry after it emerged students were being smuggled answers.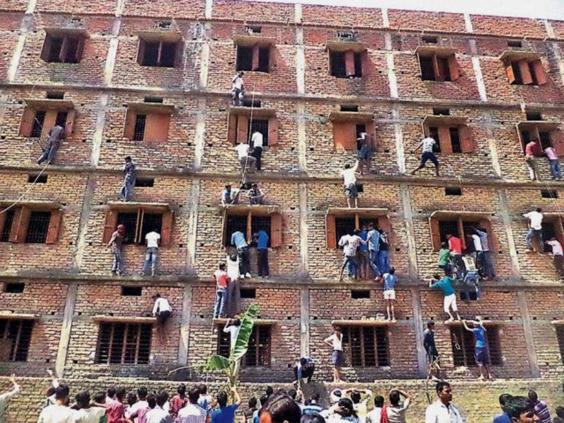 The scandal hit the medical school admissions test in the Bihar region, with remarkable photos surfacing allegedly showing answers being passed through windows. 
Hundreds, including parents, were arrested trying to help their children. 
In the wake of the images the government recently announced fines and jail terms for those cheating and anyone found to be helping them.
Reuse content