A new poll has found that around two-thirds of people in Ireland want the government to reverse current abortion laws, which prohibit abortion unless it is performed to save the life of the mother.
The poll, conducted on behalf of human rights group Amnesty International, also revealed another surprising statistic - 64 per cent of people polled did not know it is a crime to get an abortion when the mother's life is not at risk.
When asked whether the Irish government should decriminalise abortion, 67 per cent agreed, and 25 per cent disagreed.
81 per cent of people added that they thought the grounds for legal abortion should be significantly widened across Ireland.
Under the Protection of Life During Pregnancy Act 2013, the maximum sentence for women who get abortions is 14 years in prison. Doctors who carry out abortions can get the same penalty.
The ban is also enshrined in the Irish constitution - the Eighth Amendment to the Constitution, which was introduced in 1983, says that the Irish state "acknowledges the right to life of the unborn and, with due regard to the equal right to life of the mother, guarantees in its laws to respect, and, as far as practicable, by its laws to defend and vindicate that right."
Even when the pregnancy is the result of rape or incest, or when abnormalities in the foetus would result in the death of the child either in the womb or shortly after it is born, abortion is still not permitted.
Here's who's urging you to vote Yes in the Irish gay marriage referendum
Here's who's urging you to vote Yes in the Irish gay marriage referendum
1/16 Michael Sheen

Actor Sheen called the referendum a "chance to make history and inspire those fighting for equality everywhere."

2/16 Alan Davies

The TV host supported Stephen Fry's speech for gay marriage in Ireland.

Getty images

3/16 Jimmy Carr

TV presenter Carr said: "Come on! For the craic!"

Getty Images

4/16 Stephen Fry

"I want the same happiness that I have found to be afforded to those in Ireland too. Give people a chance to marry, and have their love celebrated."

Rex

5/16 Jason Byrne

The comic said: "Vote YES people. So blokes can marry their best friends."

Ray Burmiston

6/16 Aisling Bea

Comedian Bea made a video supporting gay marriage "in the hope that people will back our battle for equality and for civil rights".

Karla Gowlett

7/16 Robbie Keane

The footballer said: "Most of us will have friends or family who, up to now, have been denied the right to marry their loved ones or have been made to feel excluded because of their sexuality. To me, this feels wrong. I am a very proud Irishman and it is important to me that our country does, and is seen to, treat all of its citizens on equal footing."

GETTY IMAGES

8/16 Mary McAleese

Former Irish president said: "This referendum is about them and them alone. The only children affected by this referendum will be Ireland's gay children. It is their future which is at stake. It is in our hands."

Getty Images

9/16 Marian Keyes

The author said: "I'm voting yes because it's the right, fair and decent thing to do. We have the chance as a nation to do something that will make a difference for the good – I can't see a down side to a Yes vote."

Rex Features

10/16 Graham Norton

He tweeted: "Come on Ireland! The world is watching and waiting. Here's hoping that love and common sense win the day rather than fear and misinformation."

11/16 Sarah Silverman

The comedian tweeted in favour, asking followers how they'd feel if they had to ask four million people for permission to wed.

12/16 Noah Taylor

South African comedian has joked that everybody has the same right to be unhappily married.

EPA

13/16 Jack Dee

The comedian said: "I would say yes to equality"

BBC

14/16 Russell Kane

The comedian supports gay marriage.

Rex Features

15/16 Sean Lock

Appearing in a pro-Yes video, he urged Ireland to back the bill.

16/16 Mrs Brown

Brendan O'Carroll - in character as Mrs Brown - said people should "grow up" and vote Yes.

BBC
It is a thorny issue in Irish politics, and five referendums proposing changes to various aspects of the law - like whether to remove the condition that abortion is permitted if the mother is at threat from suicide - have been held in the last 30 years.
Colm O'Gorman, the Executive Director of Amnesty International Ireland, said: "It is clear that Irish views on abortion have undergone a major transformation. People in Ireland are now, on the whole, more understanding of the situations women find themsevles in and firmly believe that women should not be decriminalised for having an abortion."
"This poll demonstrates that on the issue of abortion Ireland's people are clearly ahead of their government leaders. The Irish government should put this issue to the people as a matter of priority."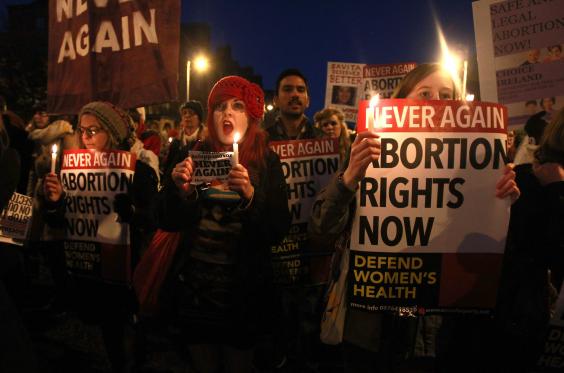 Despite the tough laws in Ireland, there are none that prohibit women travelling to the UK to have abortions - in 2011, 4,149 Irish women had abortions in this way, but the cost and scale of doing this make it difficult for many younger or poorer women.
68 per cent of those polled agreed that Ireland's abortion laws does not stop women who want an abortion from having one - and a similar amount, 65 per cent, realised that ban on abortion makes women more likely to get unsafe abortions, which can often occur through so-called 'back-street' abortions, performed by unlicensed practitioners, or through dangerous drugs that can be ordered online.
Colm O'Gorman added: "Decriminalising abortion is not only a human rights obligation – it is what people in Ireland want. And this means repealing the 8th Amendment."
Reuse content