The Royal Navy's HMS Bulwark has begun an operation to rescue hundreds of migrants from four boats in waters off the coast of Libya.
The British warship began a new rescue mission on Sunday morning after a helicopter identified the four vessels in distress, according to a defence ministry statement.
"From first light this morning, a Merlin helicopter from 814 Squadron on board HMS Bulwark has been conducting surveillance operations and has identified four migrant vessels in distress, containing a total of at least 500 people," the statement said.
"HMS Bulwark has now commenced rescue operations to recover those in the vessels."
European naval vessels were sent to the area after 14 migrant boats were spotted struggling in open water.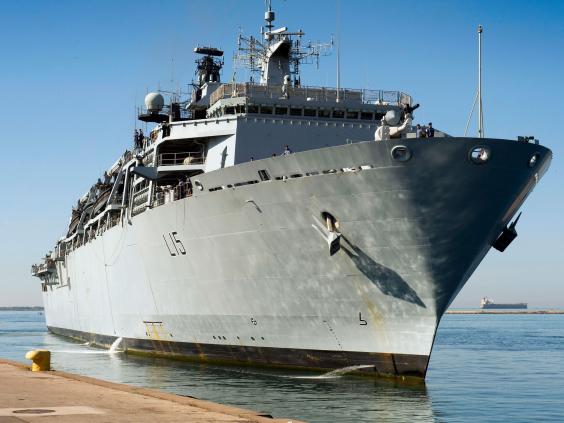 More than 2,000 migrants, including women and children, were rescued on Staurday and taken to Sicily, according to the Migrant Offshore Aid Station (MOAS).
HMS Bulwark rescued 747 people from dangerously overcrowded boats in the same area last week.
European navies have been conducting search and rescue efforts in the Mediterranean as their governments struggle to tackle an influx of migrants from North Africa.
Many of the migrants are fleeing war in Libya and further afield on the continent.
Speaking at the G7 sumit in Germany on Sunday, British Prime Minister David Cameron called for a more long-term strategy to halt the flow of migrants from Libya.
"The two key things that need to happen are [the creation of] a government in Libya and breaking the connection between getting on a boat and getting settlement in Europe. We need to take on these two things," he said.
It is estimated that so far more than 1,600 people have drowned trying to make the crossing to Europe this year.
On Friday an Irish Navy ship, the LE Eithne, successfully located and rescued a small craft with 113 people on board that was in distress 40 km north of Tripoli, Libya.
(Additional reporting by agencies)
Reuse content