Martial law could be imposed by the Ukrainian government if fighting continues to rage with separatists in the country's east.
President Petro Poroshenko threatened the measure, usually used during conflicts or coups to increase military power, on Wednesday according to the Interfax news agency.
Speaking ahead of a peace summit between the leaders of France, Germany, Russia and Ukraine, Mr Poroshenko said Kiev was primarily aiming to secure an unconditional ceasefire but would use military force if it is deemed necessary.
"I, the government and the parliament are ready to take the decision to introduce martial law in all the territories of Ukraine," he was quoted as saying at a government meeting.
"We are for peace ... (but) our country needs to be defended and we will do that to the end."
Martial law is usually accompanied by curfews and the curbing or suspension of civil law and human rights including the freedom of expression, assembly and movement.
The President's announcement came on another day of violence in eastern Ukraine that killed at least five civilians.
Ukraine crisis: A timeline of the conflict
Ukraine crisis: A timeline of the conflict
1/22 30 November 2013

Public support grows for the "Euromaidan" anti-government protesters in Kiev demonstrating against Yanukovych's refusal to sign the EU Association Agreement as images of them injured by police crackdown spread.

EPA

2/22 20 February 2014

Kiev sees its worst day of violence for almost 70 years as at least 88 people are killed in 48 hours, with uniformed snipers shooting at protesters from rooftops.

AFP/Getty Images

3/22 22 February 2014

Yanukovych flees the country after protest leaders and politicians agree to form a new government and hold elections. The imprisoned former Prime Minister, Yulia Tymoshenko, is freed from prison and protesters take control of Presidential administration buildings, including Mr Yanukovych's residence.

Genya Savilov/AFP/Getty Imageses

4/22 27 February 2014

Pro-Russian militias seize government buildings in Crimea and the new Ukrainian government vows to prevent the country breaking up as the Crimean Parliament sets a referendum on secession from Ukraine in May.

Sean Gallup/Getty Images

5/22 16 March 2014

Crimea votes overwhelmingly to secede from Ukraine and join Russia in a ballot condemned by the US and Europe as illegal. Russian troops had moved into the peninsula weeks before after pro-Russian separatists occupied buildings.

EPA

6/22 6 April 2014

Pro-Russian rebels seize government buildings in the eastern cities of Donetsk, Luhansk and Kharkiv, calling for a referendum on independence and claiming independent republic. Ukraine authorities regain control of Kharkiv buildings on 8 April after launching an "anti-terror operation" but the rest remain out of their control.

EPA/PHOTOMIG

7/22 7 June 2014

Petro Poroshenko is sworn in as Ukraine's president, calling on separatists to lay down their arms and end the fighting and later orders the creation of humanitarian corridors, since violated, to allow civilians to flee war zones.

Getty Images

8/22 27 June 2014

The EU signs an association agreement with Ukraine, along with Georgia and Moldova, eight months after protests over the abandonment of the deal sparked the crisis.

LOUISA GOULIAMAKI/AFP/Getty Images

9/22 17 July 2014

Malaysian Airlines flight MH17 is shot down over eastern Ukraine, killing all 298 people on board. Ukrainian intelligence officials claim it was hit by rebels using a Buk surface-to-air launcher in an apparent accident.

10/22 22 August 2014

A Russian aid convoy of more than 100 lorries enters eastern Ukraine and makes drop in rebel-controlled Luhansk without Government permission, sparking allegations of a "direct violation of international law".

Reuters/Alexander Demianchuk

11/22 29 August 2014

Nato releases satellite images appearing to show Russian soldiers, artillery and armoured vehicles engaged in military operations in eastern Ukraine.

Nato

12/22 8 September 2014

Russia warns that it could block flights through its airspace if the EU goes ahead with new sanctions over the ongoing crisis and conflict

EPA

13/22 17 September 2014

Despite the cease-fire and a law passed by the Ukrainian parliament on Tuesday granting greater autonomy to rebel-held parts of the east, civilian casualties continued to rise, adding to the estimated 3,000 people killed

Reuters

14/22 16 November 2014

The fragile ceasefire gives way to an increased wave of military activity as artillery fire continues to rock the eastern Ukraine's pro-Russian rebel bastion of Donetsk

Getty

15/22 26 December 2014

A new round of ceasefire talks, scheduled on neutral ground in the Belariusian capital Minsk, are called off

AFP/Getty

16/22 12 January 2015

Soldiers in Debaltseve were forced to prepare heavy defences around the city; despite a brief respite to the fighting in eastern Ukraine, hostilities in Donetsk resumed at a level not seen since September 2014

AFP/Getty

17/22 21 January 2015

13 people are killed during shelling of bus in the rebel-held city of Donetsk

Reuters

18/22 24 January 2015

Ten people were killed after pro-Russian separatists bombarded the east Ukrainian port city of Mariupol

AP

19/22 2 February 2015

There was a dangerous shift in tempo as rebels bolstered troop numbers against government forces

AFP/Getty

20/22 11 February 2015

European leaders meet in Minsk and agree on a ceasefire in eastern Ukraine beginning on February 14. From left to right: Belarus President Alexander Lukashenko, Russian President Vladimir Putin, German Chancellor Angela Merkel, France's President Francois Hollande and Ukrainian President Petro Poroshenko.

MAXIM MALINOVSKY | AFP | Getty Images

21/22 13 February 2015

Pro-Russian rebels in the city of Gorlivka, in the Donetsk region, fire missiles at Ukrainian forces in Debaltseve. Fighting continued in Debaltseve for a number of days after the Minsk ceasefire began.

ANDREY BORODULIN | AFP | Getty Images

22/22 18 February 2015

Ukrainian soldiers repair the bullet-shattered windshield of their truck as their withdraw from the strategic town of Debaltseve. Following intense shelling from pro-Russian rebels, Ukrainian forces began to leave the town in the early hours of February 18.

Brendan Hoffman | Getty Images
They died when a shell hit a bus station in the rebel stronghold of Donetsk on Wednesday, injuring nine others according to separatist officials. Three more people were killed in shelling overnight, the city administration said.
Rebels and Ukrainian forces have continually denied responsibility for dozens of civilian deaths in the area, blaming each other for mistakenly or deliberately hitting residential areas with artillery fire.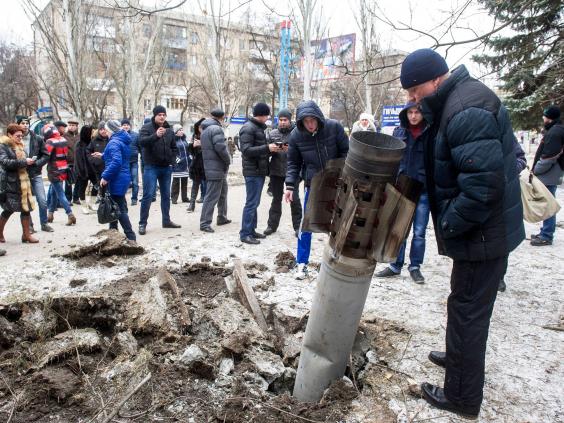 Officials in Kiev also said today that 19 government troops had been killed and 78 wounded in Debaltseve, a strategic transport hub that has become the focus of vicious fighting in the region.
The rebels attacked a government garrison, while the Ukrainian army said it had launched an offensive against pro-Russian separatists near the south-eastern port city of Mariupol.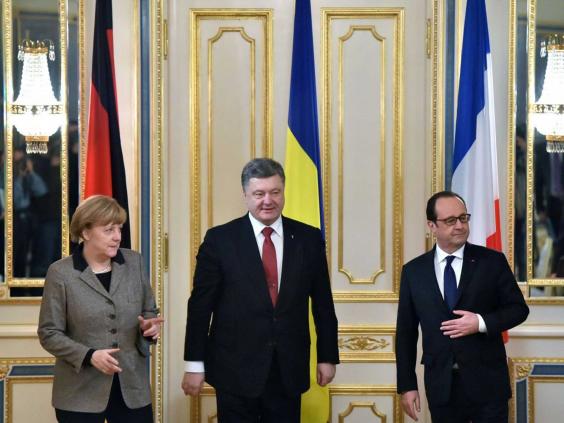 President Poroshenko posted a statement on his website saying that he had made an impromptu visit to the war-torn region this morning, stopping in the city of Kramatorsk, around 30 miles from the nearest front line, where 16 people were killed and 48 wounded in a rocket strike on Tuesday.
"We demand an unconditional peace," he said. "We demand a cease-fire, a withdrawal of all foreign troops, and closing of the border...we will find a compromise within the country."
At a news conference in Moscow, the Russian Foreign Minister, Sergey Lavrov, said there was "notable progress" in the peace process, without giving details.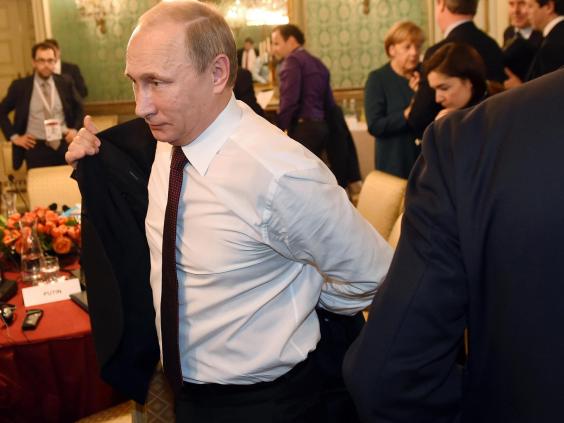 Mr Lavrov said that the most important goal of the talks would be to implement a ceasefire but claimed it would be impossible for Ukraine to re-establish its control over the border with Russia because Kiev had already "suffocated (eastern Ukraine) economically and socially, in parallel with an attempted military crackdown".
"In these conditions, to give away the Russian part of the border also would be to cut them (the rebels) off even from humanitarian help and allow them to be surrounded," he added.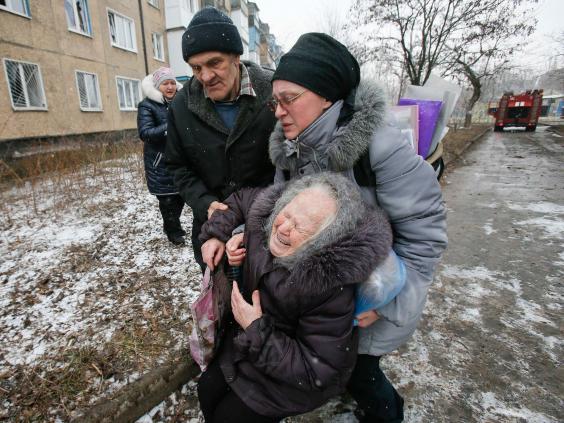 French Foreign Minister Laurent Fabius admitted on Wednesday morning that "quite a number of problems remain" in negotiations aimed at ending the fighting.
He said difficulties remain on the future of embattled eastern Ukraine, guarantees about the Ukraine-Russia border near the area, and the prospects of a possible cease-fire, weapons pullback and prisoner exchange.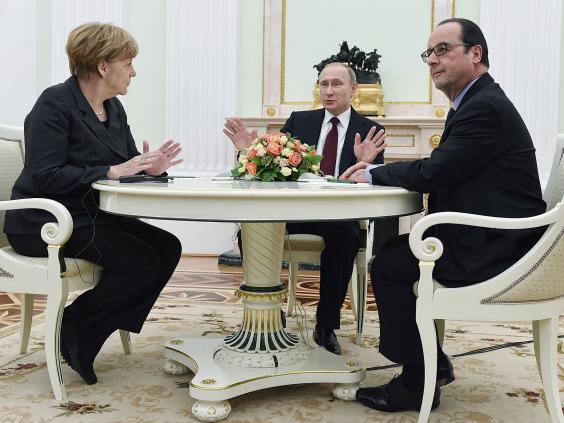 Leaders from Russia, Ukraine, France and Germany are due in the Belarussian capital of Minsk today to continue efforts to secure a peace deal in eastern Ukraine, where fighting between pro-Russian rebels and Ukrainian troops has killed more than 5,300 people.
European leaders have warned in recent days that there is no guarantee a deal will be reached with Russia, which the West accuses of fuelling the separatist uprising in eastern Ukraine with troops and arms.
Additional reporting by agencies
Reuse content