The dead and injured are carried out of a burning building; more bodies lying in the street; prolonged exchanges of fire as armoured carriers smash through barricades; and, with the violence, anger and calls for revenge.
That was Mariupol after a day of bloody strife which slid Ukraine further towards civil war.
The country's caretaker government can be accused of trying to blow out flickering hopes of peace by launching a military operation on one of the most revered anniversaries in the Russian-speaking half of the country, the commemoration of victory over Nazi Germany.
The military action is accompanied by stridently aggressive rhetoric from politicians in Kiev who are crowing about the numbers of "terrorists" killed and threatening further lethal punishment.
By the evening there are differing body counts ranging from 20 to five, with around another 25 injured. But the accuracy of statistics has meant little in this confrontation. What matters is the perception. For many in this port on the Azov Sea, today greatly reinforced the view – relentlessly promoted by the separatist leadership – that fascists from the west of the country are coming to attack.
In pictures: The Ukraine crisis
In pictures: The Ukraine crisis
1/39 Ukraine crisis

Ukrainian soldiers from the 'Azov' battalion guard their base in Mariupol, Donetsk

EPA

2/39 Ukraine crisis

Children were transferred from orphanages in Donetsk and Makeyevka to escape the fighting between the Ukrainian army and pro-Russian separatists

Reuters

3/39 Ukraine crisis

Ukrainian servicemen captured by pro-Russian separatists sit on the ground as they are assigned to clean a street in Snizhne in the Donetsk region

Reuters

4/39 Ukraine crisis

A view inside the Youth Culture Centre destroyed by pro-Russian separatists in Donetsk

Getty

5/39 Ukraine crisis

A woman holds a portrait of her dead son as she speaks during a rally in front of Ukrainian President Petro Poroshenko's office in Kiev

AFP

6/39 Ukraine crisis

A boy ascends the stairs of a bomb shelter after the shelling in the Petrovskiy district in Donetsk

AP

7/39 Ukraine crisis

A medic looks at thirty coffins prepared for the funerals of pro-Russian rebels killed during heavy fighting at Donetsk airport, outside a Donetsk morgue

8/39 Ukraine crisis

Relatives mourn near the coffin of Mark Zverev, a taxi driver shot dead during clashes at the Donetsk airport between Ukrainian troops and the pro-Russian rebels, during his funeral in the village of Grabari on the outskirts of Donetsk

9/39 Ukraine crisis

Medical workers carry a wounded pro-Russian militant on a stretcher after armed clashes occured between pro-Russian gunmen and Ukrainian troops in Slavyansk

10/39 Ukraine crisis

A member of a newly-formed pro-Russian armed group called the Russian Orthodox Army mans a barricade near Donetsk airport

11/39 Ukraine crisis

Black smoke rises from a shot down Ukrainian Army helicopter outside Slovyansk

AP

12/39 Ukraine crisis

A woman is overcome with emotion as she looks at blood stains and damage around a wrecked truck of supporters of the self-proclaimed 'Donetsk People's Republic' on road leading to the Donetsk International Airport

13/39 Ukraine crisis

A local man looks at damage near a wrecked truck of supporters of the self-proclaimed 'Donetsk People's Republic' on road leading to the Donetsk International Airport

14/39 Ukraine crisis

A bloodstained icon of Jesus is seen among blood soaked shattered glass atop a wrecked truck near the Donetsk airport

15/39 Ukraine crisis

A family member attends a funeral for Olga Prokhorenko (60) who was killed by shrapnel after Ukrainian government forces shelled their location, during the funeral in Slovyansk

16/39 Ukraine crisis

A woman reacts after seeing the lifeless body of a man killed by shrapnel following a shelling from Ukrainian government forces in Slovyansk

17/39 Ukraine crisis

Pro-Russian militants take position on the roof of the international airport of the eastern Ukrainian city of Donetsk

18/39 Ukraine crisis

A woman embraces a pro-Russian separatist from the "East" battalion during a rally in the eastern city of Donetsk

19/39 Ukraine crisis

A Ukrainian helicopter Mi-24 gunship fires its cannons against rebels at the main terminal building of Donetsk international airport

20/39 Ukraine crisis

A pro-Russian gunman changes his position near the airport, outside Donetsk

21/39 Ukraine crisis

A pro-Russian gunman aims his weapon near the airport, outside Donetsk. Ukraine's military launched air strikes against separatists who had taken over the airport in the eastern capital of Donetsk in what appeared to be the most visible operation of the Ukrainian troops since they started a crackdown on insurgents

22/39 Ukraine crisis

Pro-Russians ride on a truck in Donetsk. A convoy of an armored personnel carrier and seven trucks carrying several hundred heavily armed men drove through central Donetsk and gunmen got out of the trucks, stood to attention and gave shots in the air in jubilation as a crowd of several thousand supporters cheered them and chanted: "Heroes!"

23/39 Ukraine crisis

An elderly woman leans against the chest of a pro-Russian gunman in Lenin square in Donetsk

24/39 Ukraine crisis

Pro-Russian militants guard a psychiatric hospital after shell explosions during the fighting between pro-Russian militants and the Ukrainian army, in Semyonovka village, outside Slavyansk

25/39 Ukraine crisis

Ukrainian troops stand guard at a checkpoint on the road near the eastern city of Izum, Donetsk

26/39 Ukraine crisis

Members of the Democratic Alliance party take part in a performance in front of the French embassy in Kiev. Protesters set up a pool with the blood of animals and models of warships in a protest against French plans for the sale of two Mistral helicopter carriers to the Russian Navy

27/39 Ukraine crisis

A man carries a portrait of pro-Russian activist Vadim Hudich, who was killed in a shooting incident at the head of a funeral procession in the eastern Ukranian town of Krasnoarmeisk

28/39 Ukraine crisis

A voter is seen inside a voting booth at a polling station during the referendum on the status of Donetsk region in the eastern Ukrainian city of Donetsk

29/39 Ukraine crisis

Members of a local election commission sort ballots as they start counting votes of referendum on the status of Luhansk region in Luhansk

30/39 Ukraine crisis

Members of a local election commission empty a ballot box as they start counting votes of the referendum on the status of Donetsk region in Donetsk

31/39 Ukraine crisis

Members of a local election commission empty ballot boxes as they start counting votes after a referendum, at a polling station in Lugansk

32/39 Ukraine crisis

Local residents watch as others give first aid to a man who was shot in the leg by Ukranian militia in the village of Krasnoarmisk. Eyewitness said that Ukranian militia tried to stop the referendum voters briefly taking the City Hall of Krasnoarmisk, where unarmed pro-Russian supporters were gathering. Reportedly the Ukranian militia came out out the building and started shooting at the people, killing at least one man and leaving at least two others injured

33/39 Ukraine crisis

Members of a local election commission count votes after a referendum organized by the so-called Donetsk People's Republic members at a polling station in Donetsk

34/39 Ukraine crisis

Voters visit a polling station to take part in the referendum on the status of Donetsk

35/39 Ukraine crisis

An Armoured Personnel Carrier (APC) with a Russian flag drives through the center of Slaviansk during the day of referendum organized by the so-called Donetsk People's Republic members in Slavyansk

36/39 Ukraine crisis

A statue of Lenin is placed in front of a pro-Russian barricade on the outskirts of the eastern Ukrainian town of Slavyansk

37/39 Ukraine crisis

A feamle veteran (C) sings during 'Victory Day' celebrations in Donetsk

38/39 Ukraine crisis

People stand near the burning Mariupol police station

39/39 Ukraine crisis

Ukrainian soldiers stand guard beside an armoured personnel carrier at a checkpoint in Mariupol. Ukrainian forces seized the rebel-held city hall in the eastern port city of Mariupol, driving out pro-Russian activists, then withdrew, making no attempt to hold onto the building
"This is not about 2014 in Ukraine, this is taking us back to Berlin in 1945, that is what they want to avenge, the defeat of their Nazi masters", is the view of Captain Zorin Aleksandr Nicolaivitch, who spent 18 years in the navy. He is in his full dress uniform, with two rows of medals, rushing to one of the places of  killing from the parade for the Great Patriotic War.
"Look, this is the only weapon that I, or anyone else, has around here," says the 63-year-old retired officer, lifting up the ceremonial dagger at his belt. "No, only one side came armed, wanting to fight, today. It wasn't the people of Mariupol."
Arms, however, appear to have been a key issue. There are two conflicting narratives. The Kiev administration's version is that a mob had taken over the central police station, with the primary aim of getting hold of its extensive armoury, and then opened fire on government troops, killing some policemen in the process.
Residents, as well as protesters, insist this is a lie. The police, they maintain, had shown great sympathy towards them, and the Ukrainian military, with a band of armed fellow travellers, wanted to take control of the weapons and attacked the station precisely for that reason.
A body lying in front of the station, with firemen trying to control the flames, is that of a policeman: his uniform hat and a mobile telephone have been placed on him. "Let me show you something," says Viktor Nicolaivich, trying to keep his voice calm as he pulls up the covering blanket. One arm of the officer is encased in plaster. "He couldn't even pull the trigger to defend himself against the fascist bastards. We know this man, I was with him yesterday, he is one of our local policemen, we would never want to harm people like him."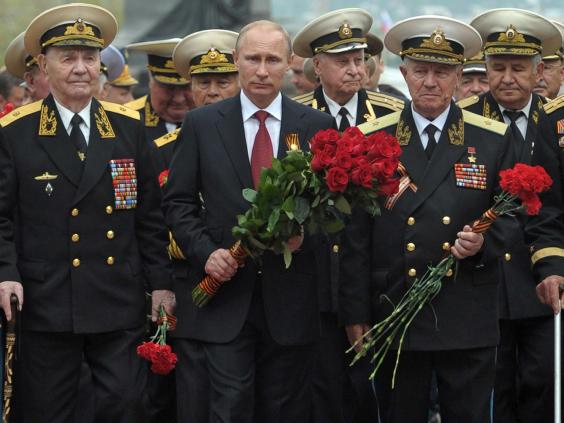 The city's police commander, Valeryi Androsehuk, is missing. The Ukrainian authorities claim that he has been kidnapped by militants; the protesters maintain that he had either perished in the flames, or been arrested. The chief had refused, they say, to hand over the headquarters to the soldiers.
Across the road lies another corpse, that of one of the "fascists" who had been with the soldiers, say the residents, inevitably labelled a member of the Right Sector, an extremist group who allegedly carry out the government's dirty work. The man is wearing civilian clothing, a black top and jeans, with an armband in Ukrainian colours. "This man was shooting at the police building, I saw him," Valentina Semoronova says. "Then he got wounded and fell; the policemen were shooting back. The soldiers did nothing to help him. All they did was take the rifle with them when they left."
In the course of the next confusing hour the armband disappears, snatched off by a collaborator, according to some. There are mutters that it was a Ukrainian journalist, although we have not seen any present at the scene.
Such charges often lead to an outbreak of hostility towards the media. But here the crowd, though angry, is keen to put over its side. The people stand under raindrops blackened by ash pleading that two things must be made clear to the outside world; they do not have guns and they are Ukrainians, not Russians. They produce their driving licences and passports.
To Arsen Avakov, many of these people are terrorists. Ukraine's acting Interior Minister has been a voracious user of Facebook to chronicle military operations, some of the accounts wildly inaccurate. He wrote: "A terrorist group of about 60 men armed with automatic weapons attacked the police headquarters.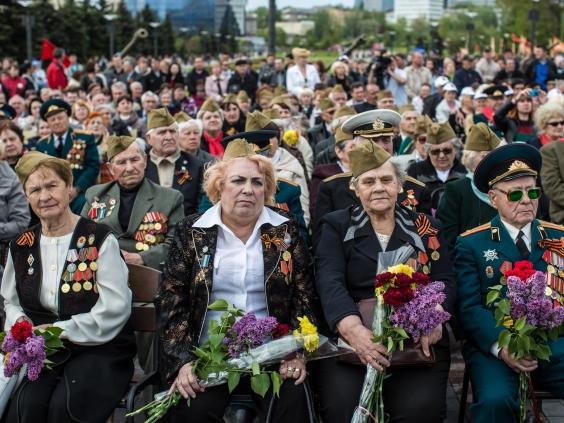 "About 20 terrorists were destroyed and four taken prisoner. To those who come with weapons and who shoot… To them there can be only one answer from the Ukrainian state – annihilation."
Apart from the two bodies outside the station, I see three others being carried out; it is unclear whether they are dead or have suffered severe injuries from the fire. Colleagues and residents report three others killed.
Mr Avakov also stresses the involvement of several branches of security in the mission, including special forces, National Guard and the army. This is seen as an attempt to assuage criticism in Kiev and western Ukraine of the "anti-terrorist offensive".
But Mariupol has also become the arena for a number of shadowy bunches of gunmen. Two days ago, a unit in black combat uniform carried out unprovoked assaults on protesters outside another police station. There have been contradictory accounts about who they were from Kiev authorities – National Guard, special forces, Ministry of Interior police. One theory is that they were mercenaries bankrolled by Igor Kolomoisky, an oligarch and Ukrainian nationalist, who had previously offered a bounty for the capture of Russian "agents".
Elena Rukoshova, a 26-year-old former kindergarten teacher, was beside her friend, Jaroslav, when he was beaten up and arrested in the last incident involving the men in black. She rushed to the police station from the parade this morning to see them and other forces involved in action again.
Reuse content