This time last week Nicolai Vorodinov was part of a large and angry crowd confronting troops and armour on one of the bloodiest of days in this violent region. Today he was on patrol with police officers removing the last of the barricades from the streets while fellow steelworkers and miners were helping to restore power and water, repair looted shops.
Mariupol, which for a while had looked like having the ominous distinction of being the place where the vicious strife in eastern Ukraine would slide into civil war, has begun to offer flickering hopes of stability and even possible peace in the future. Other cities across the region, including even Donetsk, the capital of the Peoples' Republic, are now tentatively taking the lead from this port on the Azov Sea.
Behind this 'third way', trying to find an equilibrium between nationalists and separatists, is the richest man in Ukraine and the biggest employer in the area with 300,000 on his payroll. Rinat Akhmetov, 47, has an estimated fortune of $11.7 billion and also owns the local football club FC Shakhtar.
The Oligarch is also someone with significant political clout in this region. He has, it is said by some, played both sides in this confrontation. Pavel Gubarev, the self-styled 'Peoples Governor' recently freed by the Kiev authorities claimed that Mr Akhmatov bankrolled part of the separatist movement - a charge he vehemently denies. At the same time, when Arsenyi Yatsenuik, the interim prime minister paid a visit to Donetsk, a scurrying one for security reasons, he made sure he met the billionaire to ask for his help in the deteriorating crisis.
In pictures: The Ukraine crisis
In pictures: The Ukraine crisis
1/39 Ukraine crisis

Ukrainian soldiers from the 'Azov' battalion guard their base in Mariupol, Donetsk

EPA

2/39 Ukraine crisis

Children were transferred from orphanages in Donetsk and Makeyevka to escape the fighting between the Ukrainian army and pro-Russian separatists

Reuters

3/39 Ukraine crisis

Ukrainian servicemen captured by pro-Russian separatists sit on the ground as they are assigned to clean a street in Snizhne in the Donetsk region

Reuters

4/39 Ukraine crisis

A view inside the Youth Culture Centre destroyed by pro-Russian separatists in Donetsk

Getty

5/39 Ukraine crisis

A woman holds a portrait of her dead son as she speaks during a rally in front of Ukrainian President Petro Poroshenko's office in Kiev

AFP

6/39 Ukraine crisis

A boy ascends the stairs of a bomb shelter after the shelling in the Petrovskiy district in Donetsk

AP

7/39 Ukraine crisis

A medic looks at thirty coffins prepared for the funerals of pro-Russian rebels killed during heavy fighting at Donetsk airport, outside a Donetsk morgue

8/39 Ukraine crisis

Relatives mourn near the coffin of Mark Zverev, a taxi driver shot dead during clashes at the Donetsk airport between Ukrainian troops and the pro-Russian rebels, during his funeral in the village of Grabari on the outskirts of Donetsk

9/39 Ukraine crisis

Medical workers carry a wounded pro-Russian militant on a stretcher after armed clashes occured between pro-Russian gunmen and Ukrainian troops in Slavyansk

10/39 Ukraine crisis

A member of a newly-formed pro-Russian armed group called the Russian Orthodox Army mans a barricade near Donetsk airport

11/39 Ukraine crisis

Black smoke rises from a shot down Ukrainian Army helicopter outside Slovyansk

AP

12/39 Ukraine crisis

A woman is overcome with emotion as she looks at blood stains and damage around a wrecked truck of supporters of the self-proclaimed 'Donetsk People's Republic' on road leading to the Donetsk International Airport

13/39 Ukraine crisis

A local man looks at damage near a wrecked truck of supporters of the self-proclaimed 'Donetsk People's Republic' on road leading to the Donetsk International Airport

14/39 Ukraine crisis

A bloodstained icon of Jesus is seen among blood soaked shattered glass atop a wrecked truck near the Donetsk airport

15/39 Ukraine crisis

A family member attends a funeral for Olga Prokhorenko (60) who was killed by shrapnel after Ukrainian government forces shelled their location, during the funeral in Slovyansk

16/39 Ukraine crisis

A woman reacts after seeing the lifeless body of a man killed by shrapnel following a shelling from Ukrainian government forces in Slovyansk

17/39 Ukraine crisis

Pro-Russian militants take position on the roof of the international airport of the eastern Ukrainian city of Donetsk

18/39 Ukraine crisis

A woman embraces a pro-Russian separatist from the "East" battalion during a rally in the eastern city of Donetsk

19/39 Ukraine crisis

A Ukrainian helicopter Mi-24 gunship fires its cannons against rebels at the main terminal building of Donetsk international airport

20/39 Ukraine crisis

A pro-Russian gunman changes his position near the airport, outside Donetsk

21/39 Ukraine crisis

A pro-Russian gunman aims his weapon near the airport, outside Donetsk. Ukraine's military launched air strikes against separatists who had taken over the airport in the eastern capital of Donetsk in what appeared to be the most visible operation of the Ukrainian troops since they started a crackdown on insurgents

22/39 Ukraine crisis

Pro-Russians ride on a truck in Donetsk. A convoy of an armored personnel carrier and seven trucks carrying several hundred heavily armed men drove through central Donetsk and gunmen got out of the trucks, stood to attention and gave shots in the air in jubilation as a crowd of several thousand supporters cheered them and chanted: "Heroes!"

23/39 Ukraine crisis

An elderly woman leans against the chest of a pro-Russian gunman in Lenin square in Donetsk

24/39 Ukraine crisis

Pro-Russian militants guard a psychiatric hospital after shell explosions during the fighting between pro-Russian militants and the Ukrainian army, in Semyonovka village, outside Slavyansk

25/39 Ukraine crisis

Ukrainian troops stand guard at a checkpoint on the road near the eastern city of Izum, Donetsk

26/39 Ukraine crisis

Members of the Democratic Alliance party take part in a performance in front of the French embassy in Kiev. Protesters set up a pool with the blood of animals and models of warships in a protest against French plans for the sale of two Mistral helicopter carriers to the Russian Navy

27/39 Ukraine crisis

A man carries a portrait of pro-Russian activist Vadim Hudich, who was killed in a shooting incident at the head of a funeral procession in the eastern Ukranian town of Krasnoarmeisk

28/39 Ukraine crisis

A voter is seen inside a voting booth at a polling station during the referendum on the status of Donetsk region in the eastern Ukrainian city of Donetsk

29/39 Ukraine crisis

Members of a local election commission sort ballots as they start counting votes of referendum on the status of Luhansk region in Luhansk

30/39 Ukraine crisis

Members of a local election commission empty a ballot box as they start counting votes of the referendum on the status of Donetsk region in Donetsk

31/39 Ukraine crisis

Members of a local election commission empty ballot boxes as they start counting votes after a referendum, at a polling station in Lugansk

32/39 Ukraine crisis

Local residents watch as others give first aid to a man who was shot in the leg by Ukranian militia in the village of Krasnoarmisk. Eyewitness said that Ukranian militia tried to stop the referendum voters briefly taking the City Hall of Krasnoarmisk, where unarmed pro-Russian supporters were gathering. Reportedly the Ukranian militia came out out the building and started shooting at the people, killing at least one man and leaving at least two others injured

33/39 Ukraine crisis

Members of a local election commission count votes after a referendum organized by the so-called Donetsk People's Republic members at a polling station in Donetsk

34/39 Ukraine crisis

Voters visit a polling station to take part in the referendum on the status of Donetsk

35/39 Ukraine crisis

An Armoured Personnel Carrier (APC) with a Russian flag drives through the center of Slaviansk during the day of referendum organized by the so-called Donetsk People's Republic members in Slavyansk

36/39 Ukraine crisis

A statue of Lenin is placed in front of a pro-Russian barricade on the outskirts of the eastern Ukrainian town of Slavyansk

37/39 Ukraine crisis

A feamle veteran (C) sings during 'Victory Day' celebrations in Donetsk

38/39 Ukraine crisis

People stand near the burning Mariupol police station

39/39 Ukraine crisis

Ukrainian soldiers stand guard beside an armoured personnel carrier at a checkpoint in Mariupol. Ukrainian forces seized the rebel-held city hall in the eastern port city of Mariupol, driving out pro-Russian activists, then withdrew, making no attempt to hold onto the building
Mr Akhmetov, who has a reputation for avoiding publicity, has been declaring in the last few days that independence for the east, supposedly voted for in a deeply flawed referendum last week, would be an economic disaster. The next step envisaged by the separatists, rule by the Kremlin, would be even more so. Russia, he has pointed out, does not need more coal and steel and is hardly likely to keep these industries in the region going with heavy subsidies required.
It is vital, Mr Akhmetov holds, for the Donbass to stay in a united Ukraine, albeit one with much more autonomy. Ukraine's presidential elections, banned by the Peoples' Republic, should also be held in the region, he has stressed, to stop it being disenfranchised.
The employees from Metinvest and DTEK out on the streets of Mariupol on a sunny morning insisted that their action was primarily to prevent the scenes from last week, - police headquarters burning, dead bodies in the streets, armoured personnel carriers (APCs) smashing away cars - from recurring.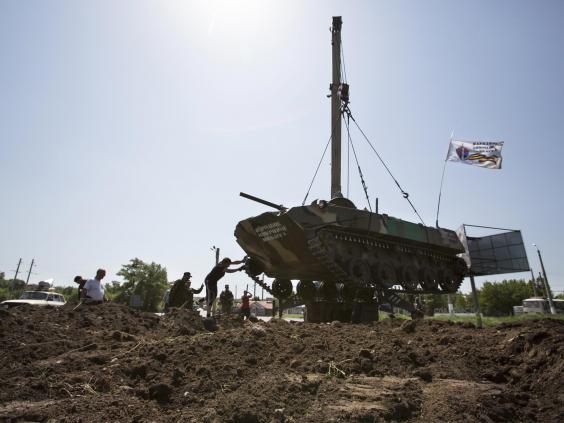 "The day these things came into our city, the day the soldiers were shooting at people, we decided that the people in Kiev had declared war on us. We will defend ourselves if necessary, but we have thought about this, we discussed this among ourselves, we do not want war, we want the Donbass to be normal again", said Mr Vorodinov.
He waved at two APCs on the side of the road. One was from a looted military base, the other, abandoned by the troops, reduced to a hulk after a drunken militant threw in a Molotov Cocktail, setting off the ammunition inside. "Look at these, we can't leave these lying here, they have to be taken to a secure place, we have people treating these as toys."
But commercial concerns, these volunteers acknowledge, were also a key driving force. "There are people in these parts who think joining Russia will make them rich. Older people will tell you that they get three times higher pension across the border. But all that will be no good if the mines and factories are closed down," Leonid Victorovich, from the steelworks at Azovstal, was keen to stress. "Look, a lot of people in the masks who were causing trouble don't work, they do not care; why else would they just destroy things, property?"
Across the road stood City Hall, which had changed hands among separatists and nationalists through several days of fighting before being finally set alight, contents of value inside stolen, the rest used for barricades. Mr Akhmnetov's workers and local people were clearing the remaining debris from outside the charred building, a few teenagers who had taken upon themselves in the last few days to act as 'militia guards' with home-made balaclavas had followed instructions to clear off.
At a playground, in the front of the building, Anya Rukosova watched the work with her two young daughters: "Of course these guys will get the support of the people, the situation was getting worse and worse, we worried about our families." Was she among the tens of thousands who had tuned up to vote in Mariupol in the referendum, one which the separatists claim gave an overwhelming mandate for secession and joining Russia?
"I wanted autonomy, not independence, but the question [on the ballot paper] wasn't clear. Most of us don't want to join Russia, what we want is the money from the Donbass to stay here and not all go to Kiev", responded the 38-year-old office manager; the upholstery business where she works has been shut for the last week due to the violence. "What is happening here, with the blockposts [barricades] cleared is a good start. Did Mr Akhmetov organise it? Well he should be more involved in this area."
Whether the start will bring real changes remains to be seen. Both the nationalists and the separatists are wary of what is being done.
Yuri Ryzhenkov, the chief executive of Metinvest, described how 'officials' of the Peoples' Republic had paid a visit to one of the factories. "They were suspicious at first, a bit aggressive. But they knew they were dealing with steelworkers and miners, people who don't like being bullied. But most importantly, the people of the city support this, and they will not accept the work being stopped."
There may also be problems from the other side, especially a private force supposedly linked to another oligarch, Igor Kolomoisky. Many of the attacks in Mariupol were carried out by these "Men in Black", the Donbass Battalion. I had witnessed meting out unprovoked beatings to demonstrators, while residents accuse them of indiscriminate shooting.
Mr Kolomoisky has praised Mr Akhmetov's efforts to keep Donbass in the Ukraine. But the unit's commander, Semyon Semenchenko, was unconcerned about civilian casualties, many of whom, he claimed, were "pigs" who had been paid to attack terrorists.
Mr Semenchneko, who has a degree in film studies and claims to have military experience, was also unrepentant about bloodshed taking place on 9 May, a revered anniversary in these parts, commemorating victory against Nazi Germany. Those who had turned up to celebrate were, he declared, "grandchildren of traitors, secret policemen and collaborators, as real heroes could not produce such grandchildren."
Hearing about the comments, Nicolai Vorodinov, the steelworker, said after a pause: "Many of us have elderly relations who fought against the Nazis, some of them died; that is the reason we turn up for Victory Day. This is obviously going to be a big problem with achieving peace; we are trying to calm things here, but Kiev just keeps sending us fascists."
Reuse content