The Ukrainian Government and pro-Russian rebels have signed a ceasefire agreement hoped to signal the end of the conflict that has killed more than 2,600 people.
All hostilities are due to stop at 6pm local time (3pm GMT) on Friday and a 12-point plan for lasting peace has been confirmed by both sides of the conflict.
Petro Poroshenko, Ukraine's President, called for international controls to maintain the peace in eastern Ukraine.
"The entire world strives for peace, the entire Ukraine strives for peace, including millions of Donbass residents," he added.
"The highest value is human life. We must do everything possible and impossible to terminate bloodshed and put an end to people's suffering."
He called peace a "very important challenge not just for Ukraine, not just for the region but for the world" and said decentralisation of power in eastern Ukraine would be considered, while urging an end to discrimination favouring either Russian or Ukrainian speakers in the country.
A rebel leader from Luhansk,  Igor Plotnitsky, said the peace deal "doesn't mean [separatists'] course for secession is over", hinting at deep divisions that could derail efforts for a permanent truce.
But Alexander Zakharchenko, the rebel leader from the Donetsk region, said: "The ceasefire will allow us to save not only civilians lives, but also the lives of the people who took up arms in order to defend their land and ideals."
Talks continued in Minsk, Belarus, including representatives from Ukraine, the separatists, Russia and the OSCE security watchdog.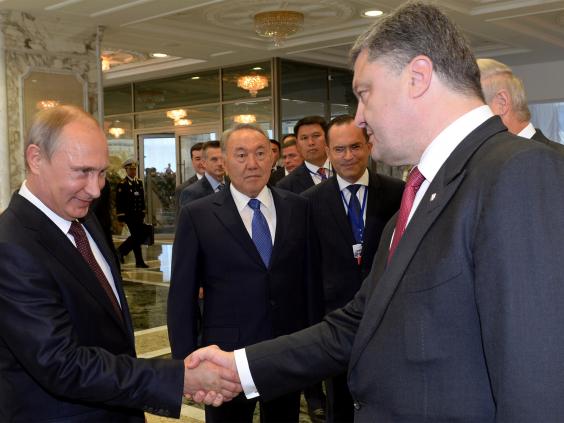 Speaking at Friday's Nato summit in Wales, the Secretary General Anders Fogh Rasmussen said he "warmly welcomed" the agreement.
He added: "One thing of course is to declare a ceasefire, the next and crucial step is to implement it in good faith and it remains to be seen - but so far, so good.
"I hope that this step could be the start of a constructive political process."
A soldier who gave his name as Mykola said the President would be "betraying the country" if he backed a truce now.
"If he goes for a peace plan, then all these dead and wounded and exiled and all the homes burned and jobs lost and money lost, it was all for nothing," he added.
There was scepticism in Donetsk, where many civilians have died in weeks of bombardments and fierce fighting.
A resident, 22-year-old Denis Tikhinov, said even if a ceasefire is ordered for the Ukrainian army, the "Kolomoisky battalions" funded by a wealthy businessman and regional governor to fight the pro-Russian separatists would continue.
News of the potential truce came as fighting raged east of the strategic port of Mariupol, where Ukrainian forces are trying to repel separatists attempting to take the city of 500,000.
Ukraine crisis: A timeline of the conflict
Ukraine crisis: A timeline of the conflict
1/22 30 November 2013

Public support grows for the "Euromaidan" anti-government protesters in Kiev demonstrating against Yanukovych's refusal to sign the EU Association Agreement as images of them injured by police crackdown spread.

EPA

2/22 20 February 2014

Kiev sees its worst day of violence for almost 70 years as at least 88 people are killed in 48 hours, with uniformed snipers shooting at protesters from rooftops.

AFP/Getty Images

3/22 22 February 2014

Yanukovych flees the country after protest leaders and politicians agree to form a new government and hold elections. The imprisoned former Prime Minister, Yulia Tymoshenko, is freed from prison and protesters take control of Presidential administration buildings, including Mr Yanukovych's residence.

Genya Savilov/AFP/Getty Imageses

4/22 27 February 2014

Pro-Russian militias seize government buildings in Crimea and the new Ukrainian government vows to prevent the country breaking up as the Crimean Parliament sets a referendum on secession from Ukraine in May.

Sean Gallup/Getty Images

5/22 16 March 2014

Crimea votes overwhelmingly to secede from Ukraine and join Russia in a ballot condemned by the US and Europe as illegal. Russian troops had moved into the peninsula weeks before after pro-Russian separatists occupied buildings.

EPA

6/22 6 April 2014

Pro-Russian rebels seize government buildings in the eastern cities of Donetsk, Luhansk and Kharkiv, calling for a referendum on independence and claiming independent republic. Ukraine authorities regain control of Kharkiv buildings on 8 April after launching an "anti-terror operation" but the rest remain out of their control.

EPA/PHOTOMIG

7/22 7 June 2014

Petro Poroshenko is sworn in as Ukraine's president, calling on separatists to lay down their arms and end the fighting and later orders the creation of humanitarian corridors, since violated, to allow civilians to flee war zones.

Getty Images

8/22 27 June 2014

The EU signs an association agreement with Ukraine, along with Georgia and Moldova, eight months after protests over the abandonment of the deal sparked the crisis.

LOUISA GOULIAMAKI/AFP/Getty Images

9/22 17 July 2014

Malaysian Airlines flight MH17 is shot down over eastern Ukraine, killing all 298 people on board. Ukrainian intelligence officials claim it was hit by rebels using a Buk surface-to-air launcher in an apparent accident.

10/22 22 August 2014

A Russian aid convoy of more than 100 lorries enters eastern Ukraine and makes drop in rebel-controlled Luhansk without Government permission, sparking allegations of a "direct violation of international law".

Reuters/Alexander Demianchuk

11/22 29 August 2014

Nato releases satellite images appearing to show Russian soldiers, artillery and armoured vehicles engaged in military operations in eastern Ukraine.

Nato

12/22 8 September 2014

Russia warns that it could block flights through its airspace if the EU goes ahead with new sanctions over the ongoing crisis and conflict

EPA

13/22 17 September 2014

Despite the cease-fire and a law passed by the Ukrainian parliament on Tuesday granting greater autonomy to rebel-held parts of the east, civilian casualties continued to rise, adding to the estimated 3,000 people killed

Reuters

14/22 16 November 2014

The fragile ceasefire gives way to an increased wave of military activity as artillery fire continues to rock the eastern Ukraine's pro-Russian rebel bastion of Donetsk

Getty

15/22 26 December 2014

A new round of ceasefire talks, scheduled on neutral ground in the Belariusian capital Minsk, are called off

AFP/Getty

16/22 12 January 2015

Soldiers in Debaltseve were forced to prepare heavy defences around the city; despite a brief respite to the fighting in eastern Ukraine, hostilities in Donetsk resumed at a level not seen since September 2014

AFP/Getty

17/22 21 January 2015

13 people are killed during shelling of bus in the rebel-held city of Donetsk

Reuters

18/22 24 January 2015

Ten people were killed after pro-Russian separatists bombarded the east Ukrainian port city of Mariupol

AP

19/22 2 February 2015

There was a dangerous shift in tempo as rebels bolstered troop numbers against government forces

AFP/Getty

20/22 11 February 2015

European leaders meet in Minsk and agree on a ceasefire in eastern Ukraine beginning on February 14. From left to right: Belarus President Alexander Lukashenko, Russian President Vladimir Putin, German Chancellor Angela Merkel, France's President Francois Hollande and Ukrainian President Petro Poroshenko.

MAXIM MALINOVSKY | AFP | Getty Images

21/22 13 February 2015

Pro-Russian rebels in the city of Gorlivka, in the Donetsk region, fire missiles at Ukrainian forces in Debaltseve. Fighting continued in Debaltseve for a number of days after the Minsk ceasefire began.

ANDREY BORODULIN | AFP | Getty Images

22/22 18 February 2015

Ukrainian soldiers repair the bullet-shattered windshield of their truck as their withdraw from the strategic town of Debaltseve. Following intense shelling from pro-Russian rebels, Ukrainian forces began to leave the town in the early hours of February 18.

Brendan Hoffman | Getty Images
A spokesman for the rebels' self-proclaimed Donetsk People's Republic claimed they had entered Mariupol on Friday but Government spokespeople insisted they had been kept out.
Artillery fire was also heard in Donetsk, where people were seen queuing on Friday morning to get water, sign up for humanitarian aid and to withdraw money from the cash machine of one of the few banks still working.
A mosque, shops and schools were among buildings damaged by renewed shelling.
Russia has continued to deny sending troops and weapons into Ukraine, despite evidence to the contrary presented by Nato, and a spokesperson for the Ukrainian military claimed around 2,000 Russian servicemen had died in the conflict so far.
Vladimir Putin had put forward his own seven-point peace plan, including stopping "active offensive operations" by the Ukrainian military and rebels, international ceasefire monitoring, unconditional prisoner exchanges and humanitarian aid corridors, but Mr Poroshenko said the agreed ceasefire was based on his own plan.
The Minsk peace talks coincided with Nato's summit in Wales, where leaders agreed on a 4,000-strong "spearhead" military force, able to deploy in a matter of days.
The European Union was set to agree on new economic sanctions against Russia on Friday but could suspend them if Moscow withdraws its troops from Ukraine and observes the new ceasefire.
Angela Merkel, the German Chancellor said, said the peace would have to be verified along with the withdrawal of Russian troops and an effective buffer zone.
Additional reporting by Reuters