Ukrainian forces have been ordered to pull back from the main airport at Luhansk after a night of heavy clashes with a Russian "tank battalion".
Ukraine's military said paratroopers had been fighting a Russian tank battalion in a bid to hold onto the airport outside Luhansk, a separatist stronghold on the border with Russia.
"The battle between Ukrainian paratroopers and a reinforced tank battalion of the Russian armed forces is continuing with the goal of controlling the Luhansk airfield," military spokesperson Leonid Matyukhin wrote on his Facebook page, before the army was given the order to withdraw from the area.
The news followed reports that two Ukrainian seamen were missing after a pro-Russian attack was made on a patrol boat in the Sea of Azov on Sunday, marking the first naval action in the conflict.
President Petro Poroshenko has since accused Russia of "direct and open aggression", claiming the action had radically changed the battlefield balance as Kiev's forces suffer major reverses in the war with pro-Moscow separatists.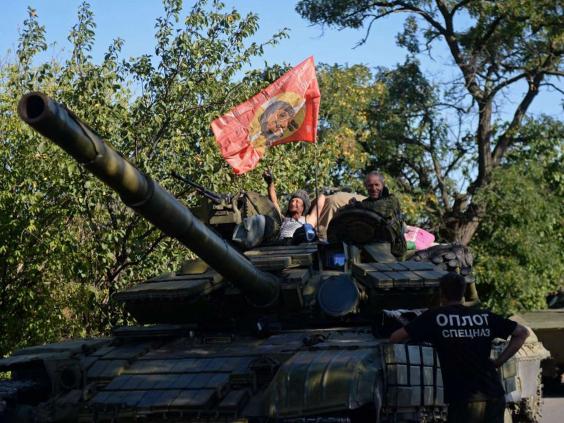 The overnight clashes came the day before Ukrainian and Russian officials are due to hold talks with separatist rebels and international monitors in Minsk, Belarus, and Ukraine's defence minister Valeriy Geletey has since confirmed that Russian troops are moving into other towns in the region, including Donetsk.
But Russian foreign minister Sergei Lavrov defied reports by the Ukrainian government, Nato and Western nations that Russian troops had been sent into Ukraine along with artillery and tanks to re-enforce separatist capabilities along the border, telling students at Moscow State Institute of International Relations that "there will be no military intervention".
Lavrov has instead urged negotiators at Monday's 'Contact Group' in Minsk to call an "immediate ceasefire" between Ukrainian government troops and pro-Russian separatists.
Video: Putin urges Ukraine to talk about the future of eastern Ukraine
"We call for an exclusively peaceful settlement of this severe crisis, this tragedy," he said.
It is understood that around 2,600 people have died in eastern Ukraine since the fighting began in April.
Ukraine's national security and defence council spokesman Andreiy Lysenko said that seven Ukrainian service personnel had been killed in the past 24 hours.  
Additional reporting from Reuters news agency.