An agreement intended to end the conflict in Ukraine and halt the slide towards a new Cold War between Russia and the West was signed today after prolonged international efforts.
Angela Merkel and François Hollande had carried out a frenetic diplomatic push to hold the talks, warning that it was the last chance to grasp peace. The ceasefire deal, the French President declared after the all-night summit, was a "relief for Europe". The German Chancellor said it meant that "there is a real chance to turn things for the better".
But doubts quickly surfaced as to whether the result of 17 hours of talks in Minsk, the capital of Belarus, was enough to end the violence that has claimed 5,400 lives. Ukraine's President, Petro Poroshenko, said implementing the agreement would be "difficult". His military officials warned that, even as talks were taking place, 50 tanks, 40 missile-launchers and 40 armoured vehicles had entered eastern Ukraine from Russia to reinforce the region's pro-Russian rebels.
The truce announced by the leaders of Ukraine, Russia, Germany and France was remarkably similar to the "Minsk Protocol" signed in the city five months ago. That fell apart within weeks and led to renewed fighting.
Ukraine crisis: A timeline of the conflict
Ukraine crisis: A timeline of the conflict
1/22 30 November 2013

Public support grows for the "Euromaidan" anti-government protesters in Kiev demonstrating against Yanukovych's refusal to sign the EU Association Agreement as images of them injured by police crackdown spread.

EPA

2/22 20 February 2014

Kiev sees its worst day of violence for almost 70 years as at least 88 people are killed in 48 hours, with uniformed snipers shooting at protesters from rooftops.

AFP/Getty Images

3/22 22 February 2014

Yanukovych flees the country after protest leaders and politicians agree to form a new government and hold elections. The imprisoned former Prime Minister, Yulia Tymoshenko, is freed from prison and protesters take control of Presidential administration buildings, including Mr Yanukovych's residence.

Genya Savilov/AFP/Getty Imageses

4/22 27 February 2014

Pro-Russian militias seize government buildings in Crimea and the new Ukrainian government vows to prevent the country breaking up as the Crimean Parliament sets a referendum on secession from Ukraine in May.

Sean Gallup/Getty Images

5/22 16 March 2014

Crimea votes overwhelmingly to secede from Ukraine and join Russia in a ballot condemned by the US and Europe as illegal. Russian troops had moved into the peninsula weeks before after pro-Russian separatists occupied buildings.

EPA

6/22 6 April 2014

Pro-Russian rebels seize government buildings in the eastern cities of Donetsk, Luhansk and Kharkiv, calling for a referendum on independence and claiming independent republic. Ukraine authorities regain control of Kharkiv buildings on 8 April after launching an "anti-terror operation" but the rest remain out of their control.

EPA/PHOTOMIG

7/22 7 June 2014

Petro Poroshenko is sworn in as Ukraine's president, calling on separatists to lay down their arms and end the fighting and later orders the creation of humanitarian corridors, since violated, to allow civilians to flee war zones.

Getty Images

8/22 27 June 2014

The EU signs an association agreement with Ukraine, along with Georgia and Moldova, eight months after protests over the abandonment of the deal sparked the crisis.

LOUISA GOULIAMAKI/AFP/Getty Images

9/22 17 July 2014

Malaysian Airlines flight MH17 is shot down over eastern Ukraine, killing all 298 people on board. Ukrainian intelligence officials claim it was hit by rebels using a Buk surface-to-air launcher in an apparent accident.

10/22 22 August 2014

A Russian aid convoy of more than 100 lorries enters eastern Ukraine and makes drop in rebel-controlled Luhansk without Government permission, sparking allegations of a "direct violation of international law".

Reuters/Alexander Demianchuk

11/22 29 August 2014

Nato releases satellite images appearing to show Russian soldiers, artillery and armoured vehicles engaged in military operations in eastern Ukraine.

Nato

12/22 8 September 2014

Russia warns that it could block flights through its airspace if the EU goes ahead with new sanctions over the ongoing crisis and conflict

EPA

13/22 17 September 2014

Despite the cease-fire and a law passed by the Ukrainian parliament on Tuesday granting greater autonomy to rebel-held parts of the east, civilian casualties continued to rise, adding to the estimated 3,000 people killed

Reuters

14/22 16 November 2014

The fragile ceasefire gives way to an increased wave of military activity as artillery fire continues to rock the eastern Ukraine's pro-Russian rebel bastion of Donetsk

Getty

15/22 26 December 2014

A new round of ceasefire talks, scheduled on neutral ground in the Belariusian capital Minsk, are called off

AFP/Getty

16/22 12 January 2015

Soldiers in Debaltseve were forced to prepare heavy defences around the city; despite a brief respite to the fighting in eastern Ukraine, hostilities in Donetsk resumed at a level not seen since September 2014

AFP/Getty

17/22 21 January 2015

13 people are killed during shelling of bus in the rebel-held city of Donetsk

Reuters

18/22 24 January 2015

Ten people were killed after pro-Russian separatists bombarded the east Ukrainian port city of Mariupol

AP

19/22 2 February 2015

There was a dangerous shift in tempo as rebels bolstered troop numbers against government forces

AFP/Getty

20/22 11 February 2015

European leaders meet in Minsk and agree on a ceasefire in eastern Ukraine beginning on February 14. From left to right: Belarus President Alexander Lukashenko, Russian President Vladimir Putin, German Chancellor Angela Merkel, France's President Francois Hollande and Ukrainian President Petro Poroshenko.

MAXIM MALINOVSKY | AFP | Getty Images

21/22 13 February 2015

Pro-Russian rebels in the city of Gorlivka, in the Donetsk region, fire missiles at Ukrainian forces in Debaltseve. Fighting continued in Debaltseve for a number of days after the Minsk ceasefire began.

ANDREY BORODULIN | AFP | Getty Images

22/22 18 February 2015

Ukrainian soldiers repair the bullet-shattered windshield of their truck as their withdraw from the strategic town of Debaltseve. Following intense shelling from pro-Russian rebels, Ukrainian forces began to leave the town in the early hours of February 18.

Brendan Hoffman | Getty Images
The heads of the "people's republics" of Donetsk and Lugansk reportedly signed the new document only after pressure from the Russian President, Vladimir Putin. Theoretically, the separatists will have to withdraw from some of the territory they have captured in recent months. Fighters on the ground complained that they were being held back just when they had Ukrainian government forces on the back foot.
Alexander Zakharenko, the rebel leader in Donetsk, said Kiev would be held responsible if the new ceasefire collapsed. "There will be no more meetings and no more agreements after that," he said. Igor Plotinsky, his opposite number in Lugansk, added: "Ukraine has to change, to stop killing its own people. Ukraine will change, thanks to the people of Donbass."
Ms Merkel and Mr Hollande both praised Mr Putin for persuading the separatist leaders to sign the agreement. Mr Putin said: "It was not the best night in my life but the morning is good because we have managed to agree on the main things despite all the difficulties of the negotiations."
Western powers and the Ukrainian government had repeatedly accused the Kremlin of fomenting secession, arming the rebels and sending Russian troops across the border to join the combat.
US and Nato officials have cast doubts on Russia's good faith at the Minsk talks, as have countries in eastern Europe, once satellite states of the Soviet Union, which want a far more robust stance towards Moscow. The US is sending a battalion to Ukraine next month to train the country's forces, and is considering supplying Kiev with heavy weapons despite German and French opposition.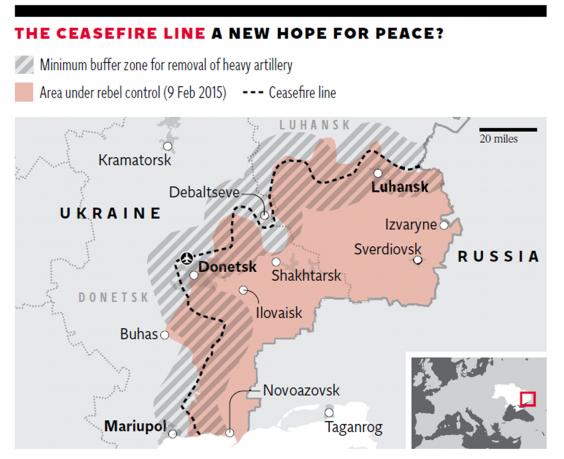 The new deal, already known as "Minsk 2", is supposed to take effect with a ceasefire on Sunday morning. This should be followed by the withdrawal of artillery and of "foreign armed formations", the release of prisoners, an amnesty for those who took part in fighting and constitutional reform giving "special status" to rebel-held areas.
Mr Poroshenko failed to secure one key demand: immediate control of the border with Russia, across which weapons and combat troops have entered Ukraine. This will not take place until December at the earliest, and then only after the special enclaves for separatists have elected administrations.
The fate of Debeltseve, a strategic transport hub where Ukrainian forces are all but surrounded, is also unresolved after Mr Putin and Mr Poroshenko argued about its fate. The Ukrainian military said it expected another rebel assault on the town before the ceasefire begins.
Mr Poroshenko said he had rejected "various unacceptable conditions of withdrawal and surrender – we did not agree to any ultimatums". But he faces opposition from many in Kiev, where there is anger at the government's steady loss of sovereignty in the east. His government received a boost when the International Monetary Fund agreed to a $17.5bn bailout scheme, rising to $40bn by 2019.
EU leaders cautiously welcomed the deal. David Cameron said what counted was "actions on the ground rather than words on a piece of paper", Finland's premier, Alexander Stubb, said: "We should remember that since the last peace agreement was agreed, 1,000 people have died."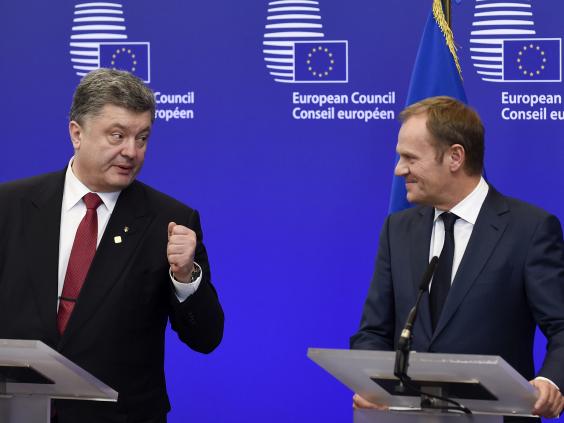 The agreement: What happens next?
Ceasefire
Ukrainian troops and Russian-backed separatists are to begin an "immediate and comprehensive" ceasefire by the start of Sunday.
Heavy weapons
Both sides are to pull heavy weapons back from the front line, creating a much wider buffer zone than specified under the September agreement. The withdrawals are to begin on Monday and be completed within two weeks.
Foreign fighters
All foreign fighters, "mercenaries" and weapons are to leave, a reference to the troops Russia is accused of sending into eastern Ukraine.
Prisoners
All prisoners on both sides are to be released no later than five days after the withdrawal of heavy weapons. Russia has been under pressure to free Nadezhda Savchenko, a Ukrainian air force officer who has been on a hunger strike for more than two months. Russia has charged her with involvement in the deaths of two Russian journalists in eastern Ukraine.
Elections
In a win for Ukraine, the Donetsk and Luhansk regions are obliged to hold new elections under Ukrainian law.
Borders
In a major victory for Russia, restoration of Ukrainian control over the border with Russia in separatist-controlled areas is conditional on Ukraine amending its constitution to grant wide powers to the eastern regions, including the right to form their own police force and trade freely with Russia.
Economy
Ukraine is obliged to restore banking services to the rebel regions and resume social payments, including pensions and salaries of those on the government payroll.
AP
Warship deal 'revived'
French Foreign Minister Laurent Fabius has said that the delivery of two Mistral-class warships to Russia is "still on hold" despite suggestions that the newly-agreed ceasefire in Ukraine could see it go ahead.
Moscow-based news agency Interfax today quoted a 'military-diplomatic source' as saying the peace deal meant delivery of the helicopter carriers, at the centre of a deal worth £890m, could move forward as early as the beginning of next week.
However, Fabius poured cold water on the idea in an interview with French television channel iTele.
"How can we fulfill in present conditions the deal that has been struck several years ago?" he said, adding: "The implementation of the contract is still on hold."
The Elysee Palace suspended delivery of the ships in November, citing Russia's alleged support of pro-Russian rebels in Ukraine. In response, the Russians threatened to take DCNS, the French company behind the deal, to court. 
Similar rumours circulated before Christmas that France would supply the warships. However the French Ministry of Defence denied the suggestion and the delivery did not ahead. A UN embargo against trading arms with Russia has been in place since August 2014.
Oscar Quine
Reuse content