Russia's foreign minister has claimed Moscow has "absolutely no intention" of ordering its armed forces to cross the Ukrainian border amid growing fears of an invasion.
Sergey Lavrov appeared to rule out a move into eastern Ukraine following Russia's annexation of Crimea.
"We have absolutely no intention and no interests in crossing the Ukrainian border," he told Russian state television on Saturday.
"We [Russia and the West] are getting closer in our positions," he added, saying recent contacts had shown the outlines of a "possible joint initiative which could be presented to our Ukrainian colleagues".
Mr Lavrov will meet US Secretary of State John Kerry in Paris on Sunday, as both sides move to ease tensions in what has been called the worst East-West standoff since the Cold War.
The news came after Barack Obama urged Vladimir Putin to withdraw troops from near the Ukraine border, in the first direct contact between the two leaders since takeover of Crimea.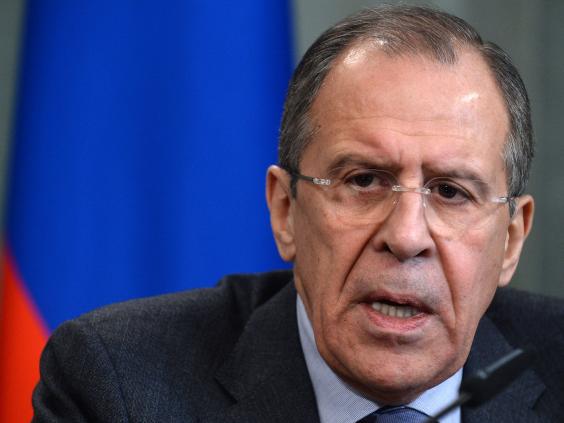 The White House said that Mr Obama had urged the Russian President in a telephone call to ease tensions by removing soldiers and respond to proposals for a diplomatic solution put forward by the US.
The Kremlin said Mr Putin had suggested "examining possible steps the global community can take to help stabilise the situation" and said the foreign ministers of the two countries would hold discussions.
Tougher sanctions could be imposed on Russia on top of visa bans for some of Mr Putin's inner circle.
In pictures: Ukraine crisis
In pictures: Ukraine crisis
1/12 Ukraine crisis

People shout slogans during a pro Russian rally at a central square in Donetsk. Pro Russian activists continued to gather on Saturday in the eastern Ukrainian city of Donetsk, as Russia was reported to be reinforcing its military presence in Crimea.

2/12 Ukraine crisis

In the same pro Russian rally, demonstrators show their support. Ukraine's ambassador to Russia and a deputy Russian foreign minister held a "cordial" meeting on Saturday, Moscow said, without giving details of any discussion of Russian-occupied Crimea.

3/12 Ukraine crisis

Crimean ethnic tatars stand on the roadside as Russian troops move towards to Simferopol in the settlement of Kok-Asan, some 70 kilometres from Simferopol in Crimea.

4/12 Ukraine crisis

Russian troops stand on a roadside in the settlement of Opytnoye, some 70 kilometres from Simferopol.

5/12 Ukraine crisis

Armed members of the first unit of a pro-Russian armed force, dubbed the "military forces of the autonomous republic of Crimea" march before the swearing-in ceremony in Simferopol, Ukraine. Some 30 men armed with automatic weapons and another 20 or so unarmed, were sworn in at a park in front of an eternal flame to those killed in World War II.

6/12 Ukraine crisis

A group of Cossacks march past a statue of Soviet revolutionary leader Vladimir Lenin in Simferopol as tensions in the area continue to rise.

7/12 Ukraine crisis

An armed member of the first unit of a pro-Russian armed force, dubbed the "military forces of the autonomous republic of Crimea" signs the oath during the swearing-in ceremony in Simferopol,

8/12 Ukraine crisis

9/12 Ukraine crisis

Ukrainian soldiers load their armed personnel carriers (APCs) into boxcars in the western Ukrainian city of Lviv. Pro-Kremlin militia fired warning shots as unarmed foreign observers tried to enter Crimea on the 8th.

10/12 Ukraine crisis

An abandoned naval ship sunk by the Russian navy to block the entrance is seen in the Crimean port of Yevpatorya on March 8th.

11/12 Ukraine crisis

Ukrainian sailors stand guard on top of the Ukrainian navy ship at the Crimean port of Yevpatorya.

12/12 Ukraine crisis

Crimea's pro-Moscow leader Sergei Aksyonov speaks to the media in Simferopol on the 8th March. He has defended a decision to hold a referendum on whether the region should join Russia, saying on Saturday that "no one" could cancel the voting.
The news came as a former boxer who was tipped for victory in the Ukrainian presidential race pulled out of the election.
Vitaly Klitschko has instead thrown his weight behind Petro Poroshenko, a billionaire confectionary oligarch hailed as one of the most influential people in Ukrainian politics.
His withdrawal sets up a contest between the man known as the " Chocolate King" and Yulia Tymoshenko, the former Prime Minister, on 25 May.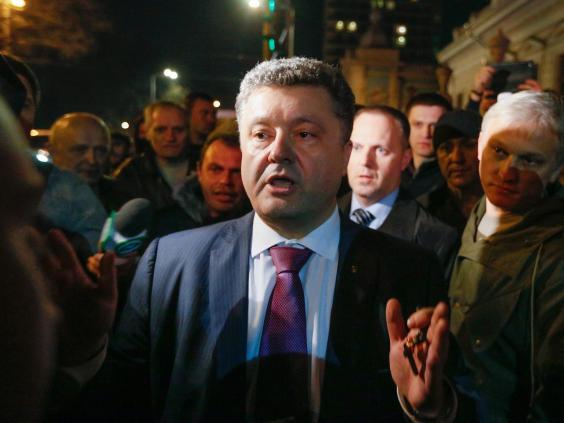 Mr Poroshenko, 48, confirmed his candidacy late on Friday but several opinions polls already had him in the lead even before he said he would run to succeed ousted president Viktor Yanukovich.
He was an early and influential supporter of the popular uprising that toppled Mr Yanukovich in February, three months after he spurned a deal on closer ties with the European Union, sparking protests across the country.
Mr Poroshenko's pledges include strengthening Ukraine's armed forces and protecting its borders.
"We need to build a new, efficient and modern Ukrainian army, which will defend the sovereignty and integrity of our country," Interfax news agency quoted him as saying in Vinnitsa.
Mr Klitschko told a meeting of his UDAR (Punch) party, urged supporters to back Mr Poroshenko and announced he would run instead for mayor of Kiev.
"The only chance of winning is to nominate one candidate from the democratic forces," he said.
Ukrainians will vote under the shadow of Russia's annexation of Ukraine's Black Sea Crimea peninsula.
Additional reporting by Reuters
Reuse content