The men appeared tired, defeated and demoralised. Dressed in green camouflage they stared into the camera and tried to explain why, as Russian paratroopers, they were in eastern Ukraine. "Name yourself," an interviewer said. "I am a citizen of the Russian Federation," the soldier replied.
Hundreds of miles away, outside a provincial military base in Kostroma, around 200 miles north-east of Moscow, a group of women gathered on a pavement, some pushing prams. The families of a group of 10 members of the 331st Airborne Regiment demanded to know what had happened to their sons who were, according to the Ukrainian security service, captured near the village of Dzerkalne in the Donetsk region while fighting alongside pro-Russian rebels in Ukraine's eastern provinces.
The security service released videos of four of the paratroopers being questioned – named as Lance Corporals Sergey Smirnov, Ivan Milchukov, Ivan Romantsev and Sergeant Aleksei Generalov – who were on active duty in the Russian army.
Tatiana Arkhipova, 42, said her son Sergei, 22, was among those captured. She recalled driving at dawn to Kostroma, where officials confirmed that her son had been captured, then dismissed the rest of her questions. "If there were a plan for them to be sent to Ukraine, someone would have given them notice, and then he would not have gone," she told The Washington Post.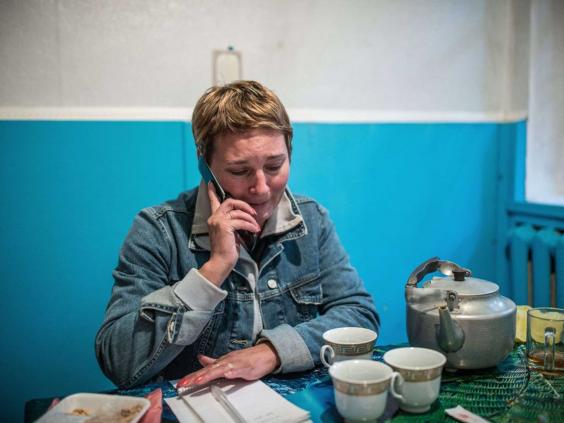 The soldiers were said by the security service to have been redeployed by rail to the Rostov region of Russia and at 3am last Sunday were ordered to "invade" the territory of Ukraine.
Reports have since claimed that hundreds, perhaps thousands, of soldiers are fighting – like those captured, without identifying uniforms – in the country. The developments echo the events that led to the annexing of Crimea by Russia – the sudden appearance of unidentified and well-equipped "green men" which preceded the Russian takeover.
Moscow has denied that the soldiers were sent to fight in Ukraine, claiming instead they had crossed the border by mistake. "The mentioned servicemen were patrolling the Russian-Ukrainian border, and crossed it, probably accidentally, at an unmarked border point," an unidentified Defence Ministry source told the RIA-Novosti news agency on Tuesday.
Yesterday, Lev Shlosberg, a newspaper publisher who also represents the Russian United Democratic Party "Yabloko" in the regional assembly in the north-western city of Pskov, said he had been badly beaten after publicising the funerals of two soldiers who may have died while fighting in Ukraine.
"Those people were professionals," he said, describing Friday night's attack. Shlosberg's local paper, Pskovskaya Gubernia, published the investigation into the two Pskov-based paratroopers last week.
Pretending that no Russian soldier is fighting in Ukraine comes at a high cost both internationally and domestically. Rights groups, activists and local journalists allege that Russia, with its history of covering up the deaths of soldiers, has not allowed the truth in Ukraine to emerge. Some soldiers, it is claimed, have been buried in unmarked graves to hide their role in the conflict.
In total, some 2,600 people, including soldiers and civilians, have died in fighting in the Donetsk and Luhansk regions since April this year.
Ukraine crisis: Russian 'aid' convoy
Ukraine crisis: Russian 'aid' convoy
1/11 Ukraine crisis

Drivers of the first trucks of the Russian aid convoy parked in the city of Luhansk on 22 August

AP

2/11 Ukraine crisis

An employee inspects the contents of a truck with Russian humanitarian aid in Mariupol, Ukraine on 22 August 2014

EPA

3/11 Ukraine crisis

The convoy nearing the border before it parked at a camp in Russia

Reuters/Alexander Demianchuk

4/11 Ukraine crisis

Russian convoy carrying humanitarian aid for residents in rebel eastern Ukrainian regions moving along a road in the city of Voronezh, about 530 km from Moscow, Russia

5/11 Ukraine crisis

An Ukrainian border guard checks passing cars at a checkpoint of Pletnyovka, Kharkiv region on Ukraine-Russia border, where Russian humanitarian convoy is to cross the border

6/11 Ukraine crisis

Ukrainian border guards stand at the Ukrainian-Russian border crossing

EPA

7/11 Ukraine crisis

Trucks of a Russian convoy carrying humanitarian aid for Ukraine are parked at the military air base outside Voronezh

8/11 Ukraine crisis

Drivers of a Russian convoy of trucks carrying humanitarian aid for Ukraine take a rest on a side of a road near the city of Yelets

9/11 Ukraine crisis

An Ukrainian soldier stands guard at a checkpoint of Pletnyovka, Kharkiv region on Ukraine-Russia border, where Russian humanitarian convoy is to cross the border

10/11 Ukraine crisis

A Russian convoy carrying humanitarian aid for residents in rebel eastern Ukrainian regions moves along a road about 50 km from Voronezh, Russia, 14 August 2014. The convoy continues to advance through Russian territory after a one-day stop in Voronezh in full coordination with and under the aegis of the Red Cross, according to Russian authorities

11/11 Ukraine crisis

The Russian convoy carrying humanitarian aid in the Voronezh region of Russia en route to Ukraine

AP
Valentina Melnikova, who leads the Soldiers' Mothers Committee, told The Daily Beast last week that she was "personally humiliated as a citizen of the Russian Federation by our commander-in-chief's pure, direct crime".
Another rights activist said he had had a call from a Russian mother. The woman said her son's remains were dropped off at her house last week. Accompanying documents said he had died of his wounds – but there was no mention of where he died. "She called other soldiers who served with her son," Sergei Krivenko, of Russia's Presidential Human Rights Council, told USA Today. "These aren't just civilians, but people who are following [military] orders. That is why we asked that these deaths be investigated."
Reuters has reported that, on 13 August, a battle between government forces from Kiev and rebels claimed the lives of more than 100 Russian soldiers. Details of the fighting emerged on Thursday – more than two weeks later.
The Human Rights Council told Reuters that the bodies were found in unmarked, hastily dug graves, without documentation proving they had been in Ukraine and with death certificates saying they had died elsewhere. "The soldiers serving on contract are given an order, and the columns go across Russia and they stop at a camp, as though part of a training exercise, on the border with Ukraine," a council spokesman said. "They take off all the [identification] numbers or blot them out."
Journalists from Novaya Gazeta among others reported having seen two fresh graves of paratroopers in the region last Monday.
Yesterday, Ukrainian forces were forced to retreat in the face of a renewed rebel advance. Regular units of the Ukrainian military were ordered to leave Novosvitlivka and Khryashchuvate, two towns on the main road between the Russian border and Luhansk, the second-largest rebel-held city.
A Ukrainian military spokesman said that Russian tanks had attacked Novosvitlivka and "destroyed virtually every house".
Separately, Ukrainian forces said one of their Su-25 fighter jets was shot down on Friday over eastern Ukraine by a missile from a Russian missile launcher. The pilot ejected and was uninjured, the military said.
In the port city of Mariupol, thousands of residents were yesterday leaving their homes, fearing both the rebel advance and government counter-offensive. They joined the reported 155,800 people who have left their homes during the fighting in eastern Ukraine.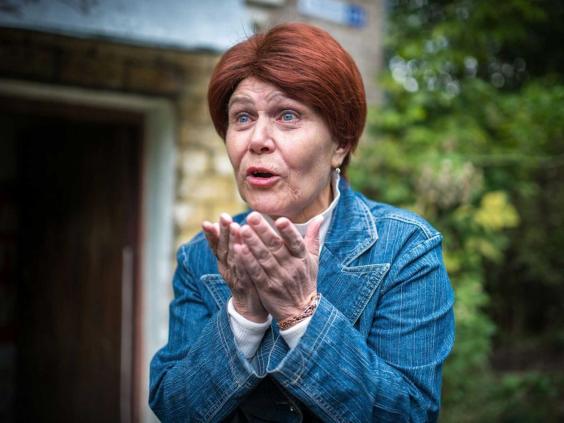 Russia's unwillingness to acknowledge the soldiers' deaths have been viewed as symptomatic of its history of failure to recognise deaths in the armed forces. Only at the very end of the Soviet Union's war in Afghanistan did it specify that more than 13,000 had been killed, according to a 1988 New York Times report. Parents, unaware of what had happened to their sons, had ventured into the region in search of them.
A decade later, things had not changed. "I would trust maybe only a quarter of what is said about Chechnya," one soldier told The Moscow Times in 1999. "One other soldier was killed from my unit. I called his mother, and she didn't know."
As more Russian soldiers travel to Ukraine, the anger among their families left behind only increases.
Several regional leaders of the Soldiers' Mothers group have claimed that servicemen supposed to be on training exercises on the Russian side of the border have been killed and buried. In an apparent attempt to limit their increasing outspokenness, the St Petersburg branch of the group was included in a register of "foreign agents" by the Kremlin on Thursday, thereby designating it as an organisation that receives foreign funding and practises what is described as "political" activity.
Ella Polyakova, head of the branch, called it an "insult". The categorisation came on the same day Nato said more than 1,000 Russian troops were operating inside Ukraine, releasing satellite images of Russian combat forces armed with heavy weapons.
Reuse content