A trip to the General Staff building in Kiev, the engine room of the Ukrainian war effort, is a journey back in time. Once inside the crumbling compound, and past several guard stops, you're greeted with wide, brown Stalinist corridors, and walls decorated with Soviet-style military pomp. There is little attempt to hide the country's deep, common history with its eastern neighbour, and now adversary.
Like many of Ukraine's top military officers, commander-in-chief Colonel-General Viktor Muzhenko has a long association with Russia. He spent his formative years as a young cadet in Leningrad, the present-day St Petersburg; many friends and family remain on that side of the border. Yet the past 15 bloody, fraught months at the helm of the Ukrainian armed forces have left him altogether apprehensive about the intentions of once fellow compatriots. Ukraine's top commander says he holds little hope that key conditions of the Western-brokered Minsk peace accord – aimed at stopping the conflict between government forces and the Russian-backed separatists – will be fulfilled. 
"I don't believe Russians will withdraw their troops, hand over control of the border, or allow free elections in Donbass, no, absolutely not," he said. "I can only assess what is happening at the moment and there is currently little evidence of movement on any of these fronts."
Col-Gen Muzhenko confirmed that while a ceasefire has largely held since 29 August, reconnaissance groups have remained active along the front lines. A significant enemy military presence – "more than 40,000" – remains inside the separatist enclaves, he said, and "all of them are answerable to a Russian chain of command". 
Ukraine crisis: A timeline of the conflict
Ukraine crisis: A timeline of the conflict
1/22 30 November 2013

Public support grows for the "Euromaidan" anti-government protesters in Kiev demonstrating against Yanukovych's refusal to sign the EU Association Agreement as images of them injured by police crackdown spread.

EPA

2/22 20 February 2014

Kiev sees its worst day of violence for almost 70 years as at least 88 people are killed in 48 hours, with uniformed snipers shooting at protesters from rooftops.

AFP/Getty Images

3/22 22 February 2014

Yanukovych flees the country after protest leaders and politicians agree to form a new government and hold elections. The imprisoned former Prime Minister, Yulia Tymoshenko, is freed from prison and protesters take control of Presidential administration buildings, including Mr Yanukovych's residence.

Genya Savilov/AFP/Getty Imageses

4/22 27 February 2014

Pro-Russian militias seize government buildings in Crimea and the new Ukrainian government vows to prevent the country breaking up as the Crimean Parliament sets a referendum on secession from Ukraine in May.

Sean Gallup/Getty Images

5/22 16 March 2014

Crimea votes overwhelmingly to secede from Ukraine and join Russia in a ballot condemned by the US and Europe as illegal. Russian troops had moved into the peninsula weeks before after pro-Russian separatists occupied buildings.

EPA

6/22 6 April 2014

Pro-Russian rebels seize government buildings in the eastern cities of Donetsk, Luhansk and Kharkiv, calling for a referendum on independence and claiming independent republic. Ukraine authorities regain control of Kharkiv buildings on 8 April after launching an "anti-terror operation" but the rest remain out of their control.

EPA/PHOTOMIG

7/22 7 June 2014

Petro Poroshenko is sworn in as Ukraine's president, calling on separatists to lay down their arms and end the fighting and later orders the creation of humanitarian corridors, since violated, to allow civilians to flee war zones.

Getty Images

8/22 27 June 2014

The EU signs an association agreement with Ukraine, along with Georgia and Moldova, eight months after protests over the abandonment of the deal sparked the crisis.

LOUISA GOULIAMAKI/AFP/Getty Images

9/22 17 July 2014

Malaysian Airlines flight MH17 is shot down over eastern Ukraine, killing all 298 people on board. Ukrainian intelligence officials claim it was hit by rebels using a Buk surface-to-air launcher in an apparent accident.

10/22 22 August 2014

A Russian aid convoy of more than 100 lorries enters eastern Ukraine and makes drop in rebel-controlled Luhansk without Government permission, sparking allegations of a "direct violation of international law".

Reuters/Alexander Demianchuk

11/22 29 August 2014

Nato releases satellite images appearing to show Russian soldiers, artillery and armoured vehicles engaged in military operations in eastern Ukraine.

Nato

12/22 8 September 2014

Russia warns that it could block flights through its airspace if the EU goes ahead with new sanctions over the ongoing crisis and conflict

EPA

13/22 17 September 2014

Despite the cease-fire and a law passed by the Ukrainian parliament on Tuesday granting greater autonomy to rebel-held parts of the east, civilian casualties continued to rise, adding to the estimated 3,000 people killed

Reuters

14/22 16 November 2014

The fragile ceasefire gives way to an increased wave of military activity as artillery fire continues to rock the eastern Ukraine's pro-Russian rebel bastion of Donetsk

Getty

15/22 26 December 2014

A new round of ceasefire talks, scheduled on neutral ground in the Belariusian capital Minsk, are called off

AFP/Getty

16/22 12 January 2015

Soldiers in Debaltseve were forced to prepare heavy defences around the city; despite a brief respite to the fighting in eastern Ukraine, hostilities in Donetsk resumed at a level not seen since September 2014

AFP/Getty

17/22 21 January 2015

13 people are killed during shelling of bus in the rebel-held city of Donetsk

Reuters

18/22 24 January 2015

Ten people were killed after pro-Russian separatists bombarded the east Ukrainian port city of Mariupol

AP

19/22 2 February 2015

There was a dangerous shift in tempo as rebels bolstered troop numbers against government forces

AFP/Getty

20/22 11 February 2015

European leaders meet in Minsk and agree on a ceasefire in eastern Ukraine beginning on February 14. From left to right: Belarus President Alexander Lukashenko, Russian President Vladimir Putin, German Chancellor Angela Merkel, France's President Francois Hollande and Ukrainian President Petro Poroshenko.

MAXIM MALINOVSKY | AFP | Getty Images

21/22 13 February 2015

Pro-Russian rebels in the city of Gorlivka, in the Donetsk region, fire missiles at Ukrainian forces in Debaltseve. Fighting continued in Debaltseve for a number of days after the Minsk ceasefire began.

ANDREY BORODULIN | AFP | Getty Images

22/22 18 February 2015

Ukrainian soldiers repair the bullet-shattered windshield of their truck as their withdraw from the strategic town of Debaltseve. Following intense shelling from pro-Russian rebels, Ukrainian forces began to leave the town in the early hours of February 18.

Brendan Hoffman | Getty Images
This month, 95,000 troops took part in extraordinary exercises in Russia, he said. The commander interprets these as a direct threat to Ukraine. "Where else can they be headed? I very much doubt Russia could put such a force together for Syria."
Last year, at a time when Ukraine was much less prepared militarily, Russian tanks were described as being just "a few hours" away from Kiev. Today, the threat of a full-scale invasion seems diminished, but Col-Gen Muzhenko says Ukraine has not ruled it out due to the "volatile" nature of the situation. 
"We have plans for every possible scenario – from defence to offence… we have to be ready to react," he said.
In his time as Commander-in-Chief, Col-Gen Muzhenko's own actions have attracted much criticism from public and military alike. They point to his role in the damaging capitulation at Ilovaisk in August 2014, then the loss of Donetsk airport in January 2015, and the equally humiliating retreat from Debaltseve in February. Many believe army incompetence and hubris cost many Ukrainian lives. Some estimate the number of soldiers lost in the Ilovaisk battle alone to be more than 1,000 (official figures are nearer 500). Col-Gen Muzhenko told The Independent that about 90 per cent of the information he received during the Ilovaisk battle turned out to be false. 
It was, he says, a failure of Ukrainian intelligence gathering and deliberate Russian misinformation. 
"The Ukrainian army was deliberately destroyed over the past decade – systematically," he said, referring to what he called the presence of foreign agents undermining the military. Intelligence had improved significantly since then, he claimed, but the reality of Russian infiltration "remains an issue". Summer 2014 represented a chaotic low point for the Ukrainians, and was the "worst moment in the war" for the commander himself. 
"We had entire units to the south of Donetsk in Ambrosievka and Uspenka abandoning their positions without orders," he said. 
Some of the soldiers were "defeated psychologically", and were "lacking proper military preparation".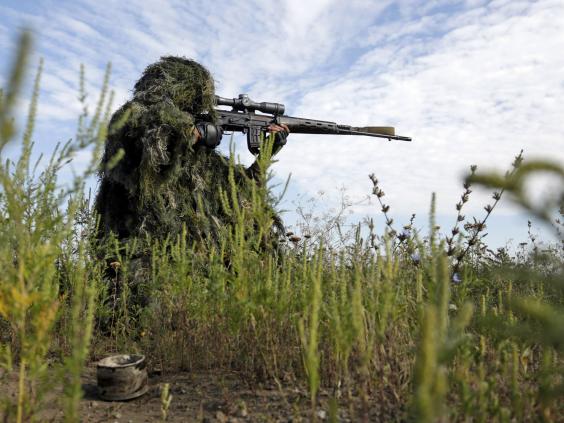 In reality, an unanticipated surge had meant that many soldiers felt outgunned. Some of those who left say they had run out of ammunition.
Russia denies involvement in these crucial battles, but credible evidence appears to suggest otherwise. Around the time of the surge, 10 Russian paratroopers were captured inside Ukrainian territory; they claimed to have "got lost". Over in Luhansk, Ukrainians captured documents and two armoured vehicles from what they say was Russia's Pskov 76th Airborne division. An independent Russian newspaper corroborated this version, reporting major casualties in that division, and drawing on interviews with bereaved wives.
Col-Gen Muzhenko said regular Russian forces had a tactic of operating in the second wave of attack, to reduce visibility. He also made new claims about a previously undisclosed role of Russian special forces in the battle for Debaltseve in February. He said the appearance of such units within the town itself was the factor that forced the Ukrainians to retreat. 
"I can't have your readers thinking the Ukrainian commander-in-chief has Napoleonic tendencies"
"We were holding Debaltseve right up until Russian special forces and marines entered the town – we had a supply route, had ammunition, but that was a game-changer and we had to leave," he said. The forced retreat from Debaltseve happened after the signing of the Minsk agreement, at a time when a ceasefire was supposed to be in place. Col-Gen Muzhenko rejects criticism that the retreat from Debaltseve was "panicked". Instead, he says military planners could not order the withdrawal as quickly as they had liked since they were waiting for enemy artillery to be repositioned from the east, from where it could easily hit Ukrainian escape routes. As soon as that happened, Ukrainian forces began to withdraw. "The retreat was planned, co-ordinated and staged, and with minimal losses," he said.
Given the level of hostility that now exists between the two countries, once part of the same state, did Col-Gen Muzhenko ever envisage returning to Russia? 
"If this wasn't an interview, I'd tell you exactly how I'd like to return," he says. 
"But please understand me right – that was a joke. 
"I can't have your readers thinking the Ukrainian commander-in-chief has Napoleonic tendencies."
Ukrainian pilot: 'I was taken by separatists'
Hauled before a Russian judge on charges of killing two journalists, a Ukrainian politician has demanded that she be released, saying she had been kidnapped by separatists and held hostage.
Nadezhda Savchenko, 34, faced a court in the Russian town of Donetsk accused of complicity in the deaths of the Russian journalists in Ukraine in June last year, before illegally crossing into Russia. She asserts she had been captured in Luhansk, handed over to Russian forces and held for a week before being charged. 
Ms Savchenko, who is a former military pilot and now a Ukrainian MP, faces up to 25 years in prison if found guilty.
Meanwhile in Kiev, a court extended the detention of Russian servicemen Alexander Alexandrov and Yevgeny Yerofeyev, who were captured in eastern Ukraine in May, for at least two more months. Russia's defence ministry said they had resigned from active duty in December.
Reuters
Reuse content