President Vladimir Putin has ordered a "partial withdrawal" of Russian troops deployed on the Ukrainian border, the German government has said.
Mr Putin informed Chancellor Angela Merkel of "the partial withdrawal of Russian troops he ordered from the eastern border of Ukraine" in a telephone conversation, her office said in a statement.
The US State Department said reports of a partial pullback, if accurate, "would be a welcome preliminary step" and urged Moscow to "engage in a dialogue with the government in Kiev to de-escalate the situation", while respecting Ukraine's territorial integrity..
White House spokesman Jay Carney added: "We've seen the reports and if they are true and if - more importantly - they represent further withdrawals, that would be a positive sign."
Meanwhile, the Ukrainian government said Russian troops continue to carry out "incomprehensible maneuvers" on the border and warned the risk of invasion remains a concern.
Ukrainian Foreign Ministry spokesman Yevgen Perebyinis said: "Troops in some places are moving backward, some of them are moving forward. Which is why, obviously, we are worried by these movements of armed forces. We have no clear explanation from the Russian side about the aim of these movements."
Yesterday, Russian prime minister Dmitry Medvedev arrived in Crimea in his first official visit to the region following the annexation of the Black Sea peninsula. Unveiling a list of economy measures, Mr Medvedev said Moscow would make the Crimea a special economic zone and promised to raise state salaries and pensions to Russian levels.
Outspoken deputy Prime Minister Dmitry Rogozin, who recently dismissed US sanctions on Mr Putin's inner circle as a "prank", tweeted a photo of himself upon arrival in Crimea with the words: "Crimea is ours, and that's that."
The Russian premier stressed the need to ensure a stable power supply in the region, which receives 80 per cent of its electricity and about 65 per cent of its water from Ukraine after recent power blackouts prompted fears that Kiev could use energy as a bargaining weapon against Russia.
Earlier today, Gazprom, the Russian state-owned energy giant, announced it will increase gas prices in Ukraine by 40 per cent. The energy major added Ukraine owes Russia $1.7bn (£1bn) in unpaid bills.
Last week, Ukraine confirmed domestic gas prices will increase 50 per cent in an effort to secure a $18bn rescue package from the International Monetary Fund.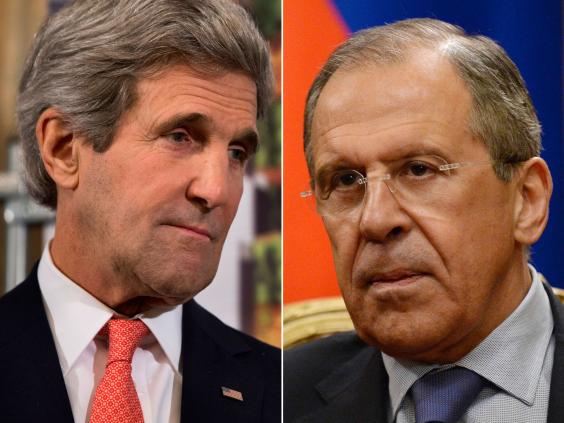 On Sunday, US Secretary of State John Kerry met Russian foreign minister, Sergei Lavrov, in Paris to discuss Crimea, but failed to reach an agreement on how to resolve the crisis after four hours of talks.
The Paris meeting came after a surprise phone call late on Friday night from Mr Putin to President Barack Obama, the first time the two men had spoken directly since the imposition of financial sanctions and travel restrictions by the US and the European Union on Russian citizens.
The West has repeatedly expressed concern about Russia's territorial ambitions in the region following the annexation of Crimea.
Crimeans voted to leave Ukraine for the Russia Federation on 16 March following a controversial referendum condemned as illegal by Kiev and the West. Prime Minister David Cameron dismissed the referendum as a "sham" echoing remarks made by President Obama, who claimed "a sloppily organised (referendum) over the course of two weeks" would not be considered "a valid process".
Reuse content