The shadow war in Ukraine has become more concrete, with the Russian parliament authorising Vladimir Putin's demand for the use of troops in Crimea, and beyond.
The move, after days of sabre-rattling, has caused a schism in international relations that threatens to reopen the Cold War, after the West repeatedly warned Russia against military intervention.
The declaration of might and intent from President Putin – with the request for deployment, significantly, for Ukraine as a whole, not just Crimea – brought predictably contrasting reactions in the divided nation, with jubilation in Crimea and many parts of the pro-Russian east, while there was deep anger from those who had overthrown Viktor Yanukovych and had been fighting to stay free of Moscow's embrace.
In Kiev, the acting Prime Minister, Arseny Yatseniuk, told reporters: "Military intervention would be the beginning of war and the end of any relations between Ukraine and Russia." The acting President, Olexander Turchynov, ordered the country's army on full readiness  and called an emergency meeting of security chiefs. However, the options for action were limited. There are no more than 3,500 members of the Ukrainian military in Crimea, mostly in coastal defences, with artillery but no armour. The country's naval vessels were put on alert in the morning, then ordered to withdraw to Odessa in the evening. Russia's Black Sea Fleet has 25,000 personnel permanently stationed there, with another 6,000 who have apparently arrived in the last few days.
In pictures: Russian troops in Crimea as Ukraine crisis continues
In pictures: Russian troops in Crimea as Ukraine crisis continues
1/10 Pro-Russian protests in Crimea

Pro-Russian protesters, including one woman holding a sign that reads: 'The time has come to return my name! I am Russia. And not Ukraine!', hold up a giant Russian flag as they march in Simferopol, Ukraine, on 1 March.

Sean Gallup/Getty Images

2/10 Pro-Russian protests in Crimea

Pro-Russian protesters marching in Simferopol, Ukraine, on 1 March.

Sean Gallup/Getty Images

3/10 Russian troops in Crimea

A young man carrying flowers confronts heavily-armed soldiers displaying in a street in the city centre of Simferopol, Ukraine, on 1 March.

Sean Gallup/Getty Images

4/10 Russian troops enter Crimea

Two young women sit in a shop as heavily-armed soldiers stand outside in Simferopol, Ukraine, on 1 March.

Sean Gallup/Getty Images

5/10 Pro-Russian protests in Crimea

Pro-Russian protesters wave the orange and black colours of Russian military valour at an anti-American rally in Simferopol, Ukraine, on 1 March.

Sean Gallup/Getty Images

6/10 Pro-Europe protests continue in Kiev

A man walks with an EU flag at the bridge overlooking Independence Square in central Kiev on 1 March

LOUISA GOULIAMAKI/AFP/Getty Images

7/10 Russian troops guard Crimean parliament

Heavily-armed soldiers guard the Crimean parliament building shortly after taking up positions there on 1 March in Simferopol, Ukraine

Sean Gallup/Getty Images

8/10 Protests continue in Kiev

A member of a so-called 'Maidan's self defence unit' looks at pictures of protesters who were killed during recent clashes, displayed in central Kiev on March 1

Bulent Kilic/AFP/Getty Images

9/10 Russian troops in Crimea

Women look on as troops guard the Crimean parliament building in Simferopol, Ukraine, on 1 March

Sean Gallup/Getty Images

10/10 Funerals continue in Kiev

A woman holds a candle during the funerals of a man who was killed during the recent clashes with the riot police on Kiev's Independence square on 1 March.

Bulent Kilic/AFP/Getty Images
Opposition activists said they would expect help from the West as the foreign minister, Sergei Deshchiritsya, said he had held talks with officials from the US and the EU and then asked Nato to "look at using all possibilities for protecting the territorial integrity and sovereignty of Ukraine". President Barack Obama's national security team met on Saturday night for an update on the situation to discuss potential policy options.
Mr Obama had a 90 minute conversation with President Putin on Saturday afternoon during which he called on Russia to withdraw forces and "refrain" from further interference.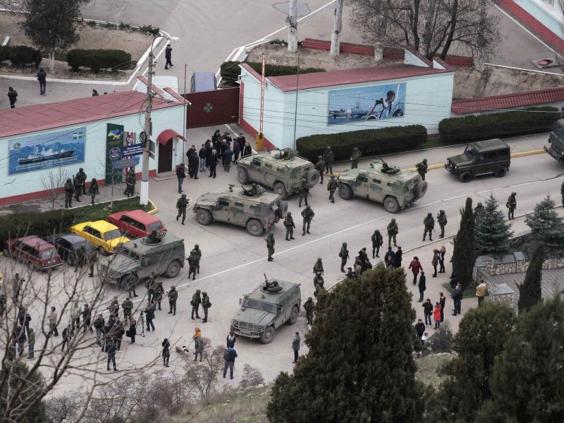 Russia's current position is a breach of the UN Charter and the 1997 military basing agreement with Ukraine, as well as the 1994 Budapest Memorandum and the Helsinki Final Act, the White House said.
In that statement, the US warned it would "suspended upcoming participation" in G8 preparatory meetings, adding: "Going forward, Russia's continued violation of international law will lead to greater political and economic isolation." President Obama also pledged further financial assistance to the new government in Kiev.
Pro-Russian protests were reported in the eastern cities of Kharkiv, Donetsk and Luhansk and the southern port of Odessa. In Kharkiv, 97 people were injured in clashes between pro-Russia demonstrators who flushed supporters of the new Ukrainian government out of the regional government building and hoisted the Russian flag on top of it, according to the Interfax news agency. Mr Putin stated he had requested the right due to the "extraordinary situation in Ukraine, the threat to the lives of citizens of the Russian Federation, our compatriots and the personnel of the armed forces of the Russian Federation". The aim, he said, was the "normalisation of the socio-political situation in the country". Saturday's approval of troop movements was no more than a formality; both houses of parliament had already asked him to take "decisive action" in the state, with a majority demanding secession.
In reality, Russia's trap had already been set to snap shut before the announcement came from Moscow, and columns of armoured personnel carriers were filmed moving from Sevastopol. Troops had seized critical military, transport, and communications installations before fanning out across the state in an increasingly blatant display of muscle in the last 48 hours. Civilian flights had stopped coming into the state capital, Simferopol, and there were reports of mobile phone calls to the rest of Ukraine being blocked.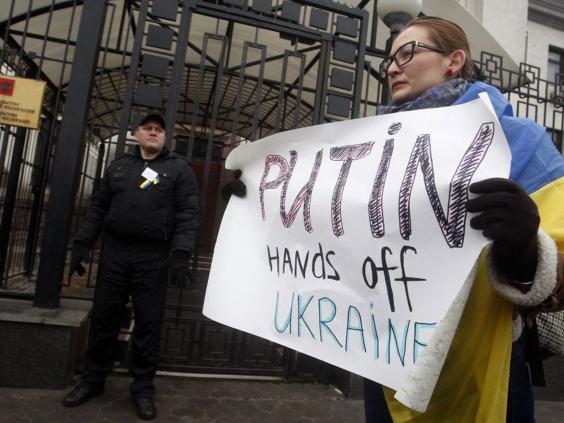 On Saturday, Sergei Aksyonov, the Prime Minister of Crimea, asked the Russians for military aid. The catalyst, supposedly, was the attempts by agents sent by the new Ukrainian government to storm institutions in Simferopol. The Kremlin at once expressed "deep concern", saying what happened "confirms the intention of prominent political circles in Kiev to destabilise the situation on the peninsula".
Yet there were contradictory accounts of what had happened, from Simferopol and Moscow. Mr Aksyonov had stated that the gunmen had carried out assaults on the ministerial council and the Supreme Court. According to reports coming from Moscow, the target was the interior ministry. None of the buildings, however, showed signs of a firefight or bullet holes. 
Crimean officials were remarkably vague about what had happened.
Nevertheless, protective cordons were raised by former Soviet soldiers and members of the "People's Brigade of Concerned Citizens", which was formed in the past 48 hours. On morning guard with a chestful of medals, one veteran of Russia's Afghan campaign, who lives near the interior ministry, had not heard any gunshots. But he was convinced that "those fascists of the Maidan [the centre of protests in Kiev] have entered Crimea secretly". He said: "The criminals in Kiev have asked the Americans to invade. We have all heard this. That's why the Russians must help us quickly."
If President Putin, as a Kremlin spokesman insisted, is yet to decide whether to send more troops to Ukraine, events on the ground have already been moving apace. Russian forces went into an anti-aircraft missile base in western Crimea and took over Kirovskye Air Base, in addition to the ones as Sevastopol and Simferopol, according to Ukrainian authorities.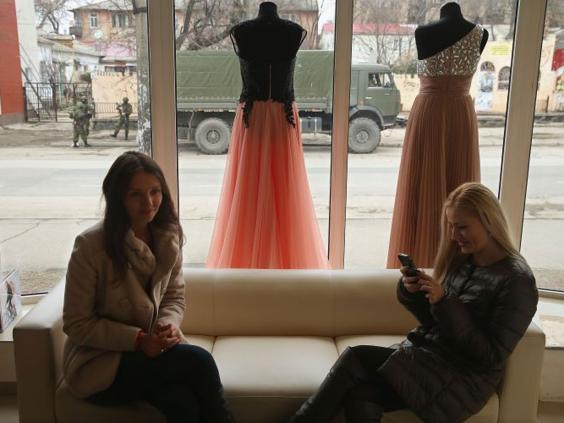 Men in Russian uniform began to patrol outside the state parliament, which had been occupied by an armed pro-Moscow group for two days. On Saturday night, Vitali Klitschko, a senior Ukrainian politician and former opposition leader, called for a "general mobilisation" against the incoming troops.
For most of the afternoon, Svetlana Baniolova, a protester in her sixties, had been conducting a chorus of anti-Western, mainly anti-American, chants outside parliament. After being told the news from Moscow, she sat down on a low wall, fanning herself with the placard she had been waving.
"Do not ask me any questions now please," she requested politely.
"I hope they come, I have waited 50 years for this, 50 years for us to go back to our country. This is our time of history – the foreigners should understand how we feel," she said.
However, although people of Russian ethnicity form almost 60 per cent (58.5 per cent) of Crimea's population, ethnic Ukrainians and Crimean Tartars, both vehemently opposed to separation and joining Russia, form 24.4 per cent and 12.1 per cent respectively.
What about their rights and wishes, Leonid Sorobin, wearing the orange-and-black ribbon of the Russian military order of St George, was asked.
"We want everyone to live together here," he replied. "But America and England go on about democracy. When the referendum is held, the majority will vote for autonomy, so they have to accept it. They have no choice."
While some celebrated the formal assurance of the Russian presence, for others there is trepidation. Grigor Kurirlenko, of Ukrainian extraction, was resigned to Crimea separating from Ukraine: "I can't see any way back now. All the government [in Kiev] can hope for is that this is the only part of the country lost, that they don't go on to Donetsk and Kharkiv."
But for his wife, Anna, the presence of regular troops may, at least, bring an element of stability: "We have a lot of young men now, all saying they are 'security', who are worrying. Maybe the Russian soldiers will tell them to go home."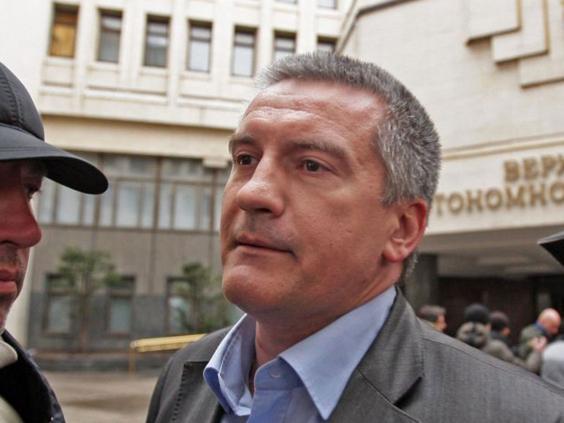 Treaties and ties
Why is Crimea so important to Russia?
Crimea is strategically important as a base for the Russian navy. The Black Sea Fleet has been based on the peninsula since it was founded by Prince Potemkin in 1783. The fleet's strategic position helped Russia defeat Georgia in the South Ossetia war in 2008, and remains crucial to Russian security interests in the region.
What can Russia hope to gain in Crimea?
Crimea still has a 60 per cent Russian population. Relations have been tense between Russia and Ukraine since the peninsula formally became part of Ukraine after the fall of the Soviet Union in 1991. Yesterday, Russia's upper house of parliament approved the use of force in Crimea and potentially in other areas of the country.
Is anyone obligated to defend the region?
The Budapest Memorandum on Security Assurance was signed in 1994 by Ukraine, the United States, Britain and Russia, to protect Ukraine's territory and sovereignty after its soviet nuclear weapons were removed. However, it is a diplomatic document rather than a formal treaty and its legality is complex. It is said to morally oblige signatories to intervene in the event that Ukraine is threatened, but it cannot be enforced.
Would Nato act?
Ukraine is not one of the 28 member countries, however Nato officials warned they would back the "inviolability of [Ukraine's] frontiers".
Would the United Nations act?
As a permanent member of the UN Security Council, Russia is likely to block any UN mission to the region. The council met in a closed doors emergency session on Friday and is likely to meet again this week.
What about the world's only superpower?
President Obama warned Russia that there would be serious "costs" to any Russian military intervention in Ukraine. However, after failing to intervene in Syria and facing gridlock in Congress, it is unlikely that Obama would be willing to sacrifice the political capital to stage an intervention before the mid-term elections this November.
Caroline Mortimer
Reuse content