Ukraine's interim president has warned the country must be prepared for a full-scale invasion at any moment, as officials announced the emergency call-up of a 60,000-strong national guard force.
Oleksander Turchynov told a local television channel on Thursday that Russian forces were stationed on the border "ready to invade".
According to a statement on the presidential website, he said when Russian forces took over the southern region of Crimea last week, other units were concentrated on Ukraine's eastern border "ready for an invasion of the territory of Ukraine at any moment".
His warning comes ahead of key talks currently taking place between US Secretary of State John Kerry and Russian counterpart Sergei Lavrov in London, ahead of Crimea's planned referendum on breaking away from Ukraine on Sunday.
Mr Kerry said he hoped the discussions would come up with a solution to "resolve some of the differences between us" as he welcomed Sergey Lavrov to the US Ambassador's residence in Regent's Park.
Mr Lavrov, who arrived at around 10.20am in an convoy of black and silver cars with police escorts, said it was a "difficult situation" and much time had been lost.
Mr Kerry is expected to caution Mr Lavrov that Russia's military intervention in Crimea could spark US and EU sanctions being imposed on the country.
Crimea, part of independent post-Soviet Ukraine since 1991, has been in the grip of the Russian military for a week. Its local assembly has declared that the region wants to become part of Russia.
Mr Turchynov said yesterday only joint international pressure would "halt this aggression" from Russia.
In pictures: Ukraine crisis
In pictures: Ukraine crisis
1/12 Ukraine crisis

People shout slogans during a pro Russian rally at a central square in Donetsk. Pro Russian activists continued to gather on Saturday in the eastern Ukrainian city of Donetsk, as Russia was reported to be reinforcing its military presence in Crimea.

2/12 Ukraine crisis

In the same pro Russian rally, demonstrators show their support. Ukraine's ambassador to Russia and a deputy Russian foreign minister held a "cordial" meeting on Saturday, Moscow said, without giving details of any discussion of Russian-occupied Crimea.

3/12 Ukraine crisis

Crimean ethnic tatars stand on the roadside as Russian troops move towards to Simferopol in the settlement of Kok-Asan, some 70 kilometres from Simferopol in Crimea.

4/12 Ukraine crisis

Russian troops stand on a roadside in the settlement of Opytnoye, some 70 kilometres from Simferopol.

5/12 Ukraine crisis

Armed members of the first unit of a pro-Russian armed force, dubbed the "military forces of the autonomous republic of Crimea" march before the swearing-in ceremony in Simferopol, Ukraine. Some 30 men armed with automatic weapons and another 20 or so unarmed, were sworn in at a park in front of an eternal flame to those killed in World War II.

6/12 Ukraine crisis

A group of Cossacks march past a statue of Soviet revolutionary leader Vladimir Lenin in Simferopol as tensions in the area continue to rise.

7/12 Ukraine crisis

An armed member of the first unit of a pro-Russian armed force, dubbed the "military forces of the autonomous republic of Crimea" signs the oath during the swearing-in ceremony in Simferopol,

8/12 Ukraine crisis

9/12 Ukraine crisis

Ukrainian soldiers load their armed personnel carriers (APCs) into boxcars in the western Ukrainian city of Lviv. Pro-Kremlin militia fired warning shots as unarmed foreign observers tried to enter Crimea on the 8th.

10/12 Ukraine crisis

An abandoned naval ship sunk by the Russian navy to block the entrance is seen in the Crimean port of Yevpatorya on March 8th.

11/12 Ukraine crisis

Ukrainian sailors stand guard on top of the Ukrainian navy ship at the Crimean port of Yevpatorya.

12/12 Ukraine crisis

Crimea's pro-Moscow leader Sergei Aksyonov speaks to the media in Simferopol on the 8th March. He has defended a decision to hold a referendum on whether the region should join Russia, saying on Saturday that "no one" could cancel the voting.
"We are doing all we can to avoid war, whether in Crimea or in any other region of Ukraine," he said, adding that Ukraine's own armed forces were in a state of full combat readiness.
"All of civilised humanity supports our country. All the leading countries of the world are on the side of Ukraine, and I am sure that this united effort in the international arena, bringing together all democratic countries, can still allow us to halt this aggression."
On Thursday, Russia launched new military exercises near the border with Ukraine involving over 8,000 troops and large artillery units.
On the same day, a young man was stabbed to death and more than a dozen people were in hospital on the same day after rival Ukrainian demonstrators clashed in the mainly Russian-speaking eastern city of Donetsk.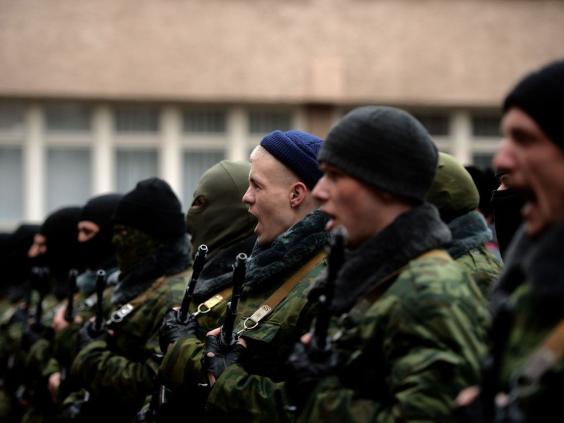 The US Secretary of State has warned Russia that failure to accept a diplomatic compromise in the stand-off over Crimea will open Moscow up to a new "very serious series of steps"
against it by Europe and the United States ahead of the conference.
Mr Kerry spoke in Washington before flying to London to plead again for a change of tack by Russia following its de facto seizure of control of Crimea earlier this month. 
He warned that if Russia did not accept a diplomatic compromise ahead of the referendum, then the US and Europe would begin to take punitive measures "as early as Monday" of next week, adding that he hoped "reason would prevail".
Russia has insisted it does "not want war with Ukraine" at the UN on Thursday.
Additional reporting by agencies
Reuse content