A group of Ukrainian women are calling for a sex boycott against Russian men as the diplomatic crisis between the two countries continues unabated.
The Facebook group Don't Give it to a Russian was launched last week and calls on Ukraine's "female heroes" to "fight the enemy by whatever means". In this case, denying sex to Russian men.
The campaign was named after a verse from Kateryna, a poem by Ukrainian national hero Taras Shevchenko: "Fall in love, O dark-browed maidens, but not with the Moskaly (Russians)."
Katerina Venzhik, one of the organisers and chief editor of the news website Delo.UA, told The Independent: "We've used this campaign to draw attention to the chaos done by the Russians in Crimea; kidnapping, limiting the rights of people, preventing journalists from doing their work... And yes,  Ukrainian women prefer Ukrainian men."
She added: "We believe that in the context of military occupation it is silly to continue to assert that all men are brothers. What Russia is doing in Ukraine is terrible, but the world sees their actions primarily through the prism of the pro-Putin propaganda."
The sex boycott has been met with scepticism in Russia with some bloggers mocking the campaign.
In pictures: Ukraine crisis
In pictures: Ukraine crisis
1/12 Ukraine crisis

People shout slogans during a pro Russian rally at a central square in Donetsk. Pro Russian activists continued to gather on Saturday in the eastern Ukrainian city of Donetsk, as Russia was reported to be reinforcing its military presence in Crimea.

2/12 Ukraine crisis

In the same pro Russian rally, demonstrators show their support. Ukraine's ambassador to Russia and a deputy Russian foreign minister held a "cordial" meeting on Saturday, Moscow said, without giving details of any discussion of Russian-occupied Crimea.

3/12 Ukraine crisis

Crimean ethnic tatars stand on the roadside as Russian troops move towards to Simferopol in the settlement of Kok-Asan, some 70 kilometres from Simferopol in Crimea.

4/12 Ukraine crisis

Russian troops stand on a roadside in the settlement of Opytnoye, some 70 kilometres from Simferopol.

5/12 Ukraine crisis

Armed members of the first unit of a pro-Russian armed force, dubbed the "military forces of the autonomous republic of Crimea" march before the swearing-in ceremony in Simferopol, Ukraine. Some 30 men armed with automatic weapons and another 20 or so unarmed, were sworn in at a park in front of an eternal flame to those killed in World War II.

6/12 Ukraine crisis

A group of Cossacks march past a statue of Soviet revolutionary leader Vladimir Lenin in Simferopol as tensions in the area continue to rise.

7/12 Ukraine crisis

An armed member of the first unit of a pro-Russian armed force, dubbed the "military forces of the autonomous republic of Crimea" signs the oath during the swearing-in ceremony in Simferopol,

8/12 Ukraine crisis

9/12 Ukraine crisis

Ukrainian soldiers load their armed personnel carriers (APCs) into boxcars in the western Ukrainian city of Lviv. Pro-Kremlin militia fired warning shots as unarmed foreign observers tried to enter Crimea on the 8th.

10/12 Ukraine crisis

An abandoned naval ship sunk by the Russian navy to block the entrance is seen in the Crimean port of Yevpatorya on March 8th.

11/12 Ukraine crisis

Ukrainian sailors stand guard on top of the Ukrainian navy ship at the Crimean port of Yevpatorya.

12/12 Ukraine crisis

Crimea's pro-Moscow leader Sergei Aksyonov speaks to the media in Simferopol on the 8th March. He has defended a decision to hold a referendum on whether the region should join Russia, saying on Saturday that "no one" could cancel the voting.
Egor Prosvirnin, chief editor of the Russian nationalist website Sputnik & Pogrom, described participants as prostitutes.
Robert Shlegel, a Russian member of parliament, tweeted a photoshopped photograph of Valeriya Novodvorskaya, a longtime Putin critic, wearing a Don't Give it to a Russian sex boycott T-shirt.
He said: "With one photo, Valeriya Novodvorskaya has killed the entire Ukrainian sex-boycott."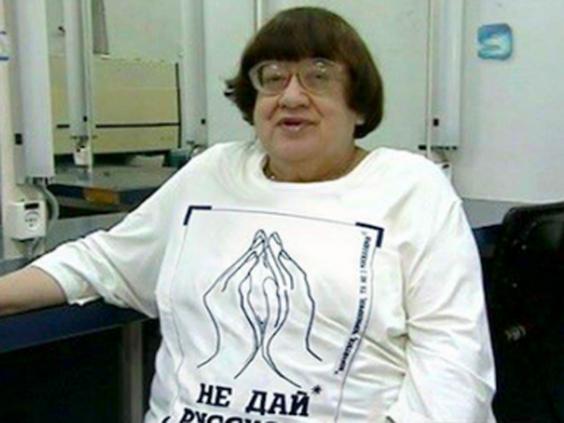 Yesterday, leaders of the G7 cancelled a planned G8 summit in Russia in an effort to isolate President Vladimir Putin until the Kremlin "changes course". Instead, world leaders of G7 nations will meet in Brussels without Russia in June.
In a statement, the group reiterated their support for Ukraine's sovereignty and territorial integrity and warned the G7 is "ready to intensify" sanctions against Russia's wider economy if Mr Putin does not de-escalate tensions in the region.
So far, the West has abstained from imposing tougher sanctions such as arm embargoes and bans on energy imports, which would affect the heart of the Russian economy.
Russia's Foreign Minister, Sergei Lavrov, said the Kremlin does not "cling" to the G8 format and described it as an "informal club" where no one "hands out membership cards".
Meanwhile, Ukraine's Foreign Minister, Andriy Deshchytsya, warned that the risk of military intervention remains high.
Nato's top military commander Philip Breedlove said the Russian army deployed on its border with Ukraine is " very, very sizeable and very, very ready" .
President Putin insists he has no such ambitions, but both the White House and David Cameron expressed concern about Russia's territorial expansion.
Yesterday, Ukraine's acting President ordered the country's troops to leave Crimea fearing for their safety.
Over the weekend, Russian forces seized Ukrainian ships and military installations in Crimea, consolidating its control over the peninsula it officially annexed last week following a controversial referendum considered illegal by Kiev and the West.
Reuse content