A gay pride march in Ukraine has been violently attacked by far-right protestors.
Smoke bombs, stones and other missiles were hurled at LGBT activists as they took part in a gay pride march in the Ukrainian capital city of Kiev this morning, it has been reported.
Hundreds of police officers were deployed and some 25-30 people have been arrested as a result of the violence.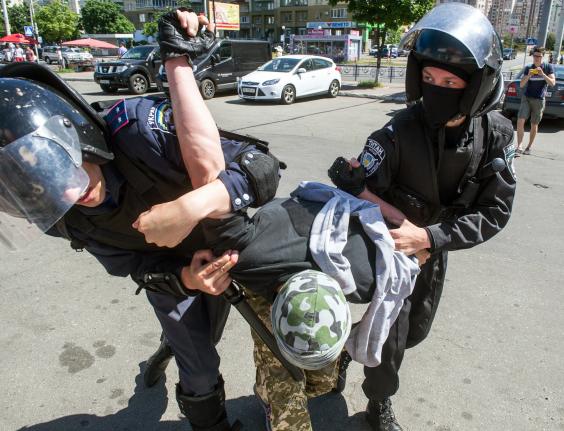 This week, the city's mayor Vitaly Klitschko had called for the march to be cancelled to "avoid confrontation" with far-right protestors who had threatened a violent response to the march.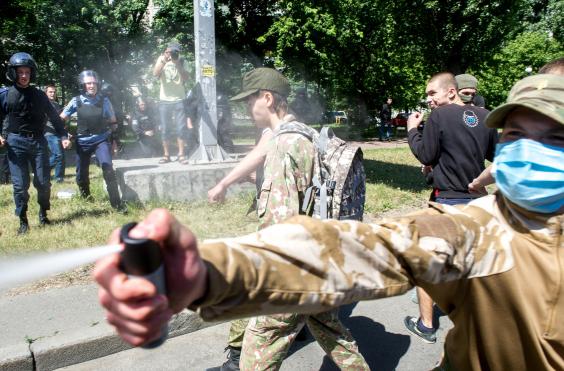 Member of parliament Serhiy Leshchenko attended the march this morning and tweeted an image of a blood soaked pavement.
In the caption he explained that the blood described the blood as belonging to an injured policeman.
Кровь на месте ранения милиционера. Правые нашпиговали петарды осколками железа, один из которых и ранил сотр МВД pic.twitter.com/ltxwtYseBK

— Leshchenko (@Leshchenkos) June 6, 2015
Mr Leshchenko also shared a photo of a member of police detaining a masked man, who he has identified as being a member of the far right.
Задержание одного из крайне правых в ходе #КиевПрайда. Один из МВД ранен в шею pic.twitter.com/0zC9FBl1Zj

— Leshchenko (@Leshchenkos) June 6, 2015
The rally finished shortly after the clashes, as the crows dispersed.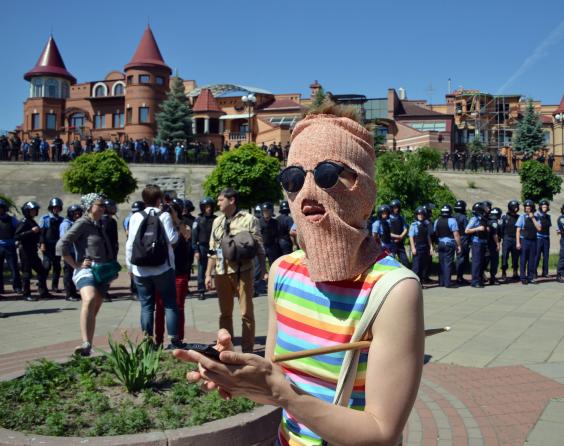 LGBT communities in Ukraine continue to face persecution. A 2013 poll found that almost 80 per cent of Ukranians say they oppose any sexual relations between people of the same sex.
In the same year, a study found that 65 per cent of LGBT Ukranians say that they experience sexual discrimination on a regular basis.
Reuse content