Women in Russia who cannot afford expensive imported cosmetics should use beetroot for lipstick, an unlikely beauty consultant in the form of a Siberian senator has helpfully advised.
Igor Chernyshev said that women should choose going bare-faced or stain their lips with the high-pigment vegetable juice if when they want a rosy tint "if they really must use make-up," the Daily Mail reports.
"Women can live without imported lipstick, men like a natural look," he is said to have added while the nation tightens its belt after the value of the ruble rapidly rose and fell this month amid plunging oil prices and western sanctions on Ukraine.
As well as suggesting what people should wear on their faces, the senator for Tomsk Oblast also stated in a Russian newspaper that women look better in lingerie made in Moscow rather than ones made in France.
Imported underwear made from synthetic fabrics were outlawed in a hotly contested ban earlier this year by women who protested against the move made by the Russian government that consists of 13% female representatives.
President Vladimir Putin announced that recovery would be "inevitable," however he claims that it could take around two years for the economy to stabilise after everyday prices rocket for Russians.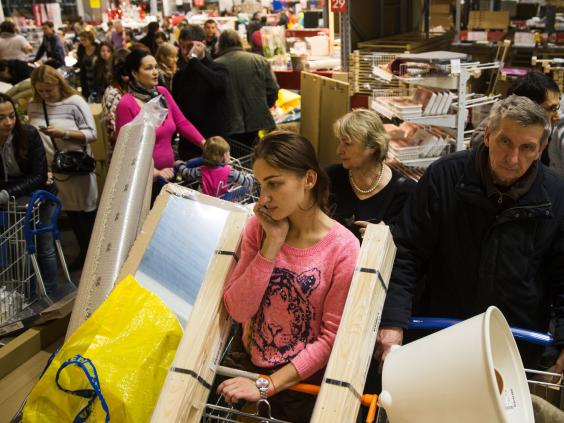 Apple has halted sales of iPhones and computers on the Russian online shop from 16 December with the cost of an iPhone 6 16GB now costing 35 per cent more in the face of the US dollar value rising by around 70 per cent against the national currency.
Furniture retailer IKEA resumed sales of kitchen fittings and appliances two days ago after they had to suspend sales on Thursday because consumers rushed to the stores to take advantage of prices before they were hiked.