Pope Francis launched the much-anticipated second Vatican synod on the family with a mass in St Peter's Square, declaring that the Church had a duty to proclaim doctrine "not changed by passing fads or popular opinions". But controversy and sleaze threatened to overshadow the three-week event even before it started. 
Huge support for the gay theologian and priest sacked on Saturday for "coming out" suggested the Vatican might have a new thorn in its side and there were further allegations in the global clerical paedophilia scandal.
Monsignor Krzystof Charamsa, 43, revealed in a newspaper interview that he was in a long-term relationship with a man and challenged Catholic orthodoxy. "The biblical sodomite has nothing to do with two gays who love each other in modern-day Italy… I am unable to find a single passage, even in St Paul, that may be seen as referring to homosexual persons asking to be respected as such," he said. 
The Vatican reacted with unusual speed, declaring his announcement on the eve of the Synod as "very serious and irresponsible". He was dismissed from his posts in Congregation for the Doctrine of the Faith and the Pontifical Universities.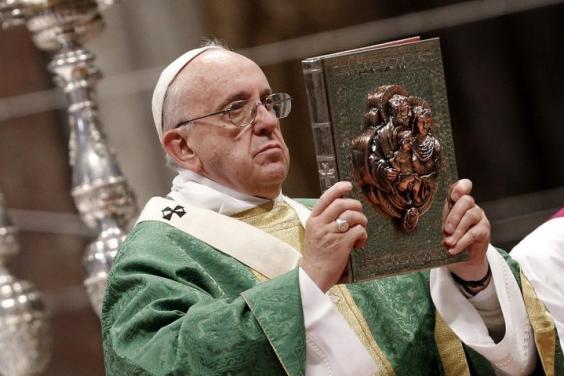 Some senior figures attending the Synod, such as Cardinal Vincent Nichols, the Bishop of Westminster, have pointed out that the gathering will advise Pope Francis on all aspects of family policy, and not just gay relationships or the status of divorcees.
During the mass at St Peter's, Francis made some mildly conciliatory noises, noting the Church should not be "pointing a finger in judgement of others, but… conscious of her duty to seek out and care for hurting couples with the balm of acceptance and mercy."
But this didn't impress reformers. Francis DeBernardo, director of New Ways Ministry, the US Catholic LGBT rights group, said: "Charamsa now joins the long list of people fired from jobs in Catholic institutions because of LGBT issues. It is unfortunate that Church leaders did not see this as an opportunity for further dialogue with someone they have known and trusted."
Coinciding with the Synod, the Pope's commission for the protection of minors will also meet in Rome this week, as serious new allegations have emerged in the clerical abuse scandal. Last week, the Chilean Cardinal Francisco Javier Errázuriz Ossa, a close adviser to the Pope, was in court over possible complicity in the cover-up of abuse carried out by a priest on several boys.
British clerical abuse victim, Peter Saunders, who has been appointed to the commission by Pope Francis, contrasted Monsignor Charamsa's treatment with that of priests who had committed sex attacks or sheltered abusers.
Pope Francis gives life advice: in pictures
Pope Francis gives life advice: in pictures
1/10 Pope Francis' guide to happiness

Pope Francis: 'Live and let live.'

GETTY IMAGES

2/10 Pope Francis' guide to happiness

Pope Francis: 'Proceed calmly" in life'

AFP/Getty Images

3/10 Pope Francis' guide to happiness

Pope Francis: 'Be giving of yourself to others'

AFP/Getty Images

4/10 Pope Francis' guide to happiness

Pope Francis: 'Even though many parents work long hours, they must set aside time to play with their children'

AFP/Getty Images

5/10 Pope Francis' guide to happiness

Pope Francis: 'Sunday is for family'

AFP/Getty Images

6/10 Pope Francis' guide to happiness

Pope Francis: 'Respect and take care of nature'

OSSERVATORE ROMANO/AFP/Getty Images

7/10 Pope Francis' guide to happiness

Pope Francis: 'Stop being negative'

AFP/Getty Images

8/10 Pope Francis' guide to happiness

Pope Francis: Respect others' beliefs'

AFP/Getty Images

9/10 Pope Francis' guide to happiness

Pope Francis: 'Peace sometimes gives the impression of being quiet, but it is never quiet, peace is always proactive'

FP/Getty Images

10/10 Pope Francis' guide to happiness

AFP/Getty Images
"This Polish monsignor has come out and been completely honest with the world and they sack him on the spot," he said. "But abusers are still being hidden. The double standards and hypocrisy are truly awful."
Reuse content