Vatican-owned properties in Rome are operating as seedy saunas and massage parlours where priests pay for sex, according to the latest in a series of leaked reports to embarrass the Church.
It is also claimed that Vatican officials are allowing buildings to be rented out at peppercorn rents as favours to powerful colleagues and turning a blind eye to shady property deals, as well as allowing addresses to be used as red-light establishments.
Among the properties mentioned in the document, made public by a Vatican mole, are premises in two streets close to the Italian Parliament and a solarium near Piazza Barberini, according to press reports.
One particular Vatican department, the Congregation for the Propagation of the Faith, has been highlighted in the list. It owns hundreds of high-value properties in central Rome, worth hundreds of millions of euros.
Two years ago it emerged the Vatican had purchased a €23m (£16m) share of a Rome apartment block, 2 Via Carducci, which housed the Europa Multiclub, Europe's biggest gay sauna. Tales of visiting priests were legion, and a section of the sauna's website promoting special "bear nights" included a video of a hirsute man stripping down and changing into a priest's outfit.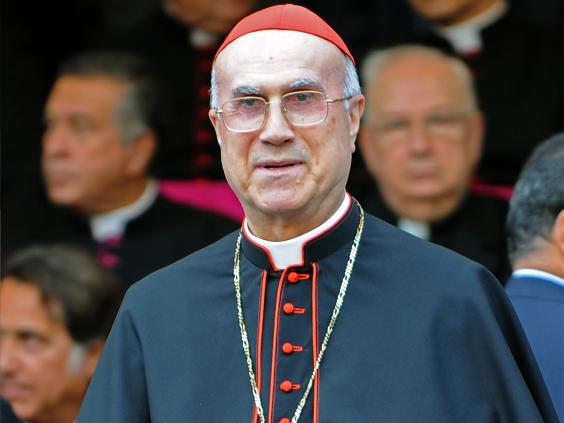 Cardinal Tarcisio Bertone, who held the Vatican's purse strings under the previous Pope Emeritus Benedict, was said to have been behind the purchase of the block of flats in 2008.
It was also alleged in this month's leaks that Cardinal Bertone used €200,000 from a medical charity to refurbish his penthouse flat. Meanwhile, sources quoted by Ansa news agency said that Pope Francis hoped to close the leak investigation and draw a line under the affair before the Vatican's special Jubilee Year, which begins on 8 December. Some observers believe the leaks are part of a campaign to undermine his effort to reform the Curia.
Whistleblowing controversies of the last decade
Whistleblowing controversies of the last decade
1/12 Edward Snowden NSA leak

Articles in The Guardian revealed that the US and the UK spied on foreign leaders and diplomats at the 2009 G20 summit.

Reuters

2/12 WikiLeaks' US diplomatic cables leak

In 2009, former US soldier Chelsea Manning, downloaded hundreds of thousands of classified US Government documents, and passed them on to Jullian Assange's whistleblowing website WikiLeaks. Among the documents were 250,000 State Department diplomatic cables. One disclosed the close relationship between Russian President Vladimir Putin and then-Italian Prime Minister Silvio Berlusconi, the Guardian reported. Allegations included "lavish gifts", lucrative energy contracts and the use by Berlusconi of a "shadowy" Russian-speaking Italiango-between.

Getty Images

3/12 WikiLeaks' US diplomatic cables leak

WikiLeaks' US diplomatic cables leak: In a revelation which bruised the UK's 'special relationship' with the US, WikiLeaks published conversations by US commanders criticising Britain's military operations in Afghanistan.

Getty Images

4/12 WikiLeaks' US diplomatic cables leak

WikiLeaks' US diplomatic cables leak: One document disclosed startling levels of corruption in Afghanistan, including an incident involving the then vice-president, Ahmad Zia Massoud, who was reportedly stopped and questioned in Dubai when he flew into the emirate with $52m in cash.

Getty Images

5/12 WikiLeaks' US diplomatic cables leak

Another cable documented fears in Washington over Pakistan's nuclear weapons programme, in a volatile country with a strategic position in the Middle East.

PA

6/12 WikiLeaks' US diplomatic cables leak

Day four of the gradual drip of leaks exposed allegations that Russia and its intelligence agencies are using mafia bosses to carry out criminal operations, with one cable reporting that the relationship is so close that the country has become a "virtual mafia state".

Getty Images

7/12 Edward Snowden NSA leak

In 2013, The Guardian published classified US National Security Agency (NSA) documents, from a then anonymous whistleblower. Four days later he was exposed as former NSA contractor Edward Snowden. A month after the initial leak, the New York Times allegeded that the NSA received emails, video clips, photos, voice and video calls, social networking details, logins and other data held by a range of US internet firms.

8/12 Edward Snowden NSA leak

Since Snowden revealed that the US had eavesdropped on German Chancellor Angela Merkel's phone, German-US relations have been strained. In May 2014, Mrs Merkel said still had significant differences with the United States over surveillance practices and that it was too soon to return to "business as usual," according to the New York Times.

Getty Images

9/12 Edward Snowden NSA leak

On 7 June, The Guardian published the Presidential Policy Directive 20, whcih included a list of potential targets for cyber-attacks by the US Government.

Rex Features

10/12 Samy Kamkar iPhone and Android exposé

In April 2014, hacker and researcher Samy Kamkar revealed that Android phones collect user location data every few seconds. Files are then transited to Google several times an hour.

Getty Images

11/12 Samy Kamkar iPhone and Android exposé

It is believed Apple and Google are using the data to better target adverts to smartphone users, according to The Guardian.

Getty Images

12/12 Samy Kamkar iPhone and Android exposé

The two companies have since justified the collection of data. In a letter to the US congress Apple confirmed it collected the data and said that, in order to be useful, "the databases [of tower and network locations] must be updated continuously". A Google spokesman told the Guardian Android phones explicitly asked to collect anonymous location data when users turned them on.

Getty Images
One senior figure, Monsignor Lucio Vallejo Balda, and another official have been arrested by Vatican police over the leaks, while it has emerged that four cardinals have also been questioned.
Reuse content