An Irish tourist who was caught up in a mass brawl with local shopkeepers in Istanbul has become an unexpected hero among Turkish social media users.
The video shows a man described in Turkish media as an Irish tourist and apparent "professional boxer" getting into a fight with locals after accidentally spilling a fridge full of water bottles.
Far from criticising the tourist, who can be seen taking on more than a dozen shopkeepers armed with sticks and chairs, the response in Turkey has been overwhelmingly positive by many.
It's not simply a case of backing the outnumbered underdog – though there is undoubtedly an element of that in the reaction.
More so, Istanbul's shopkeepers have become something of a symbol for the division in the country between a progressive left and the conservative government under President Recep Tayyip Erdoğan.
Shopkeepers attacked demonstrators during the 2013 anti-government protest in Gezi Park, Istanbul, famous in part for an image of a policeman spraying a woman in a red dress with tear gas.
According to the Hurriyet newspaper, four suspects accused over the fatal beating of protester Ali Ismail Korkmaz were all local shopkeepers working at a bakery at the time.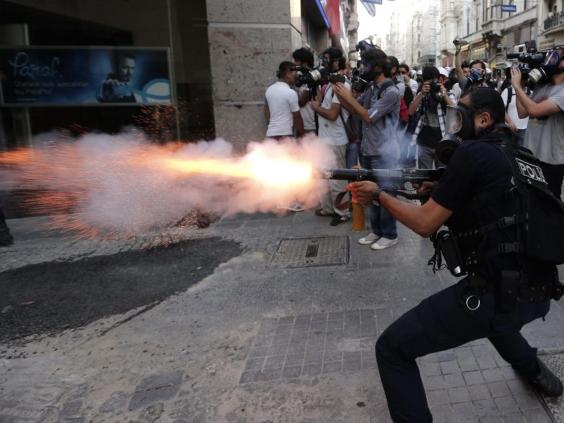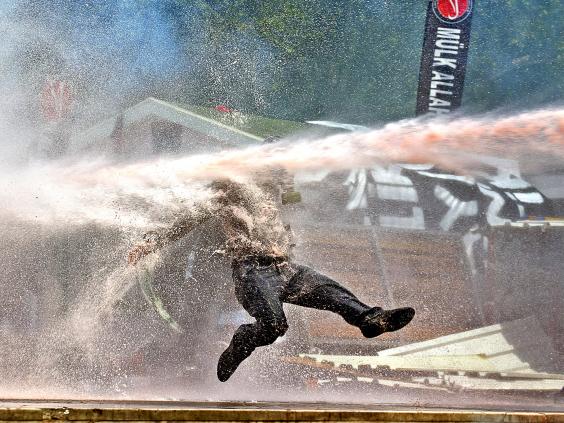 In 2014, President Erdoğan sparked anger when he implied support for shopkeepers taking the law into their own hands. Speaking while the trial over Korkmaz's death was taking place, the president said: "My shopkeepers, when necessary, can be soldiers, fighters, heroes, police and judges."
Some Turkish social media users mocked the shopkeepers shown in the video which emerged today in this context. One user reportedly joked: "This Irish guy turned out be an Alevi, anti-Erdogan, and CHP (Republican People's Party) sympathiser."
Irish tourist (a boxer) who beat up a herd of shopkeeper jackals in Istanbul has gained much sympathy from many Turks, including me.

— Candan Badem (@CandanBadem) August 25, 2015
To use World of Warcraft terminology: the Irish tourist is a World Boss. Shopkeepers of Aksaray wiped. #Istanbul http://t.co/KxG2V976Ij

— Has Avrat (@hasavrat) August 25, 2015
"That Irishman must be DHKP-C." https://t.co/YDiBxsmBDa

— Has Avrat (@hasavrat) August 25, 2015
Irish tourist beating the hell out of a swarm of shopkeepers in istanbul :D @BoingBoing https://t.co/ltwNH4tQZ6

— İsmail Gökhan Bayram (@igbayram) August 25, 2015
A source at the Irish consulate in Istanbul told The Independent that the "fun incident" had been tweeted about 75,000 times in Turkey in less than 24 hours.
He said the Irish national had been "attacked" by shopkeepers in Istanbul's Aksaray district.
"The fist and stick fight began after the tourist accidentally knocked over the bottled waters stored in the cooler," he said.
"The shop owner overreacted and attacked the tourist with a stick. The surprising thing is that the tourist turned out to be a pro boxer and knocked down the angry shopkeepers one by one."
Reuse content