LGBT rights have come a long way in recent years. In 2015, the US Supreme Court ruled same-sex marriage bans are unconstitutional and the Republic of Ireland became the first country in the world to legalise same-sex marriage by popular vote following a country-wide referendum.However, while stigma against LGBT communities is certainly lessening in some countries, many states continue to criminalise same-sex sexual contact under the threat of imprisonment or even death.
New research published by the International Lesbian, Gay, Bisexual, Trans and Intersex Association (ILGA) serves as a stark reminder of just how widespread such criminalisation can be. In a total of 74 countries, same-sex sexual contact is a criminal offence.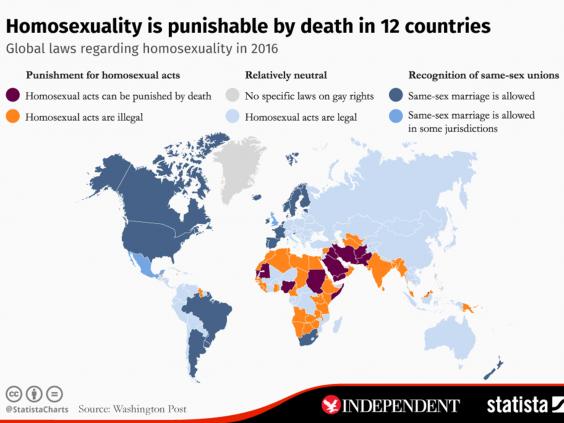 In 13 countries, being gay or bisexual is punishable by death. These are; Sudan, Iran, Saudi Arabia, Yemen, Mauritania, Afghanistan, Pakistan, Qatar, UAE, parts of Nigeria, parts of Somalia, parts of Syria and parts of Iraq.
In 17 countries, bans are in place to prohibit 'propaganda' interpreted as promoting LGBT communities or identities. These are; Algeria, Egypt, Libya, Morocco, Nigeria, Somalia, Tunisia, Iraq, Iran, Jordan, Kuwait, Lebanon, Qatar, Saudi Arabia, Syria, Lithuania and Russia.
LGBT rights across the globe
LGBT rights across the globe
1/7 Russia

Russia's antipathy towards homosexuality has been well established following the efforts of human rights campaigners. However, while it is legal to be homosexual, LGBT couples are offered no protections from discrimination. They are also actively discriminated against by a 2013 law criminalising LGBT "propaganda" allowing the arrest of numerous Russian LGBT activists. (Picture: Riot police hold an LGBT activist during a Moscow rall.)

AFP/Getty

2/7 Mauritania

Men who are found having sex with other men face stoning, while lesbians can be imprisoned, under Sharia law. However, the state has not reportedly executed anyone for this 'crime' since 1987. (Picture: Chinguetti Mosque, Mauritania.)

ALAMY

3/7 Saudi Arabia

Homosexuality and transgender is illegal and punishable by the death penalty, imprisonment, corporal punishment, whipping and chemical castration. (Picture: The emblem of Saudi Arabia above the embassy in London.)

Bruno Vincent/Getty Images

4/7 Yemen

The official position within the country is that there are no gays. LGBT inviduals, if discovered by the government, are likely to face intense pressure. Punishments range from flogging to the death penalty. (Picture: Yemen's southern port of Aden.)

Getty

5/7 Nigeria

Both male and female same-sex sexual activity is illegal and in some northern states punishable with death by stoning. This is not a policy enacted across the entire country, although there is a prevalent anti-LGBT agenda pushed by the government. In 2007 a Pew survey established that 97 per cent of the population felt that homosexuality should not be accepted. It is publishable by 14 years in prison. (Picture: The northern Nigerian town of Damasak.)

Reuters

6/7 Somalia

Homosexuality was established as a crime in 1888 and under new Somali Penal Code established in 1973 homosexual sex can be punishable by three years in prison. (Picture: Families use a boat to cross a flooded Shebelle River, in Jowhar.)

Reuters

7/7 Iraq

Although same-sex relationships have been decriminalised, much of the population still suffer from intense discrimination. Additionally, in some of the country over-run by the extremist organisation Isis, LGBT individuals can face death by stoning. (Picture: Purported Isis fighters in Iraq.)

Getty Images
Surprisingly, a total of 40 countries retain a 'gay panic' clause which enables people to use as a defence for committing crimes such as assault or murder that they were provoked because the person was gay, lesbian or bisexual.
While the report focused on gay, lesbian and bisexual rights, it is believed transphobic laws and attitudes are also very common as part of persecution specifically targetted at transgender communities.
The report follows research published last week into lesbian and bisexual women's experiences of persecution for their sexual orientation. The research found 'corrective rape' and forced marriages are common in some countries on the basis that this can 'cure' them.
Many countries only criminalise sex between men due to historic penal codes from British colonial rule which define sex as penile penetration. However, a growing number are criminalising sex between women as they believe doing so strengthens laws against men as the countries can assert the legislation is 'gender neutral' and therefore not discriminatory.