The White House said today President Barack Obama would veto legislation approving construction of the long-stalled Canada-US Keystone XL oil pipeline. 
A bill that would have forced the president's hand  on the issue failed to clear Congress in its final days last year. But on Tuesday, Republicans took charge of both houses of Congress for the first time in eight years. They have vowed to push ahead with legislation approving the construction of the Keystone XL pipeline and are set to vote this week. What is the pipeline and what are the main issues?
What:
The proposed Keystone XL pipe is a 1,200 mile extension of an already existing pipe network owned by the TransCanada Corporation that transports crude oil from Canada to US refineries on the Gulf Coast. The network of pipes would total 3,800 miles. The current pipeline, built in three phases, delivers oil from Hardisty, in Canada's Alberta, to Steele City, Nebraska and on to Wood River Refinery in Roxana, Illinois and the Patoka Oil Terminal Hub. Oil is also piped from Steele City to storage and distribution facilities at Cushing, Oklahoma, and on to refineries at Port Arthur, Texas. The fourth phase, using a larger-diameter pipe, would travel from Alberta and enter the US at Morgan, Montana, before travelling through South Dakota and Nebraska to Steele City. US crude oil would be added to the pipeline at Baker, Montana.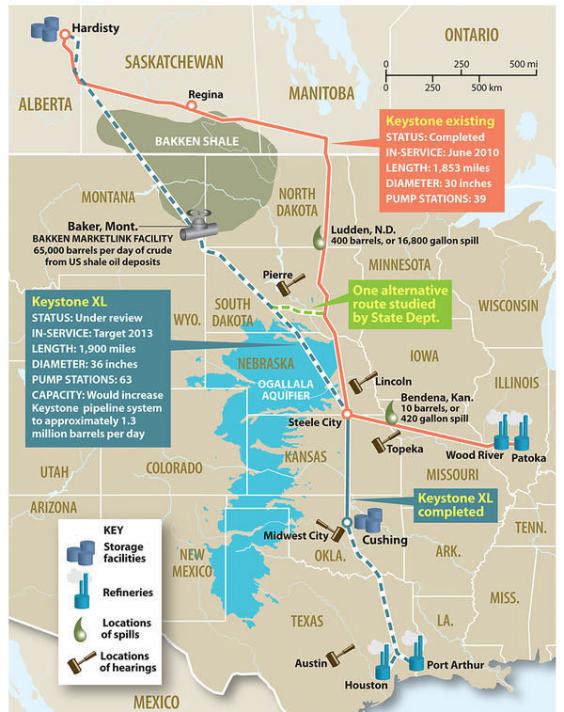 Controversy:
The fourth proposed stage of the pipeline has been particularly controversial for several reasons. The pipeline would transit both the Sandhills, a large wetland ecosystem in Nebraska, and the Ogallala Aquifer, said to be one of the largest reserves of fresh water in the world and which reportedly supports $20bn in agriculture. Native American groups have protested, saying construction camps would be located near their communities. Environmentalists have also pointed out that the oil the pipeline transports, produced from tar sands, emits an estimated 17 per cent more greenhouse gases than traditional oil drilling in the US, partly because it has to be heated to separate the crude from the sand. Observers have also pointed out that investment in the project only makes economic sense when crude prices are at $65 a barrel or above. Crude currently trades at $51.
Support:
Supporters of the bill say it will create many new jobs both directly and indirectly and boost the US's energy independence. The owners of the pipeline, TransCanada, initially said it would create more than 100,000 jobs, while the US Statement Department has said it will create 42,000 construction jobs and boost the economy by $2bn. However there appears to be agreement that it will only likely create 50 permanent posts once it is completed. The State Department also said the pipeline would only have a minimal impact on the price of petrol for US consumers.
Delay:
Progress on approving legislation has been held up for six years. President Barack Obama appears at best lukewarm about it. His approval is required because the pipeline crosses the US border. When Congress sought to push him to make a decision three years ago, he declined to give the nod. The State Department has conducted an environmental review but it waiting on the outcome of a Nebraska Supreme Court case that could affect the pipeline's route. In November, the House of Representatives passed 252 to 161 a vote in favour of the pipeline but the Senate voted 41-59. For the measure to have been passed, supporters required 60 votes in favour. At his last press conference of 2014, Mr Obama said the US could create more lasting jobs by investing in road and infrastructure development. He added: "I want to make sure that if this project goes forward, that it's not adding to the problem of climate change, which I think is very serious and does impose serious costs on the American people."
Republicans in charge:
Following last November's mid-term elections, Republicans now control both houses of Congress. Republican leaders say they intend to make Keystone XL a priority, seeking to move legislation this week. In the Senate, a bill is being sponsored by Republican John Hoeven, with support from Democrat Joe Manchin, In the House, legislation is being tabled by Republican Kevin Cramer. Mr Cramer, who represents North Dakota, said: "By passing this bill in the House and Senate with bipartisan votes, we can help provide the political muscle the president needs to finally approve this piece of critical transportation infrastructure, which will contribute thousands of jobs to the national economy and further our push toward national energy security."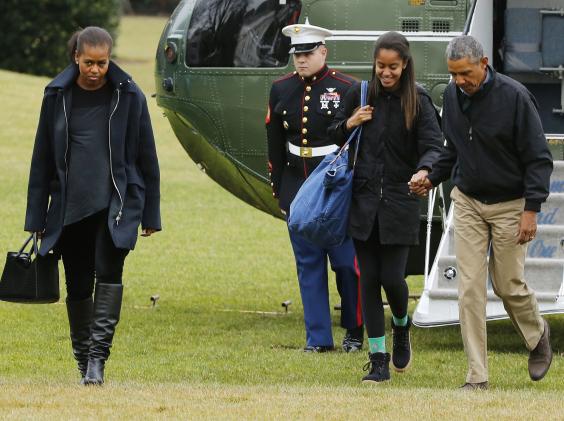 President Obama:
There has been huge speculation about whether or not Mr Obama would veto any measures passed to him by Congress. In the last six years he has only used his presidential veto twice. Last week he said it was possible he would use his veto more frequently over the coming two years. Amid the speculation, on Tuesday his spokesman Josh Earnest said he did expect Mr Obama would sign any Keystone legislation that reached his desk. To overturn a presidential veto, the measure's supporters in the Senate would need to find 67 out of a potential 100 votes. Some Democrats certainly support the measure, but at the weekend Democrat Senator Chuck Schumer said on CBS's Face the Nation he thought the Republicans would fall short of securing the two-thirds required. He said: "I think there will be enough Democratic votes to sustain the president's veto."
Reuse content