Several people have reportedly been arrested in connection with the suicide bombing of a Shia mosque in Kuwait on Friday that killed at least 27 people.
An Isis-affiliated group, calling itself the Najd Province, claimed responsibility for the attack in Sawaber in the east of the Kuwaiti capital in a statement posted via its social media accounts.
The explosion injured a further 227 people, with photos online showing men bleeding after emerging from the mosque.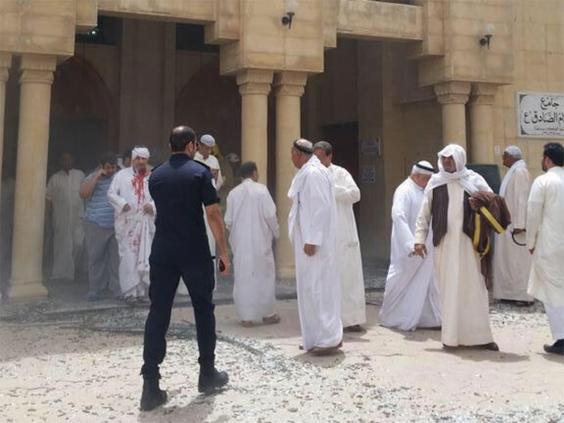 A group of suspects that included the owner of the vehicle transporting the bomb to the mosque were arrested over the attack, a security source told The Guardian.
The terror group also claimed responsibility for the shooting massacre at a hotel in Tunisia that killed 38 people, at least eight of who were British.
And in another deadly assault on Friday, the decapitated head of a man was found at the site of gas factory near Lyon following an attack by a man reportedly waving an Islamist flag.
The strong of attacks killed at least 65 people in total on a dark day that is now being referred to as "bloody Friday". Funerals for those killed in the Kuwait attack will take place on Saturday, which has been declared a national day of mourning.
David Cameron said his "thoughts and prayers are with the loved ones of those killed or injured" after chairing an emergency Cobra meeting to discuss the UK's response.
Speaking in Downing Street, the Prime Minister said: "These savage terrorist attacks in Tunisia, Kuwait and France are a brutal and tragic reminder of the threat faced around the world from these evil terrorists.
"We are working with the Tunisian authorities to identify the final number of British casualties but I'm afraid that the British public need to be prepared for the fact that many of those killed were British."
He insisted a united front would defeat the threat posed by Islamist extremists across the world. 
Additional reporting by agencies
Reuse content