For hours, she had been worrying about her 16-year-old son, Pero. He said he planned to attend a rally in town, then sleep over at a friend's house. But he had disappeared.
The next morning, his mother's mobile phone rang.
"Where are you?" she cried, angry but relieved to hear from him. She burst into tears at the answer: "I'm in Syria," he said.
The previous evening, Pero and 22 others, including at least four teenagers, took a budget flight to the Turkish resort city of Antalya and continued by road to the border with Syria. The group was part of an increasing number of European Muslims seeking to fight in the Syrian civil war alongside extremist groups, some of them linked to al-Qa'ida. And security officials worry that some of these volunteers will return radicalised and determined to strike in Europe.
But for members of one Frankfurt family, the secret departure of their teenager sparked an elemental obsession: how to snatch their baby-faced, troubled boy back from his chosen path of martyrdom.
The darling of a close-knit Muslim family that immigrated to Germany from Macedonia before he was born, Pero had grown pious and distant over the previous year.
As one week melted into the next, Pero's parents stayed in touch with him via his German phone, but they grew more and more fearful about ever seeing him again. They sent hundreds of euros' worth of phone and Skype credit to a militant training camp in Syria to maintain the contact. Every chat or text sent waves of anxiety through the family in Frankfurt.
"They want to go to paradise," Pero's father, Mitko, said. "I wanted my son to go the way of God. It's the best way. But not this."
On the day they left for Syria, Pero and his 23 companions gathered with 700 others to listen to Pierre Vogel, a man described as a radical preacher by German and European security and intelligence officials.
Vogel is a 35-year-old former boxer and native-born German who converted to Islam in 2001. He exhorted the crowd to give money to the men wearing orange T-shirts that read "Donations for Syria".
"Maybe the one euro that you donate will be the euro that helps the poor, oppressed people to keep going and through which this tyrant will be toppled," Vogel said. "May Allah throw out this tyrant."
Pero's parents immediately notified German authorities that their son was in Syria.
He told his family that he was living in a house filled with other single men, all German speakers, somewhere close to a camp. When Pero's family called him during the day, his phone was always turned off. He was reachable by 9pm, usually through a Turkish superior who had once lived in Frankfurt, the parents said.
Mitko said Pero's superior told him that the most helpful thing the family could do was to buy their son an AK-47 assault rifle or bulletproof vest.
Pero said he would pledge allegiance to a fighting group shortly after Eid al-Adha, one of the holiest days in the Muslim calendar, which this year fell in the middle of October.
Mitko arranged to meet with a conservative imam named Hesham Shashaa who has gained prominence for his efforts to fight radicalisation within Germany's Islamic community.
How can I help? asked the grey-bearded imam, sitting in a white robe at a wooden table in the apartment of Pero's aunt. "What should I do?" Mitko responded.
Shashaa offered several options: reason with Pero, telling him that the Koran puts family obligations first and condemns violence. Or convince him that his mother is sick and that he needs to come home, or at least visit her on the Turkish side of the Syrian border.
There was another option, Shashaa suggested. "Kidnap him."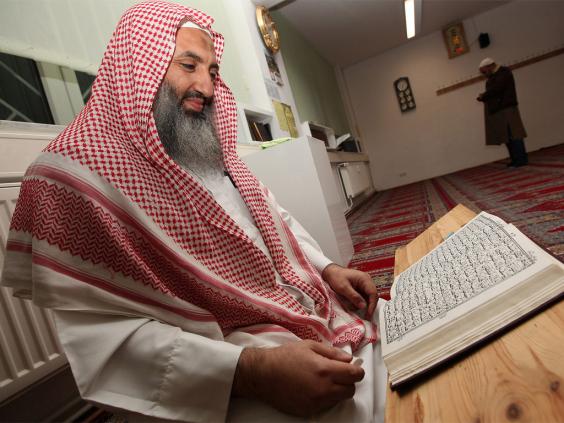 Five days after Mitko met with the imam, Pero agreed, over Skype, to meet his mother and his aunt in Turkey near the border. It was to be a chance to kiss his family members goodbye and get their blessing before he headed out to fight. He asked them to bring warm socks, his leather jacket and T-shirts, as well as antibiotics.
"Maybe this is our last chance," Pero's mother, Bagica, told a reporter one evening in her family's cramped apartment.
A Turkish police officer who is a family friend put Pero's parents in touch with counterterrorism officials in the border region. Pero's father flew that night. His mother and aunt followed the next day.
The following morning, Pero's aunt, Serce, texted him. "Where are you?" the message said. The family members planned to meet Pero at their hotel, the Buyuk Antakya, one of the largest in the region, whose balconies overlook the mountains that press in on the city. The streets of Antakya, normally bustling, were deserted because of the Eid holiday.
"He wrote back and said he was coming at 3pm," Serce said.
As the hour drew near, six plainclothes police officers posted themselves in cars parked at the front and rear exits of the hotel. Serce was waiting in the hotel lobby. Mitko was keeping a lookout from one of the cars.
At 3pm, a text message: "Where are you, Mama? I'm coming." Pero arrived by bus. When he stepped off, he was alone. His father gave the signal. The police officers got out of the car, took Pero by the arms and led him into the hotel. He wasn't armed. He didn't fight back, his aunt said.
"When the mother saw the son and the son saw the mother, they fell into each other's arms," Serce said. "They were crying." Mitko stroked his son's arm as Pero embraced his mother. Mitko was crying, too, the first time that Serce could remember seeing him weep.
"The little one was a bit shocked that he had been captured," she added.
When the family members landed in Frankfurt, Pero was taken into custody and driven to the central police station with his mother.
Frankfurt's police department is headquartered in a six-story, hulking building with a smooth black facade. On a cold bench in the empty lobby, Pero's aunt, grandmother and sister sat and waited. An hour passed, and then the family's attorney emerged. Pero wasn't being charged with a crime, the lawyer said, just warned that intelligence sources thought he may be in danger in Frankfurt because some people will feel that he abandoned the cause and was a turncoat.
Pero and his mother came out into the lobby. It was the first time in weeks that he had seen his sister or grandmother. He gave them long hugs. Then his mother began to sob. Pero threw his arms around her and, towering over her, kissed her on the top of the head.
They walked out the door and went home.
©The Washington Post
Reuse content