An Afghan woman who was raped by her cousin's husband and subsequently jailed for adultery is now married to her attacker and pregnant with their third child.
The woman, identified only as Gulnaz, gave an interview to CNN about her harrowing situation with her rapist, Asadullah, and their young daughter sat beside her in Kabul, Afghanistan.
She was assaulted by Asadullah, who was married at the time, when she was just 16 and imprisoned for 'adultery by force' – a 'crime' that carried a 12-year jail sentence. She became pregnant from their rape and gave birth in prison.
She was eventually granted a presidential pardon, but believed her only chance of being able to integrate back into Afghanistan society was to marry her rapist.
"I didn't want to ruin the life of my daughter or leave myself helpless so I agreed to marry him," she told CNN. "We are traditional people. When we get a bad name, we prefer death to living with that name in society."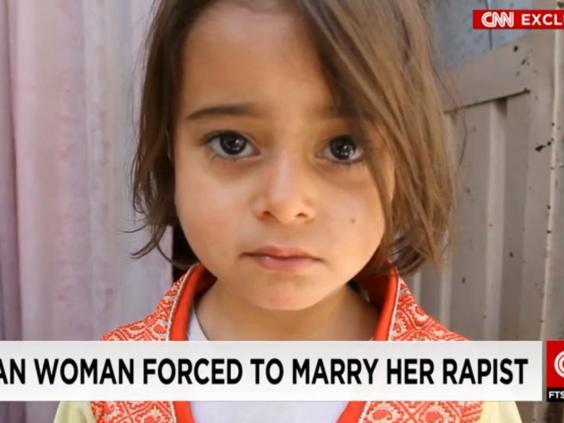 Now, she maintains that she has "no problem" with Asadullah and, despite not looking at her husband once during the interview, insisted that she was happy.
"I don't have a problem with him now and I don't want to think about the past problems. My life is OK. I am happy with my life [...] it is going on," she said.
"I cut relations with my family only to buy my daughter's future."
Kimberley Motley, her former lawyer, said this was because she was pressured by members of the government to marry him.
"Gulnaz was constantly told that neither she nor her daughter would be protected if she did not succumb to their pressure to marry... Gulnaz essentially became a prisoner of her environment," she explained.
"As an uneducated, young, single mother with no family support, it would have been an uphill battle for Gulnaz and her daughter."
Speaking in camera, Asadullah insisted that he had helped her by marrying her. "If I hadn't married her, (but) according to our traditions, she couldn't have lived back in society," he said. "Her brothers didn't want to accept her back. Now, she doesn't have any of those problems."
Reuse content