Online accommodation community website Airbnb has "dozens of listings" in Israeli settlements on occupied Palestinian territory on the West Bank, which it has not clearly stated.
Many of the listings claim to be in Israel and describe the properties as having beautiful views and being just a short drive from Jerusalem.
The website shows one place to rent in Tekoa, just south of Jerusalem, which is a Jewish settlement in the occupied West Bank.
It is described as having "a grape arbour, an orchard and sitting area overlooking the spectacular Judea desert landscape, situated on a spacious plot that gives privacy."
The rental is offered for 804 shekels (£142) a night and the description says that it is a 12 minute drive from Jerusalem. There are 12 photos of a well presented and clean flat, with its own enclosed garden space and views over the mountains, but no mention that it is a Israeli settlement. 
Al Jazeera reportedly found a listing described as a "tidy-three bedroomed rental home with an idyllic courtyard framed by a lush green grapevine," for 800 shekels (£141) in Tekoa.
The Israeli–Palestinian conflict intensifies
The Israeli–Palestinian conflict intensifies
1/10

Medics evacuate a wounded man from the scene of an attack in Jerusalem. A Palestinian rammed a vehicle into a bus stop then got out and started stabbing people before he was shot dead

AP

2/10

Israeli ZAKA emergency response members carry the body of an Israeli at the scene of a shooting attack in Jerusalem. A pair of Palestinian men boarded a bus in Jerusalem and began shooting and stabbing passengers, while another assailant rammed a car into a bus station before stabbing bystanders, in near-simultaneous attacks that escalated a month long wave of violence

AP

3/10

Getty Images

4/10

Palestinians throw molotov cocktail during clashes with Israeli troops near Ramallah, West Bank. Recent days have seen a series of stabbing attacks in Israel and the West Bank that have wounded several Israelis

AP

5/10

Women cry during the funeral of Palestinian teenager Ahmad Sharaka, 13, who was shot dead by Israeli forces during clashes at a checkpoint near Ramallah, at the family house in the Palestinian West Bank refugee camp of Jalazoun, Ramallah

AP

6/10

A wounded Palestinian boy and his father hold hands at a hospital after their house was brought down by an Israeli air strike in Gaza

Reuters

7/10

Palestinians look on after a protester is shot by Israelis soldiers during clashes at the Howara checkpoint near the West Bank city of Nablus

EPA

8/10

A lawyer wearing his official robes kicks a tear gas canister back toward Israeli soldiers during a demonstration by scores of Palestinian lawyers called for by the Palestinian Bar Association in solidarity with protesters at the Al-Aqsa mosque compound in Jerusalem's Old City, near Ramallah, West Bank

AP

9/10

Undercover Israeli soldiers detain a Palestinian in Ramallah

Reuters

10/10

Palestinian youth burn tyres during clashes with Israeli soldiers close to the Jewish settlement of Bet El, in the West Bank city of Ramallah, after Israel barred Palestinians from Jerusalem's Old City as tensions mounted following attacks that killed two Israelis and wounded a child
One listing, found by +972, was noted as being in Havat Gilad, and described on the website as being "a small village really in the nature. It is very private place with a very fresh air and gorgeous view," for 325 shekels (£57) a night.  But there is no mention that Havat Gilad is a settlement outpost, or about safety or security.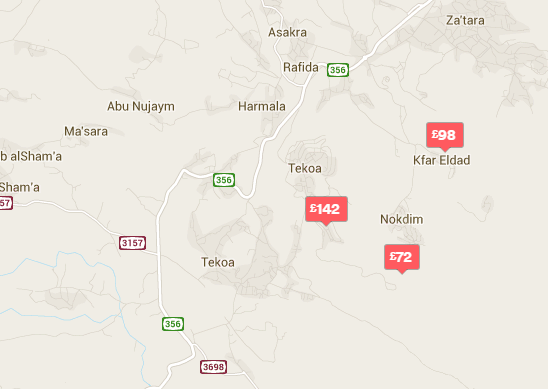 The National, a news website based in the Middle East, reported that when they asked a host if she told her guests the property was in an Israeli settlement, she replied: "People come to us knowing that Efrat is part of the state of Israel, and are not concerned with safety and security issues."
Husam Zomlot, the ambassador-at-large for Palestine told Al Jazeera: "This website is promoting stolen property and land."
The National reported Mr Zomlot said: "It's not only controversial, it's illegal and criminal.
"There will come a time when companies like this, who profit from the occupation, will be taken to court," he said.
Under international law, all Israeli settlements are illegal. The map on rental website does not differentiate between Israeli controlled areas and Palestinian areas.
Efrat, where many of the listings are, was established in 1983 on occupied Palestinian land.
The settlement is 12 km south of Jerusalem and 7km east of the Green Line, the demarcation line between Israel and Palestinian territory, agreed in the 1949 armistice between Israeli forces and those of its neighbours (Egypt, Lebanon, Syria and Jordan) following the Arab-Israeli war.
Reuse content