The father of an 18-month-old Palestinian child who was burnt alive when suspected Jewish extremists firebombed the family home has died after sustaining severe burns.
Sa'ed Dawabsha, 32, was unable to rescue his youngest son Ali Saad before his home in Kafr Duma, in the West Bank, was engulfed in flames after an attack by suspected Jewish extremists on 31 July.
The father of two sustained second degree burns to 80 per cent of his body and perished in Israeli Soroka Medical Centre at around 4.30am on Saturday morning, according to a hospital spokesperson.
"Everybody is sad, sadness has settled on the village," Duma resident Mohammed Dawabsheh told the New York Times. He added that his neighbour's body would be laid to rest on Saturday.
Mr Dawabsha's 27-year-old wife Reham remains in critical condition in Tel Hasomer hospital after sustaining 90 per cent burns to her body in the attack.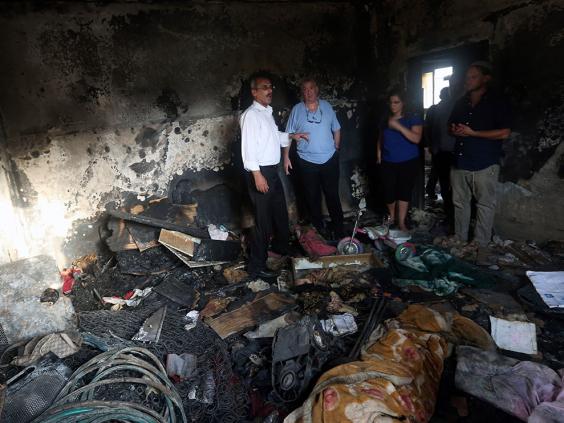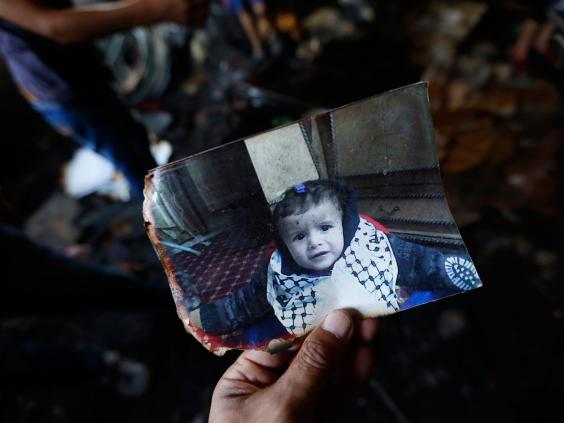 In a lone piece of good news, his four-year-old son Ahmad – who received burns to 60 per cent of his body – briefly woke up and communicated to gathered family praying for his recovery.
"We went to his room and he recognized us. He couldn't talk, but we could see he recognises us," Ahmad's grandfather, Hussein Dawabsha, told Israeli newspaper Ynet on Friday. 
Anger remains over the attack, one of the worst in a summer just a year on from the last spate of sustained violence, with international attention once again focussed on Israel.
Mr Dawabsha's brother Nasser urged Israeli authorities to act. "Israel must arrest the settlers who perpetrated this murder and bring them to justice," he told Ynet.
Masked men reportedly daubed the walls of the home with "Price tag" slogans – as used by extremist Israeli settlers against Palestinian homes and buildings in the past – before tossing Molotov cocktails through the windows while the family slept.
He added: "Our face is to peace, but what happened reminds us of dark days in history, it reminds us of the deeds of the Nazis."