The mother of an American journalist thought to have been murdered by militants from the Islamic State (Isis) has urged his kidnappers to spare the lives of any remaining hostages.
Isis yesterday released a propaganda video depicting a militant with a British accent beheading a man purported to be the American photojournalist James Foley, who was kidnapped in Syria in 2012.
In a message posted to the Facebook page "Free James Foley", his mother Diane Foley wrote: "We have never been prouder of our son Jim. He gave his life trying to expose the world to the suffering of the Syrian people. We implore the kidnappers to spare the lives of the remaining hostages. Like Jim, they are innocents. They have no control over American government policy in Iraq, Syria or anywhere in the world."
Originally from New Hampshire, Mr Foley, 40, was a freelancer who had contributed to Stars and Stripes and the Global Post. In November 2012, he and another journalist were working in the northern Syrian province of Idlib, close to the Turkish border, when they were kidnapped by unidentified gunmen. Ms Foley wrote that the oldest of her five children, "was an extraordinary son, brother, journalist and person."
In pictures: James Foley
In pictures: James Foley
1/7 James Foley

Freelance photo-journalist James Foley (left) on the highway between the airport and the West Gate of Sirte, Libya

AFP

2/7 James Foley

James Foley responds to questions during an interview with The Associated Press, in Boston

AP

3/7 James Foley

James Foley responds to questions during an interview with The Associated Press, in Boston

AP

4/7 James Foley

James Foley rests in Syria, 2012

Manu Brabo via freejamesfoley.org

5/7 James Foley

US photo-journalist James Foley resting in a room at the airport of Sirte, Libya. Jihadist group the Islamic State claim to have executed American journalist James Foley in revenge for US air strikes against its fighters in Iraq

AFP

6/7 James Foley

John and Diane Foley, parents of James Foley, at a Free James Foley event on 3 May, 2013

Getty

7/7 James Foley

A ribbon is tied to a tree outside the home of American freelance journalist James Foley in Rochester, N.H

AP
The White House said last night that it had yet to confirm whether the man in the video was Mr Foley. Caitlin Hayden, a spokeswoman for the National Security Council, said in a statement, "The intelligence community is working as quickly as possible to determine [the video's] authenticity. If genuine, we are appalled by the brutal murder of an innocent American journalist and we express our deepest condolences to his family and friends."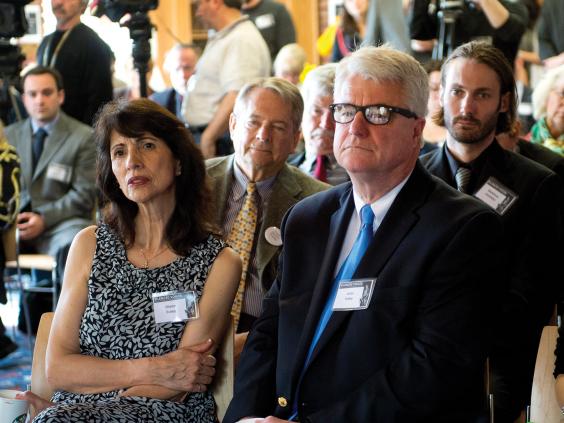 In the video, the man believed to be Mr Foley appears, kneeling in an orange outfit, next to a masked man in black holding a knife. He is forced to deliver what appears to be a prepared statement, in which he calls on Americans to "rise up against [his] real killers, the US government." He adds: "I wish I could have the hope of freedom and seeing my family once again. But that ship has sailed. I guess all in all I wish I wasn't American."
The masked executioner then speaks in English, with a British accent, citing the recent US air strikes against Isis as the reason for the execution. "Any attempt by you, Obama, to deny the Muslims their rights of living in safety under the Islamic caliphate will result in the bloodshed of your people," he says, before he begins to cut the man's throat.
 Video: Isis warning to the West
The Islamic State has not publicly executed American citizens before now. Following the beheading, the video also shows a second man on his knees, who is named as Steven Sotloff, another American journalist, who was kidnapped in Syria in August 2013. After bringing out the second man, the masked executioner addresses the US President, saying: "The life of this American citizen, Obama, depends on your next decision."
Reuse content