Suicide bombers struck hours apart at two Coptic churches in northern Egypt, killing at least 44 people and turning Palm Sunday services into scenes of horror and outrage at the government that led the president to call for a three-month state of emergency. 
​The two attacks were claimed by Isis. The first took place in the Saint George church in the Nile Delta town of Tanta, north of Cairo, killing 27 and wounding at least 78, the Ministry of Health said.
Later, an explosion hit Saint Mark's Cathedral in the coastal city of Alexandria, the historic seat of Christendom in Egypt, killing at least 17 and wounding 48 just after Pope Tawadros II finished services.
His aides later told local media he had escaped unharmed. "These acts will not harm the unity and cohesion of the people," Mr Tawadros said later, according to state media.
Egypt's Interior Ministry said a suicide bomber tried to storm the entrance before being stopped in police. The ministry said three policemen were among those killed in the attack.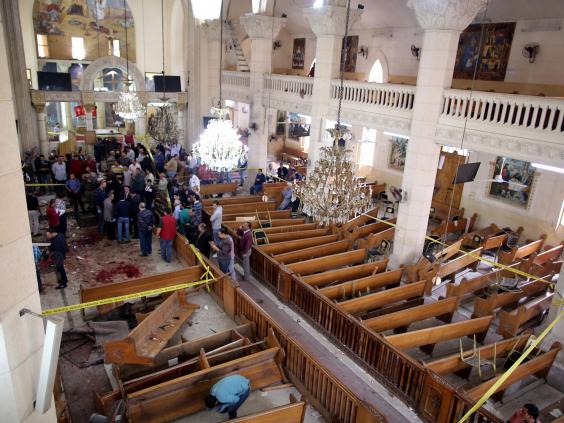 Egypt's President Abdel Fatah al-Sisi condemned the attacks and summoned the National Defence Council to an urgent session.
"The attack...will only harden the determination [of the Egyptian people] to move forward on their trajectory to realise security, stability and comprehensive development," he said in a statement.
Later, he called for a three-month state of emergency. According to Egypt's constitution, parliament must vote in favor of such a declaration — a virtual certainty since it is packed with supporters of the president. It cannot exceed six months without a referendum to extend it. 
The army chief-turned-president also dispatched elite troops across the country to protect key installations and accused unidentified countries of fuelling instability, saying that "Egyptians have foiled plots and efforts by countries and fascist, terrorist organisations that tried to control Egypt." 
In a claim via its news agency Amaq Isis said: "A group that belongs to Islamic State carried out the two attacks on the churches in the cities of Tanta and Alexandria".
The group recently warned it would step up attacks on Egypt's Christians - the jihadis warned in the aftermath of the two bombings, which they claimed were carried out using suicide vests - that further attacks would take place.
It was the latest in a series of assaults on Egypt's Christian minority, which makes up around 10 percent of the population and has been repeatedly targeted by Islamic extremists.
Video footage and images reportedly taken from inside the church in Tanta show a large number of people gathered around what appear to be lifeless, bloody bodies covered with papers.
Eyewitnesses to the first blast described a scene of carnage to Reuters.
"There was a huge explosion in the hall. Fire and smoke filled the room and the injuries were extremely severe. I saw the intestines of those injured and legs severed entirely from their bodies," Vivian Fareeg said.
Grand Sheikh Ahmed el-Tayeb, head of Egypt's Al-Azhar — the leading centre of learning in Sunni Islam — condemned the attack, calling it a "despicable terrorist bombing that targeted the lives of innocents".
Pope Francis decried the deadly attack, which took place just weeks before his planned visit to Cairo. 
The pontiff expressed his ''deep condolences to my brother, Pope Tawadros II, the Coptic church and all of the dear Egyptian nation," and said he was praying for the dead and wounded in the attack. Word of the bombing came as Francis himself was marking Palm Sunday in St. Peter's Square. 
He asked God ''to convert the hearts of those who spread terror, violence and death, and also the hearts of those who make, and traffic in, weapons." 
The pope's remarks on the attack were handed to him on a piece of paper as he marked Palm Sunday in St Peter's Square.
President Donald Trump tweeted his condemnation of the attacks. "So sad to hear of the terrorist attack in Egypt. U.S. strongly condemns. I have great confidence that President Al Sisi will handle situation properly."
UK Foreign Secretary Boris Johnson said: "I am saddened and appalled by these attacks in Egypt, and strongly condemn them. My thoughts are with the Egyptian people and particularly those directly affected by these terrible acts. I offer my condolences to those grieving for lost friends and relatives, and those suffering from injuries.
"The UK continues to stand with Egypt against terrorism. These attacks only strengthen our determination to work together with the Egyptian government and people against this shared threat."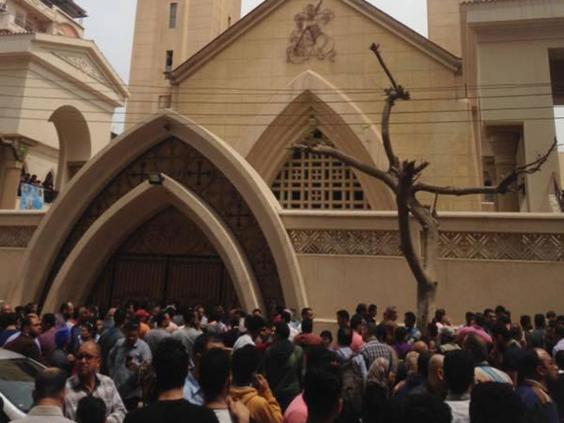 Egypt has struggled to combat a wave of Islamic militancy since the 2013 military overthrow of elected Islamist president Mohamed Morsi.
A local Isis affiliate group claimed a suicide bombing at a church in Cairo in December that killed around 30 people, mostly women, as well as a string of killings in the restive Sinai Peninsula that caused hundreds of Christians to flee to safer areas of the country. 
The Sinai-based Isis affiliate has mainly attacked police and soldiers, but has also claimed bombings that killed civilians, including the downing of a Russian passenger plane over the Sinai in 2015, which killed all 224 people on board and devastated Egypt's tourism industry. 
Additional reporting by agencies
Reuse content