David Cameron has praised British arms companies that have done business with Saudi Arabia - hours after the European Parliament voted for an arms trade embargo with the Kingdom.
The Prime Minister made the comments during a question and answer session with BAE Systems employees in Preston.
Mr Cameron said he was proud of the "brilliant things" BAE had sold to the Middle Eastern country such as the Eurofighter Typhoon.
On Thursday morning, the European Parliament voted in favour of an EU-wide embargo.
A resolution calling for a ban on all weapons sales to the country was passed by 359 votes to 212. The non-binding motion called on member states to stop selling weapons to the country, which is currently conducting a widely-criticised military operation in neighbouring Yemen marked by high civilian casualties.
The Saudi government has bought £3 billion of UK aircraft, arms and other defence products in 2015.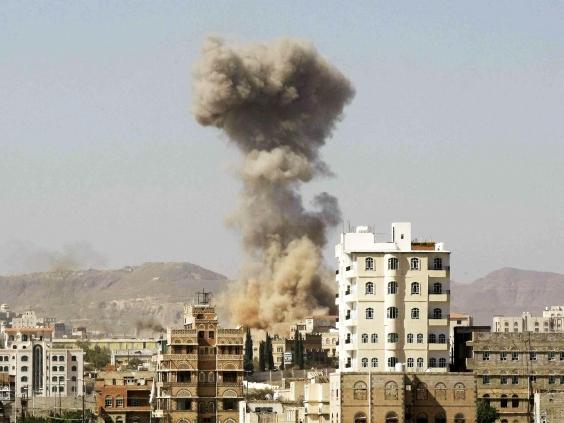 "I can see the planes being built right behind me here. We've got more work to do in Saudi Arabia," Mr Cameron told the assembled BAE employees.
"The Germans have done a lot of work as well. It is a collaborative project.
"We use the collective skills but also the collaborative muscles of all the governments to try and help make sure we can sell them around the world."
10 examples of Saudi Arabia's human rights abuses
10 examples of Saudi Arabia's human rights abuses
1/10

In October 2014, three lawyers, Dr Abdulrahman al-Subaihi, Bander al-Nogaithan and Abdulrahman al-Rumaih , were sentenced to up to eight years in prison for using Twitter to criticize the Ministry of Justice.

AFP/Getty Images

2/10

In March 2015, Yemen's Sunni President Abd-Rabbu Mansour Hadi was forced into exile after a Shia-led insurgency. A Saudi Arabia-led coalition has responded with air strikes in order to reinstate Mr Hadi. It has since been accused of committing war crimes in the country.

Getty Images

3/10

Women who supported the Women2Drive campaign, launched in 2011 to challenge the ban on women driving vehicles, faced harassment and intimidation by the authorities. The government warned that women drivers would face arrest.

Getty Images

4/10

Members of the Kingdom's Shia minority, most of whom live in the oil-rich Eastern Province, continue to face discrimination that limits their access to government services and employment. Activists have received death sentences or long prison terms for their alleged participation in protests in 2011 and 2012.

Getty Images

5/10

All public gatherings are prohibited under an order issued by the Interior Ministry in 2011. Those defy the ban face arrest, prosecution and imprisonment on charges such as "inciting people against the authorities".

Getty Images

6/10

In March 2014, the Interior Ministry stated that authorities had deported over 370,000 foreign migrants and that 18,000 others were in detention. Thousands of workers were returned to Somalia and other states where they were at risk of human rights abuses, with large numbers also returned to Yemen, in order to open more jobs to Saudi Arabians. Many migrants reported that prior to their deportation they had been packed into overcrowded makeshift detention facilities where they received little food and water and were abused by guards.

Getty Images

7/10

The Saudi Arabian authorities continue to deny access to independent human rights organisations like Amnesty International, and they have been known to take punitive action, including through the courts, against activists and family members of victims who contact Amnesty.

Getty Images

8/10

Raif Badawi was sentenced to 1000 lashes and 10 years in prison for using his liberal blog to criticise Saudi Arabia's clerics. He has already received 50 lashes, which have reportedly left him in poor health.

Carsten Koall/Getty Images

9/10

Dawood al-Marhoon was arrested aged 17 for participating in an anti-government protest. After refusing to spy on his fellow protestors, he was tortured and forced to sign a blank document that would later contain his 'confession'. At Dawood's trial, the prosecution requested death by crucifixion while refusing him a lawyer.

Getty Images

10/10

Ali Mohammed al-Nimr was arrested in 2012 aged either 16 or 17 for participating in protests during the Arab spring. His sentence includes beheading and crucifixion. The international community has spoken out against the punishment and has called on Saudi Arabia to stop. He is the nephew of a prominent government dissident.

Getty
He announced his planned defence of BAE's international trade: "I'm going to be spending a lot of the next four months talking about this issue but I promise I will not be taking my eye off the ball, making sure the brilliant things you make here at BAE Systems are available and sold all over the world.
"We have some of the toughest rules on defence exports – and rightly so.
"But I think it is absolutely right to get behind companies like this … to safeguard jobs and and skills and investment by making sure we can sell these things around the world."
On Wednesday, an Amnesty report said the UK is setting a "dangerous precedent" to the rest of the world by continuing to supply arms to questionable regimes such as Saudi Arabia".
The report criticised the Government's continuing arms exports to Saudi Arabia in the face of claims that the country may be responsible for atrocities in Yemen.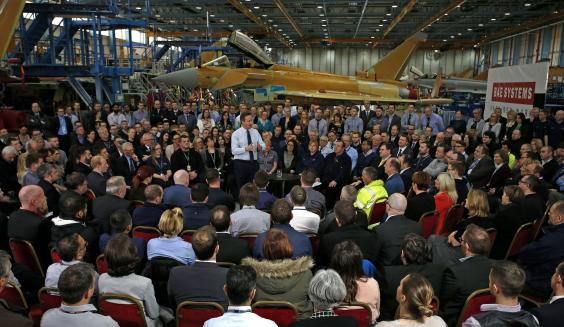 A government spokesperson told the Independent:"This is an issue we take very seriously and we regularly raise human rights concerns with the Saudi government at the highest level.
"The Prime Minister has been clear that we have one of the most robust arms export control regimes in the world.
"All UK export licenses are assessed on a case by case basis and we're satisfied that our licences for Saudi Arabia are fully in line with our international and legal obligations."
Oliver Sprague from Amnesty International told the Guardian: "The 'brilliant things' that David Cameron says BAE sells include massive amounts of weaponry for the Saudi Arabia military, despite Saudi Arabia's dreadful record in Yemen.
"Thousands of Yemeni civilians have been killed and injured in devastating and indiscriminate Saudi coalition air strikes, and there's strong evidence that further weapons sales to Saudi Arabia are not just ill-advised but actually illegal."
Shadow Foreign Secretary Hilary Benn has called for a review of arms export licences as a result of the air strikes in Yemen, as they suggest international law has been broken.