Israeli Prime Minister Benjamin Netanyahu has told members of his government they are not allowed to contact US President-elect Donald Trump or his administration without seeking prior permission. 
A letter to all ministers from Cabinet Secretary Tzachi Braverman on Monday stated that any attempt to speak to Mr Trump's team must be made through the official channels of either the Prime Minister's Office or the Israeli Embassy. 
The move comes after several public statements from Israeli government ministers on Mr Trump's election on November 8.
On Saturday, an open letter from right wing Agriculture Minister Uri Ariel addressed to Steve Bannon, Mr Trump's new chief strategist, appeared on Mr Bannon's alt-right website Breitbart. It thanked the editor for his stance on the US-Iran nuclear deal, anti-Israeli student boycotts, and for creating a Breitbart Jerusalem bureau. 
While Breitbart writers have called him a "friend of the Jewish people" and "defender of Israel" in the past, Mr Bannon has been accused of bigotry and anti-Semitism by many rights groups, who have called on his appointment to be cancelled. Mr Bannon has denied such claims.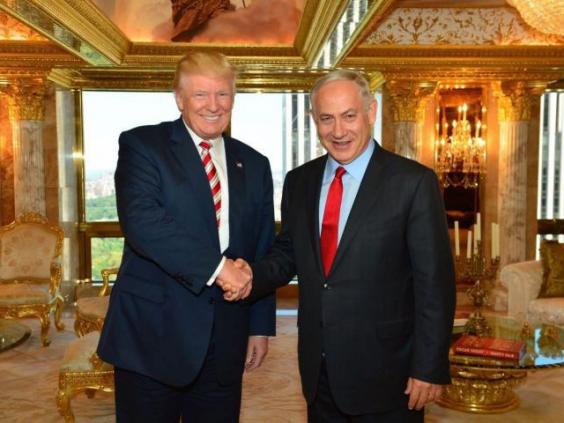 Mr Netanyahu congratulated Mr Trump on his election two weeks ago but cautioned his coalition government to refrain from speaking publicly about their views on the new US President-elect after Education Minister Naftali Bennett said Mr Trump's victory meant that "the era of a Palestinian state" was over. 
Mr Trump has previously said that he will consider recognising Jerusalem as Israel's capital. Shortly after winning the election called Mr Netanyahu to invite him to visit the US at "the first opportunity." 
"Israel has no doubt that President-elect Trump is a true friend of Israel," Israeli Ambassador to the US Ron Dermer said last week, adding that the country was looking forward to working with Mr Trump's "entire team".
World reaction to President Trump: In pictures
World reaction to President Trump: In pictures
1/29

London, England

AP

2/29

London, England

Reuters

3/29

Manila, Philippines

Getty Images

4/29

Manila, Philippines

Getty

5/29

Mosul , Iraq

Getty

6/29

Manila, Philippines

AP

7/29

New Delhi, India

Reuters

8/29

Karachi, Pakistan

EPA

9/29

Jakarta, Indonesia

Reuters

10/29

Lagos, Nigeria

AP

11/29

Kabul, Afghanistan

AP

12/29

Jerusalem. Israel

Reuters

13/29

Moscow, Russia

Reuters

14/29

Seoul, South Korea

AP

15/29

Lagos, Nigeria

AP

16/29

Peshawar, Pakistan

EPA

17/29

Jakarta, Indonesia

Reuters

18/29

Hyderabad, India

AP

19/29

Kolkata, India

AP

20/29

Sydney, Australia

Getty

21/29

Sydney, Australia

AP

22/29

Aleppo, Syria

Reuters

23/29

Mexico City, Mexico

AP

24/29

Port-of-Spain, Trinidad and Tobago

Reuters

25/29

Jerusalem, Israel

EPA

26/29

Baghdad, Iraq

Rex

27/29

Gaza Strip, Palestinian Territories

Rex

28/29

Tokyo, Japan

Rex

29/29

Mexico City, Mexico

Getty
Reuse content