As the sun sinks behind the Anti-Lebanon mountain range which forms much of the border between Syria and Lebanon, the cars keep coming. Some are shiny SUVs, carrying a family just going shopping. Others are minivans, the rooftops packed with suitcases, blankets, mattresses and cardboard boxes full of belongings. Yet the occupants have one thing in common; they want to get out of Syria, at least for now.
Maryam, 27, with her three daughters and her husband, has left central Damascus. "I'm afraid of the strikes," she says. She doesn't know how long she'll stay in Lebanon, nor does she know where she'll go.
"We don't know what will happen," she says of both her country's, and her own, future. But she disagrees with the impending strikes that have forced her to leave her home. "We live there," she says simply.
"Damascus", "Dara'a", "Suweida" read the number plates; it's not just the capital where Syrians are jittery. In Arsal, a town just across the border in Lebanon that has more than doubled in size due to the refugee influx, 65 new families have arrived in the past few days.
Lebanon has taken in more than a million Syrians already, more than 700,000 of which are registered with the UN refugee agency UNHCR. By the end of the year, UNHCR says it expects that number to hit two million. Over the past few days there have been roughly 12,000 refugees arriving daily, double the usual number.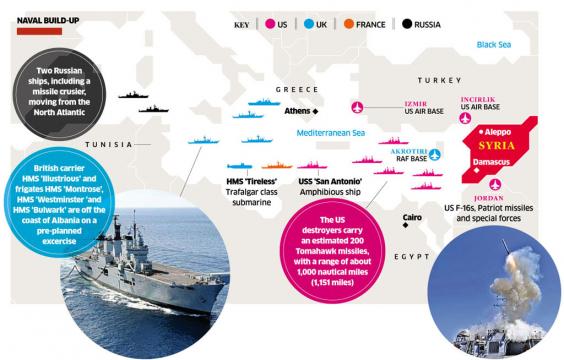 Yet although a lot of people are fleeing, the numbers are not as high as they could be, says Khaled Saleh, secretary of the Future movement in the Bekaa, a political party which supplies aid. Mr Saleh is worried that number might jump if strikes begin. "I believe that once the attack starts there will be huge numbers. A lot of those that are still in Syria think there will be no attack."
One of them is Ahmed, a taxi driver heading back home to Damascus. "I'll believe it when I see it," he said of the strikes. If the US did carry out bombing raids, they would be precise and hit military targets, which have already been evacuated, he added. Yet he had a full car this morning, all eight seats filled. Now he is the car's sole occupant and he admits there are many more customers waiting to head to Lebanon than vice versa.
The Lebanese government and UNHCR are arranging emergency centres at the border for the expected influx, which UN contingency planning says could see up to 50,000 people a day crossing the border. The transfer centres, which will primarily distribute water and information, are set to open "soon", says UNHCR spokesperson Dana Sleiman.
In Beirut, there is no assistance for new arrivals. Near a bus station in the Dahiyeh, a woman accompanied by her husband, mother-in-law and eight-year-old son looked around bewildered. A black plastic bag contained some clothes, all they had with them. She said, before hurrying away, that they intended to stay just 10 days, "till the bombing is over." Looking after them, a Lebanese man said that all he could see were Syrians: "they are everywhere."
"It's causing a lot of problems," says Mohammed, a 30-year-old Syrian who fled one-and-a-half years ago to avoid military service. He works in one of the thriving shops multiplying along the border crossing. Second-hand and new shirts wave in the wind on hangers, and fleece blankets decorated with flowers are stacked up. He also sells suitcases; many refugees didn't have time to pack, and most of his customers arrive empty-handed. "Lebanon is a small country, it just can't take it any more," he says.
Lebanon's infrastructure is creaking. Future's Mr Saleh, in charge of giving aid to new arrivals, says there is no more room: "There are no more houses... [most] of those with relatives are already in Lebanon. There are no places for tents either."
All along the road from the border refugees live their new lives; just feet from the border, a few figures huddle by a rickety structure with a Unicef tarp for a roof. Informal camps, called "tented settlements", line the road. It is thought more than 20 per cent of refugees in the Bekaa live in such structures, a number that will only grow. A little further on, a mother fans the flames of a small camp fire to cook on, as three children dressed in rags look on.