The old man clasps his hands around his neck, and he groans as his fingers tighten into his flesh –  mimicking the constriction of a hangman's noose – before a wry smile breaks across his face and he gives a chilling laugh.
The macabre, theatrical display is Farshad's answer to a simple question. The retired engineer has just said what he thinks of Iran's supreme leader, Ayatollah Ali Khamenei – he's not a fan. But what would happen if he made such pronouncements in public? Farshad fears there would be no mercy.
Five years on from the repression of the Green Movement protests against the 2009 presidential election results, which most experts accept were fixed in favour of Mahmoud Ahmadinejad to suppress liberal desires for reform, there have been no more mass demonstrations against Khamenei's regime.
Yet many are surprisingly open to quietly revealing their frustrations with theocratic rule, even to a Westerner.
Whether it's the Islamic republic's diktats on clothes and the conduct of relationships, the restrictions on the media, or the unelected clerics who often veto parliament's laws, the reasons for anger and resentment are still there.
The case of Ghoncheh Ghavami – the British-Iranian woman arrested for attending a men's volleyball game in defiance of a national ban on female spectators – is just the latest.
Her plight has sparked international criticism of the authorities' human rights record. Yesterday, her lawyer announced that Ms Ghavami, who has been on hunger strike in Tehran's notorious Evin Prison according to her family, has been jailed for a year on charges of "spreading anti-regime propaganda".
It comes a week after the global outcry over the hanging of Reyhaneh Jabbari, executed for killing a man she said was trying to sexually abuse her.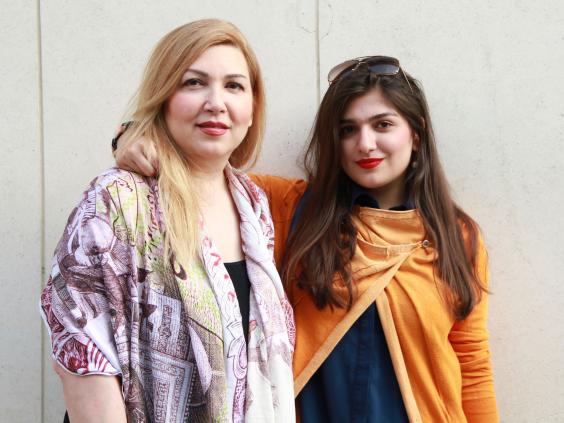 Inside Iran, people are just as upset by human rights violations. But while there have been reports of small street protests in recent days over acid attacks on women in Isfahan province, most Iranians still tend to express their frustrations more quietly.
Farshad speaks in the grounds of the Sa'dabad Palace in the hills of northern Tehran, where families gawp at the last Shah's breathtakingly ornate mirror mosaics and sparkling chandeliers inside. The long-dead monarch's long-gone regime deserves no nostalgia, considering how people suffered at the hands of the Savak secret police.
But Farshad, who studied in the US in his youth and remains frustrated by Iran's political isolation in the world, is not alone in wondering what has changed.
"Listen, I was in the revolution," he tells The Independent. "I was shaking my fist in the air. But now I'm banging it on my head.The Shah was corrupt, but ... things are no different today."
You mean the supreme leader? "Of course. You say the Shah was a dictator, but he was not like what we have now."
The younger generations are frustrated too. A young man in Hamadan explains how he and his girlfriend meet in the park but get harassed by the "morality police" because they are not married.
Many women feel they suffer more. Yasmin, a young tourism worker who speaks good English thanks to her degree, knows where it is safe to chat: in an underground cafe in Shiraz, where Simon & Garfunkel plays on the stereo and the walls are decorated with black-and-white photos of Virginia Woolf and Mahatma Gandhi, among others.
"I love Iran but I'm not happy because I am not free," she says, pointing to her headscarf. "I was in the Green Movement. I was on the streets. But some of my friends got arrested, and some are still in prison."
It was three girls not unlike Yasmin, dancing to the Pharrell Williams song "Happy" in a video on the rooftops of Tehran while not wearing the hijab along with three boys, who were arrested earlier this year and eventually given suspended sentences of up to a year in prison and 91 lashes for violating Islamic law.
"I love to dance, but I can't do it in public here," Yasmin explains. She has never left Iran, but this month she will turn 26 and finally be able to leave the country without her father's permission. She is planning to travel to Turkey, where she can dance in public without fear of arrest.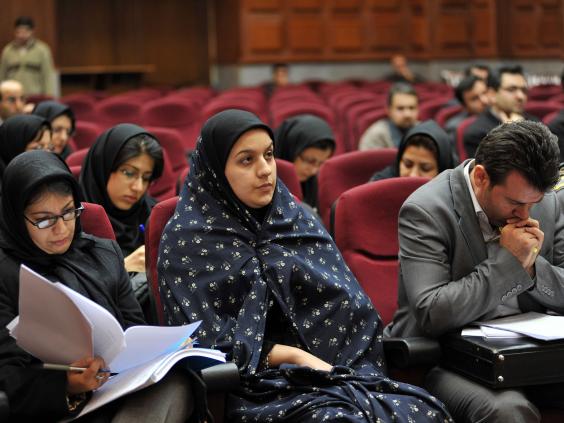 Life, however, is not always dark in Iran. Young liberals know how to have a good time. After a quick message on her phone using WhatsApp – one of the mobile messaging apps the judiciary has recently attempted to ban – she takes The Independent with her into dinner with her cousin, Ebrahim, and his girlfriend, a tall girl who sings along to "Romeo and Juliet" by Dire Straits, playing loud on the car stereo as she drives us through the Shiraz night.
Ebrahim, who studied for his Masters degree in the UK, is drinking tea. Despite alcohol being banned in Iran, he says with a grin that parties held in the privacy of houses and gardens are just as wild as nights out clubbing in London.
Whether they have made their own wine or bought vodka and whisky from a dealer offering smuggled Western brands like Johnnie Walker, they enjoy getting drunk. They turn the music up loud on Spotify. While Facebook is blocked by internet filters, they all have VPN apps on their smartphones, allowing them to get around the restrictions and invite their friends. Often their parents  are there partying, too.
Aren't they worried about the authorities? "In private houses, it's fine," he says. "The police came to a party two days ago, but they just told us to keep the noise down."
He adds that the risks of speaking about opposition to the government, at least in private, are overplayed. "Talking is OK; it's action they don't like." He, too, knows of people who have not been seen since the Green Movement protests were ended.
Hassan Rouhani has been President of Iran for over a year now. His calmer and relatively liberal pronouncements appealing for moderation to win over extremism have provided some limited relief to the reformists in his country. But Ebrahim has been disappointed. "We hoped things would have improved faster in the past year. But things have got better," he admits.
For many people restrictions caused by international economic sanctions are not the problem about which they're most concerned. It's the limits imposed on them by their own government.
Back in Tehran, an Iranian man sees me taking a photo of the mural on the side of a building, saying "Down with the US" and depicting the stars and stripes as skulls and falling bombs.
He beckons me over. "Up with the US, down with Khamenei!" he says.
* Farshad, Ebrahim and Yasmin are pseudonyms
Reuse content