Ten days after six people were stabbed at a gay pride event in Jerusalem, two men have set out to find out how tolerant the city is towards gay people.
The pair, named only as Shai and Ophir, hold hands as they walk through a number of locations, including a busy market and streets lined with shops and cafes.
One of the pair has a pony tail and both are wearing vests, but they only give a mild display of affection.
The film by Ynetnews is the latest in a series of secret camera experiments aimed at exposing the homophobia gay people experience in everyday life.
Two men filmed walking through Moscow for ChebuRussiaTV faced stares and abuse while a Ukrainian couple were pepper sprayed and kicked by skin heads.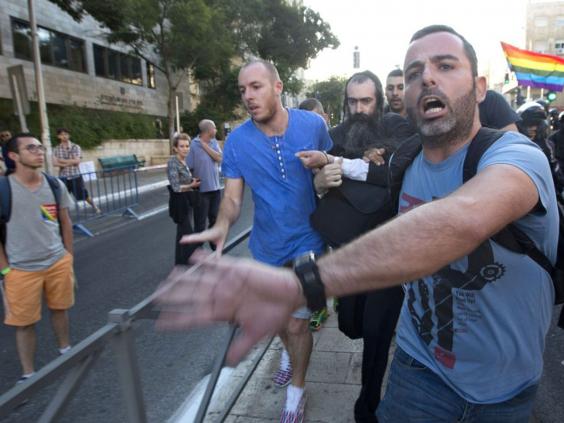 The Jerusalem attack on 30 July resulted in the death of 16-year-old Shira Banki.
Ultra-Orthodox Jewish extremist Yishai Schlissel has appeared in court accused of the stabbing.
Schlissel, who served 10 years in prison for an identical attack in 2005, refused to accept the jurisdiction of Jerusalem Magistrates' Court and represented himself at the hearing.
The court extended his detention by 12 days as the investigation continues.
The pride parade went ahead as planned after the stabbings, with music, flags and rainbow-clad marchers winding their way through central Jerusalem under a heavy police presence.
Israel is widely perceived to be one of the most tolerant countries in the Middle East. However a survey in 2013 suggested that only 40 per cent of Israelis think LGBT people should be accepted.
Reuse content