World leaders must use the opportunity of Hassan Rouhani's visit to Europe to raise urgent concerns about Iran's use of the death penalty, rights campaigners have said.
In a report released to coincide with the first European state visit by an Iranian President for more than 16 years, Amnesty International said the Islamic republic had at least 160 juvenile offenders waiting to be killed on its death row.
The rights group said it could provide the names and locations of dozens of people sentenced to death for offences committed when they were under the age of 18.
Amnesty said this was partly due to outdated Iranian laws deeming someone criminally responsible for the worst crimes if they had reached sexual maturity – over the age of nine in the case of girls.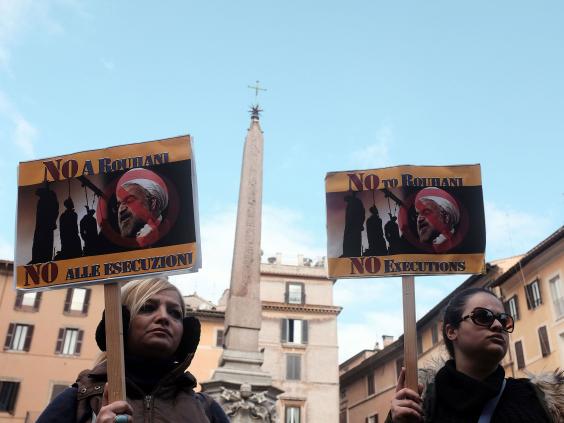 While Britain's close business and strategic links to Saudi Arabia have seen a corresponding scrutiny of its justice system, Iran – which kills many more people on average – has more or less gone unnoticed.
President Rouhani met the Pope on Tuesday at the Vatican, where he painted Iran as the "safest and most stable country in the entire Middle East". An estimated €17 billion of contracts were signed with Italian businesses on Monday, and similar trade partnerships are expected to be agreed in France. 
Though the UK is not included in the four-day trip, David Cameron has spoken to Mr Rouhani on the phone in what is seen as a step towards normalising relations with Iran.
May Foa, head of the death penalty team at Reprieve, said it was "deeply worrying" to see European countries "lining up a vast package of support for Iran's drug police".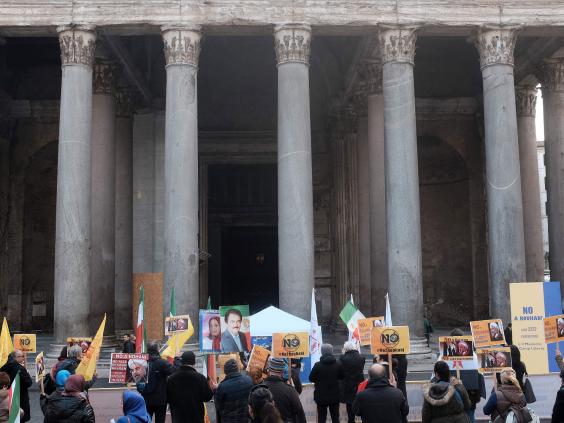 "Iran's government is overseeing a horrifying surge in executions, the vast majority for drugs offences," she said.
"It is vital that European countries use their growing ties with President Rouhani's government – including these donations – to urge an end to the use of the death penalty for drugs offences."
Amnesty's Said Boumedouha said the group's 110-page report "sheds light on Iran's shameful disregard for the rights of children". The country is "one of the few that continues to execute juvenile offenders in blatant violation of the absolute legal prohibition", he said.
Among the specific cases raised by Amnesty in its report was Fatemah Salbehi, a woman who was forced to marry a 30-year-old man at the age of 16.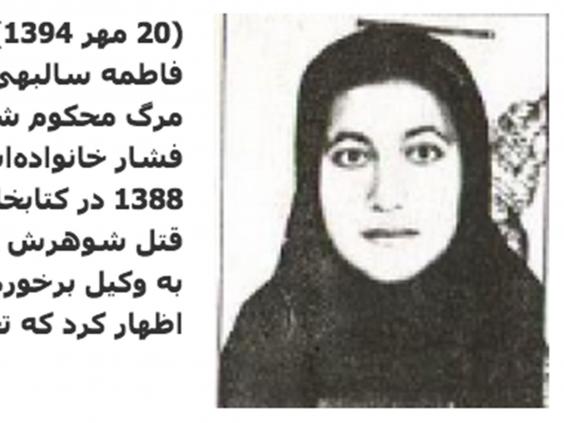 She was found guilty of his murder when she was 17 years old, Amnesty said, at which time an official medical examination found she suffered "severe depression and suicidal thoughts". Her conviction was obtained through "confession", one which Iranian rights groups say was made under duress and she later retracted.
Fatemah was executed without advance notice to her lawyer on 13 October last year, according to Amnesty, despite the fact that she would ordinarily have been entitled to a final level of appeal.
In another extraordinary case, a 14- or 15-year-old Afghan boy named Janat Mir was executed in April 2014 because of a drugs offence.
His family say Janat was arrested in October or November 2011 after drugs were found at the home of a friend where he was staying. They were not told what had happened to him until he phoned them from prison to say he had been sentenced to death, several months later.
Where most executions were carried out in 2014
Where most executions were carried out in 2014
1/10 1. China (1000+)

Getty

2/10 2. Iran (289+)

Getty

3/10 3. Saudi Arabia (90+)

Getty

4/10 4. Iraq (61+)

Getty

5/10 5. USA (35+)

Getty

6/10 6. Sudan (23+)

Getty

7/10 7. Yemen (22+)

Getty

8/10 8. Egypt (15+)

Getty

9/10 9. Somalia (14+)

Getty

10/10 10. Jordan (11+)

Getty
It appears the authorities waited for Janat to turn 18 before hanging him, at which point they told his parents to collect his body and refused to let them return with it to Afghanistan.
Amnesty said that, after China, Iran is the most prolific user of capital punishment, with at least 830 people executed between 1 January and 1 November 2015. Reprieve said around two thirds of those killed last year were for drugs offences.
Ms Foa told The Independent: "When European leaders sit down with President Rouhani this week and consider boosting their support for Iranian criminal justice bodies, they must not forget the many victims of Iran's huge surge in executions – people like Jannat Mir, arrested by Iran's drug police at the age of 15 and subsequently executed, or Fatemah Salbehi, sentenced to death despite severe mental illness. 
"While Iran continues to sentence to death and execute juveniles, innocent scapegoats and the mentally ill, European states must refuse to fund the police which arrest them, and the courts which convict them." 
Reuse content