An ambulance driver moved a knife closer to a disarmed Palestinian man's body after he was shot dead by an Israeli Defence Forces (IDF) soldier, a court has heard.
Investigators presented footage appearing to show the weapon being kicked towards the Abdel Fattah al-Sharif moments after he was shot in the head by Sergeant Elor Azaria at his trial in Jaffa.
The knife can be seen several metres away from the corpse, far out of reach, as blood runs down the road following the killing on 24 March.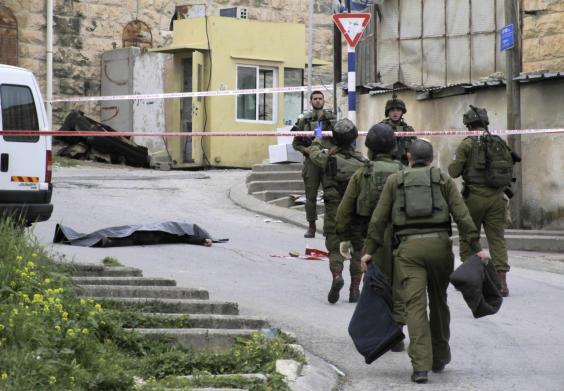 After the weapon, thought to have been used in an attack on an Israeli soldier, is run over by an ambulance the man holding the camera appears to kick it towards Mr al-Sharif.
A military police investigator told the court the man responsible was Ofer Ohana, a leader in Hebron's settler community, the Jerusalem Post reported.
Also a Magen David Adom ambulance driver, separate footage before the shooting appears to record him shouting "the dog is moving", referring to Mr Sharif.
Another video shows him standing next to far-right activist Baruch Marzel and shaking hands with Azaria as soldiers remove the body.
Breaking the Silence, a group of former IDF soldiers who oppose the occupation of the Palestinian territories, said Mr Ohana was "infamous" in Hebron and published footage showing him facing off with activists and calling an extremist who killed 29 Palestinians in the Cave of the Patriarchs massacre a "saint".
Military prosecutors took a statement from Mr Ohana and confiscated his phone after filing a warrant request in court, Haaretz reported.
The Israeli–Palestinian conflict intensifies
The Israeli–Palestinian conflict intensifies
1/10

Medics evacuate a wounded man from the scene of an attack in Jerusalem. A Palestinian rammed a vehicle into a bus stop then got out and started stabbing people before he was shot dead

AP

2/10

Israeli ZAKA emergency response members carry the body of an Israeli at the scene of a shooting attack in Jerusalem. A pair of Palestinian men boarded a bus in Jerusalem and began shooting and stabbing passengers, while another assailant rammed a car into a bus station before stabbing bystanders, in near-simultaneous attacks that escalated a month long wave of violence

AP

3/10

Getty Images

4/10

Palestinians throw molotov cocktail during clashes with Israeli troops near Ramallah, West Bank. Recent days have seen a series of stabbing attacks in Israel and the West Bank that have wounded several Israelis

AP

5/10

Women cry during the funeral of Palestinian teenager Ahmad Sharaka, 13, who was shot dead by Israeli forces during clashes at a checkpoint near Ramallah, at the family house in the Palestinian West Bank refugee camp of Jalazoun, Ramallah

AP

6/10

A wounded Palestinian boy and his father hold hands at a hospital after their house was brought down by an Israeli air strike in Gaza

Reuters

7/10

Palestinians look on after a protester is shot by Israelis soldiers during clashes at the Howara checkpoint near the West Bank city of Nablus

EPA

8/10

A lawyer wearing his official robes kicks a tear gas canister back toward Israeli soldiers during a demonstration by scores of Palestinian lawyers called for by the Palestinian Bar Association in solidarity with protesters at the Al-Aqsa mosque compound in Jerusalem's Old City, near Ramallah, West Bank

AP

9/10

Undercover Israeli soldiers detain a Palestinian in Ramallah

Reuters

10/10

Palestinian youth burn tyres during clashes with Israeli soldiers close to the Jewish settlement of Bet El, in the West Bank city of Ramallah, after Israel barred Palestinians from Jerusalem's Old City as tensions mounted following attacks that killed two Israelis and wounded a child
Azaria denies manslaughter at Jaffa Military Court, saying he killed Mr al-Sharif because he believed he could be wearing an explosive vest.
The 21-year-old and his friend Ramzi al-Kasrawi had attacked an IDF soldier, who was not seriously injured, during a wave of stabbings in the West Bank and Israel.
They were both shot by soldiers, with al-Kasrawi dying instantly, but Mr al-Sharif survived the initial bullet and lay incapacitated in the road.
IDF forces, medics and settlers bustled around him seemingly unconcerned until Azaria suddenly shouted "stand back" and shot him in the head at close range.
Imad Abu Shamsiyya, who took the original footage after hearing gunshots at home nearby, said he believed Mr al-Sharif was not a risk.
"There was no danger and Abdel was on the ground… nobody reacted," he told The Independent. "Nobody did anything because they were Palestinians."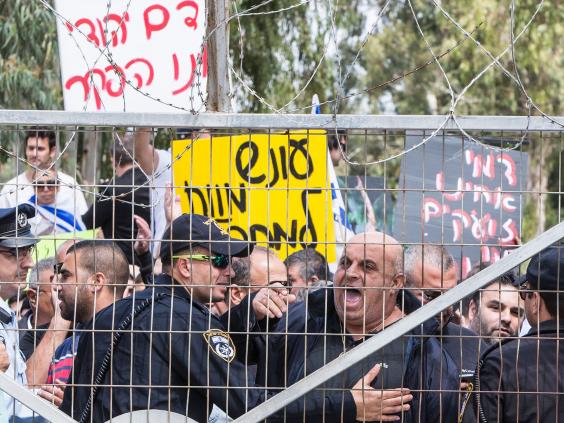 The shooting has generated international condemnation as well as fierce debate in Israel, seeing numerous protests in support of the soldier and human rights groups rally against Palestinian deaths.
Benjamin Netanyahu, the Israeli Prime Minister, urged soldiers to "behave with composure", while his defence minister Moshe Ya'alon said a "loss of control" must not be allowed.
Amnesty International was one of countless human rights organisations to demand action, calling any shooting of an incapacitated person a "potential war crime", regardless of their previous actions.
The incident came amid a wave of violence in Israel and the West Bank that started in October last year, which has seen Palestinians kill 28 Israelis and two Americans and around 200 Palestinians killed by security forces.
The IDF has said the majority of those shot dead were carrying out or attempting attacks but opponents have called the killings, including those of children and teenagers, disproportionate. 
Reuse content