Hundreds of Israelis have been posting photos of themselves, their children and pets online calling for "death to terrorists" in a controversial social media campaign.
It was started by Sharon Gal, a member of the ultra-nationalist Yisrael Beiteinu (Israel is our home) party, who proposed a new death penalty bill in the Knesset.
The law, which was voted down on Wednesday to undergo legal scrutiny, would have made it easier for courts to hand capital sentences to convicted murderers with "nationalist motives".
Writing on Facebook in the lead-up to the vote, Mr Gal asked his followers to show support for the legislation by taking pictures of themselves with signs reading "I also agree with the death penalty for terrorists" to "flood the internet" and influence politicians.
Viral Israeli Facebook campaign features children & pets demanding death to "terrorists" https://t.co/iwNBV8F83n pic.twitter.com/g8oEd4OrdH

— Rania Khalek (@RaniaKhalek) July 15, 2015
The campaign was highlighted by pro-Palestinian website Electronic Intifada, which argued that the world "terrorist" is almost exclusively used to refer to Arabs in Israel.
More than 1,000 people wrote the signs in Hebrew, posting them on Mr Gal's Facebook page and on other social media sites.
Some supporters took pictures of their children holding the death penalty placards, while others posed their pets with them, including dogs, cats and an exotic bird.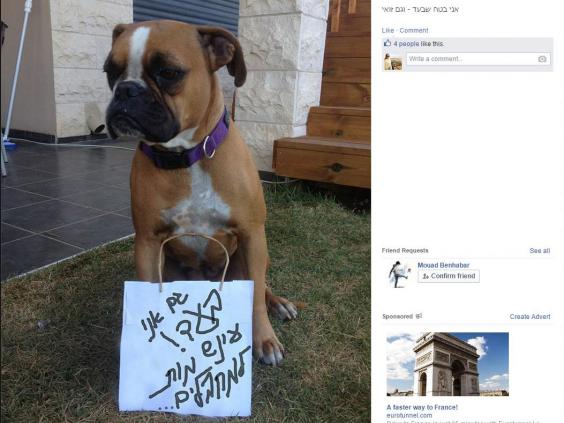 One man wrote: "I too, as a former US soldier and a proud Israeli definitely death to terrorists, founders and supporters of terror. Add in various stone throwers, suicide-committers, and firebomb throwers. No excuse, no pity. I'm in!"
Another posted a picture of a pistol and ammunition with a poster demanding: "Bibi (Benjamin Netanyahu), unchain our hands."
Several supporters of the campaign vowed online that they would carry out the death sentence themselves, as did Bezalel Smotrich, the Deputy Speaker of the Knesset and a member for the hard-right Jewish Home party.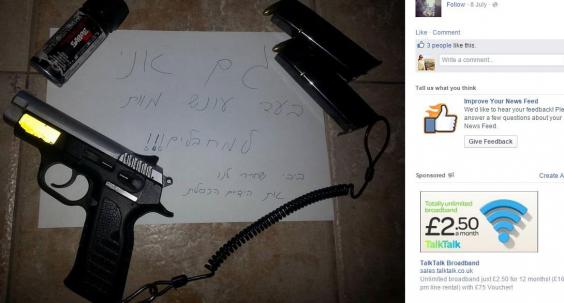 Appearing on the Knesset Channel on Sunday in a debate on the proposed "death penalty for terrorists" law, he said he would be prepared to be the executioner.
"I am prepared to be the one who carries out this suitable and just sentence," he said, according to a translation by Haaretz.
The bill was rejected by 94 votes to six on Wednesday, the Times of Israel reported, with only members of Yisrael Beytenu supporting it.
It proposed that convicted "terrorists" could be sentenced to death by a majority of judges, rather than the unanimous decision currently required.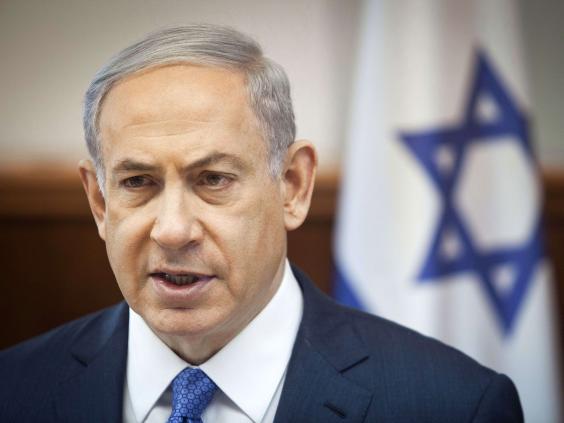 Prime Minister Benjamin Netanyahu had ordered members of his Likud party to oppose the bill, saying it needed further legal examination.
Mr Gal wrote on Facebook that the defeat was "all of our loss" and told those who voted against to be ashamed.
He had argued that it would act as a deterrent and was a "moral and ethical" step to "save the lives of our (Israeli) citizens".
Capital punishment is legal in Israel for offences including genocide, crimes against humanity and war crimes but no executions have been carried out since 1962, when SS officer Adolf Eichmann was hung for his role in the Holocaust.
Millions of people took to the streets around the world last week in pro-Palestinian protests for Quds (Jerusalem) Day around the world last week, which saw protesters marching through Kabul in Afghanistan carrying banners reading "death to America, death to Israel".
Reuse content