Even as authorities tore down two illegal settler buildings on private Palestinian land, Prime Minister Benjamin Netanyahu's office announced a significant expansion of Israeli settlement in the occupied West Bank.
Soon after Israel's Supreme Court rejected a final appeal against the demolition of the two- and three-storey buildings under construction, officials heralded a 300-unit neighbourhood in another part of the same area of Beit El, near the Palestinian city of Ramallah.
Another 504 units were also approved for five settlements in annexed East Jerusalem, the area Palestinians envision as their future capital.
"I praise the premier for his quick, correct and Zionist decision," said Naftali Bennett, head of the far-right Jewish Home party, a partner in the coalition government.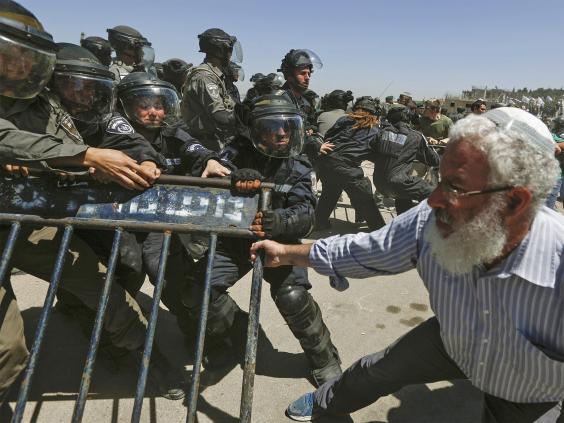 The move did little to assuage the anger of hundreds who turned out to protest against the demolitions at Beit El, which began at midday with three cranes tearing into the grey concrete structures being built on land belonging to Abdul-Rahman Qassem, from the neighbouring Palestinian village of Dura al-Qara. Settler youths scuffled with security forces, with at least four arrested and six lightly wounded.
Matanel Giladi, a student at a religious seminary in Beit El, said he and other protesters were angry because "we came back to the land of Israel after 2,000 years to build, not destroy. Houses of Jews should not be destroyed." Mr Giladi termed the supreme court decision "racist".
"They only act against Jewish housing, while letting the Arabs build all over the place illegally," he claimed.
But Lior Amihai, a staffer at the dovish Peace Now movement, condemned Mr Netanyahu's settlement expansion plans. "The settlers are being rewarded for thievery."
Reuse content