The stunning victory of the reformists in the Iranian elections has been the source of celebrations in the capital, Tehran, and much of the rest of the country. There is hope of a freer and more prosperous future and excitement that Iran will open itself again to the outside world.
The mood in Qom, however, is very different. Here, in Iran's Shia heartland, the results are seen not as a harbinger of better days, but a grim sign that the very legacy of Ayatollah Ruhollah Khomeini is being betrayed.
While one reformist paper heralded the results of the election "a turning point in the history" of the country, fundamentalists in this city were discussing how they could counter moves which, in their eyes, would endanger the Islamic Republic. Shrouded by religious and moral certainty, the hardliners, who had vehemently opposed President Hassan Rouhani's nuclear deal with world powers, simply had not seen the defeat coming.
The sermon by Qom's leader of Friday prayers, Hujjat al-Islam Sayyed Mohammad Saidi, on the day of the elections last week showed no understanding that there was a desire for change. 
It  focused on warning those who formed the new Majlis, Iran's parliament, to guard against the machinations of enemies, the "greedy" US and the "wily fox" Britain and ensure that they were not seduced by false modern thinking inimical to Islam.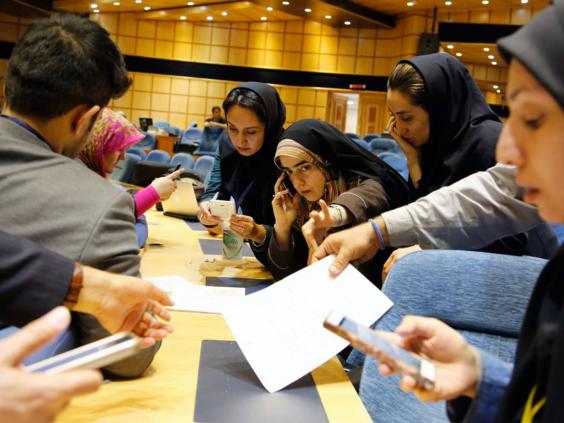 The large congregation at the Holy Shrine of Lady Fatimah al-Masumah were fervent in their approval of the address, taking a vastly different view from that held by the majority 80 miles to the north in Tehran. Hassan Mohammed Alibehdin, a 23-year-old clerical worker, was adamant. "What you are hearing in Tehran are the loudmouths showing off to foreign journalists, they don't represent anyone. People in real Iran are the ones here, we respect and follow the path laid down by Ayatollah Khomeini and we must protect our values."
As official results showed the reformists and moderates had taken the most seats in parliament, Mr Alibehdin was left perplexed and suspicious by the turn of events. "The results are very strange, the numbers are too much for the reformists, a lot of us think there should be an investigation," he said. Reformists took 85 seats and the moderate conservatives, who support the nuclear deal, took 73. The hardliners took just 68 seats, a loss of 44.
Mr Alibehdin's companions at the café near Bastani Square, where photographs of Leonardo DiCaprio, Al Pacino and Charlie Chaplin share the walls with those of the Ayatollahs Khomeini and Khamenei, were divided on what went wrong. One, Ghasem Housseni, 33, reminded the others of the rumours that foreigners wanted to get rid of the most senior hardline leaders, Mohammed Yazdi, Mohammed Taghi Mesbah-Yazdi and Ahmad Jannati. "And we know, they all lost," he said. Mr Jannati had, in fact, scraped in, 15th in a list of 16, but there were murmurs of agreement at the general proposition around the table.
There is also acknowledgment that the Principalists, as the hardliners call themselves, had failed to get their message across nationally.
World news in pictures
World news in pictures
1/30 26 September 2016

Students at the Durban University of Technology march as countrywide protests demanding free tertiary education continue, in Durban, South Africa

REUTERS

2/30 26 September 2016

Palestinian women throw sweets at the militants from the al-Nasser Brigades, an armed wing of the Popular Resistance Committees (PRC), while marching on their vehicles during a rally to commemorate the 16th anniversary of their group in Gaza

AP

3/30 26 September 2016

A supporter of Awami Ittihad Party (AIP), a pro-India party, is detained by Indian police during a protest demanding to hold a plebiscite, in Srinagar

REUTERS

4/30 25 September 2016

A dog wipes out during the Surf City Surf Dog competition in Huntington Beach, California

REUTERS

5/30 25 September 2016

Indian folk dancers from the Panghat Group of Performing Arts perform during a dress rehearsal for an event to mark the forthcoming Hindu festival 'Navaratri', or the Festival of Nine Nights, in Ahmedabad

AFP/Getty Images

6/30 25 September 2016

An artisan hangs decorative pieces at a pandal, or a temporary platform, for the upcoming Hindu festival of Durga Puja, in Kolkata, India

REUTERS

7/30 25 September 2016

Runners take the start of the 43rd Berlin Marathon in Berlin

AFP/Getty Images

8/30 25 September 2016

The Five-hundred-metre Aperture Spherical Radio Telescope (FAST) is seen on its first day of operation in Pingtang, in southwestern China's Guizhou province. The world's largest radio telescope began operating in southwestern China, a project which Beijing says will help humanity search for alien life

AFP/Getty Images

9/30 25 September 2016

Australian knight Philip Leitch (R) has a floral basket on his helmet smashed by an opponent at the St Ives Medieval Fair in Sydney, one of the largest of its kind in Australia

REUTERS

10/30 25 September 2016

A security guard working at the Cascade Mall places flowers at a makeshift memorial in Burlington, to the five victims killed in a shooting at the mall. The 20-year-old man suspected of killing the five people with a rifle at a Macy's makeup counter had a string of run-ins with the law in recent years, including charges he assaulted his stepfather

AP

11/30 25 September 2016

A man works in a rice field where rice crop is planted in a shape which looks like a map of China, ahead of China's National Day, in Shanghai, China

REUTERS

12/30 25 September 2016

Law enforcement officials inspect a boat overturned on a jetty, off Miami Beach. Authorities said that Miami Marlins starting pitcher Jose Fernandez was one of three people killed in the boat crash the day before. Fernandez was 24

AP

13/30 24 September 2016

Syrians await to receive treatment at a make-shift hospital following air strikes on rebel-held eastern areas of Aleppo. Heavy Syrian and Russian air strikes on rebel-held eastern areas of Aleppo city killed at least 25 civilians, the Britain-based Syrian Observatory for Human Rights said, overwhelming doctors and rescue workers

AFP/Getty Images

14/30 24 September 2016

A fire broke out on a tanker belonging to the Mexican state oil company PEMEX, causing no injuries, according to a company official, in the Gulf of Mexico off the coast of Boca del Rio in Veracruz state, Mexico

AFP/Getty Images

15/30 24 September 2016

Participants attend a competition of the 2016 XTRAIL Expedition at Kanas National Geological Park in Altay, China's Xinjiang Uygur Autonomous Region

REUTERS

16/30 23 September 2016

Protesters march in the streets during another night of protests over the police shooting of Keith Scott in Charlotte, North Carolina

REUTERS

17/30 23 September 2016

Campaigners pose on a 'United To Stop Trump' cardboard wall in front of the Brandenburg Gate to urge Americans living abroad to register and vote in Berlin, Germany

REUTERS

18/30 23 September 2016

A man rests on his cart after unloading plastic jugs near a shop at a main market in Colombo, Sri Lanka

REUTERS

19/30 23 September 2016

Staff inspect the presentation before the Swiss Cheese Awards competition in Le Sentier, Switzerland. One hundred and fourty-two experts have to choose the best out of 777 cheeses from 353 producers competing in 28 categories

REUTERS

20/30 23 September 2016

Israeli settler bride Yael Levi (C) is surrounded by friends and relatives during her wedding ceremony at the plaza outside the Cave of the Patriarchs also known as the Ibrahimi Mosque, which is a holy shrine for Jews and Muslims, in the heart of the divided city of Hebron in the southern West Bank

AFP/Getty Images

21/30 22 September 2016

A South Korean army special forces soldier breaks bottles with his hand during the Naktong River Battle re-enactment in Waegwan, South Korea. South Korean Defense Ministry reenacted one of the important battles as part of commemoration events for the 66th anniversary of the Korean War

AP

22/30 22 September 2016

Women wait on a street in Pyongyang, North Korea

AFP/Getty Images

23/30 22 September 2016

A general view shows buildings destroyed during Saudi-led air strikes in the rebel-held Yemeni port city of Hodeida the previous day. Saudi-led coalition air strikes have killed 20 civilians in a rebel-held port city in Yemen, a government official said in a rare admission of a possible "error" by the alliance. The strikes came as Riyadh faces mounting international scrutiny over civilian casualties in its 18-month campaign against rebels in Yemen

AFP/Getty Images

24/30 22 September 2016

An Indian woman carries her belongings as she wades through flood waters following heavy rain in the low-lying area of Quthbullapur on the outskirts of Hyderabad. Rains that have caused heavy flooding around Hyderabad are expected to continue in the coming days, Indian meteorological officials said

AFP/Getty Images

25/30 21 September 2016

A protester, center, is taken into custody by Charlotte-Mecklenburg police officers in Charlotte. Authorities in Charlotte tried to quell public anger after a police officer shot a black man, but a dusk prayer vigil turned into a second night of violence, with police firing tear gas at angry protesters and a man being critically wounded by gunfire. North Carolina's governor declared a state of emergency in the city

AP

26/30 21 September 2016

A view of Sainte Marie neighborhood while a lightning strikes in the sea during an evening thunderstorm in the Haitian Capital, Port-au-Prince

AFP/Getty Images

27/30 21 September 2016

A student from the University of the Witwatersrand (Wits) is detained by South African police forces following clashes during a protest against the university fee increase in Johannesburg, South Africa

AFP/Getty Images

28/30 21 September 2016

A villager mourns outside his house after a landslide in Garut. The death toll from a series of landslides and flash floods in Indonesia climbed to 19, including several children found by rescuers scouring for survivors

AFP/Getty Images

29/30 21 September 2016

Somali women shout slogans during a demonstration against the maritime border dispute with Kenya on the rights for exploration and collecting revenue from oil discoveries in Mogadishu, Somalia

REUTERS

30/30 21 September 2016

A man carries an injured girl after airstrikes on the rebel held al-Qaterji neighbourhood of Aleppo, Syria

REUTERS
"A team has begun to look at what went wrong," said Seyyed Ali Pour-Tabatabaei, an analyst and journalist. "The Principalists have done better in other parts of the country compared to Tehran. They also know a reformist Majlis before, with President Mohammad Khatami, failed to deliver what the people wanted and Mahmoud Ahmedinejad came in. That can happen again. But they face problems in the Majlis in the immediate future, and know they lost Tehran. They cannot ignore that."
The capital and the rest of Iran, with a population of 80 million, can't ignore Qom, the "Shia Vatican", with its population of one million, either. Power resides here: the Guardian Council, including many of the City's clergy, barred Hassan Khomeini, the grandson of the Ayatollah and a reformist, from standing at the elections. 
Ali Larijani is another in disfavour in Qom, his home constituency, among hardliners. The conservative parliamentary speaker had backed President Rouhani over the nuclear agreement and supported the reformists.
Mr Larijani's stance cost him votes and he has slipped to second in the city list. But he wanted to stress the reformists and moderate conservatives have struck the right chord. "People have taken a responsible decision and this must be respected. We must not turn the massive turnout into a matter of dispute."
Some critics claimed that Mr Larijani's loss of votes was due to him neglecting his constituency. But, for many hardline clerics, the problem goes much deeper than that and it is something which is now central to Iranian politics.
Hujjat al-Islam Hamid Maleki, the head of the powerful fundamentalist Qom Elmiyeh Madrasa, said: "There are those like him and President Rouhani who believe politics can take place apart from Islam. Ayatollah Khomeini gave the correct interpretation of Islam, which stated Islam is in every part of life including politics. There cannot be a separation between the two, and there cannot be a compromise. This is what the people of Iran must consider very carefully when we decide what happens next."
Reuse content