Street rallies are banned, as are loudspeakers. Iran's first parliamentary election campaign since the nuclear deal with the West began as an understated affair.
But in the final days before voting on 26 February, the campaign has suddenly gathered pace. Posters, in vivid array, have appeared almost overnight on walls around Tehran. The number of campaign meetings has surged. Iran's voters are acutely aware of the huge importance of what is about to take place.
The results of the election will be crucial not only for the 77 million people of Iran, but for the wider international community as well. A good showing by the liberals will bolster the government of President Hassan Rouhani, which signed last year's historic nuclear agreement with world powers, and help its drive to bring the country in from the cold.
A victory for the hardliners, on the other hand, could mean a slide back into confrontation with world powers, the possibility of the nuclear agreement unravelling, and the return of the sanctions which for so long crippled Iran's economy. 
Yasmine, 23, an art student at Tehran University, said: "Foreign investment is coming in and this is the ideal opportunity to have a modern parliament which can make the right decisions to take advantage.
"We have been through very difficult times and we, the young people, want a better future. We think these elections could be the start. As young Iranians we want to be able to enjoy our full rights, without being afraid."  
The elections on 26 February are not only for Iran's parliament, the Majlis, but also the Assembly of Experts, the body of clerics who from time to time elect the country's Supreme Leader. Grand Ayatollah Ali Khamenei is now 76 and apparently ailing, so that the Experts, themselves elected for eight years, are likely to choose Iran's next ultimate holder of power.
There are fears that the result has already been fixed: the country's Guardian Council, which vets all candidates, has refused to allow thousands of reformists to run. Among them was Hassan Khomeini, who had been thought to be untouchable as the grandson of Ruhollah Khomeini, the founder of the Islamic Republic. The cleric, 43, who likes to send theological, political and social messages via Instagram, has just lost his appeal against disqualification.
But the reformists are not about to give up. They are not going to boycott the polls, as was initially proposed by a disillusioned few; such abstention by some in 2013 merely enabled Mahmoud Ahmadinejad, the hardline former president and bitter foe of liberalism, to consolidate his power. They have, instead, mobilised. 
Hundreds packed into a hall in central Tehran in one rally to show their support of a reformist coalition. The mood was one of defiance; the word "reform" in every chant, every cry, a demonstration of the insistent thirst for change. "Viva reform", "You cannot kill reform", "Reform will be the winner", they roared out.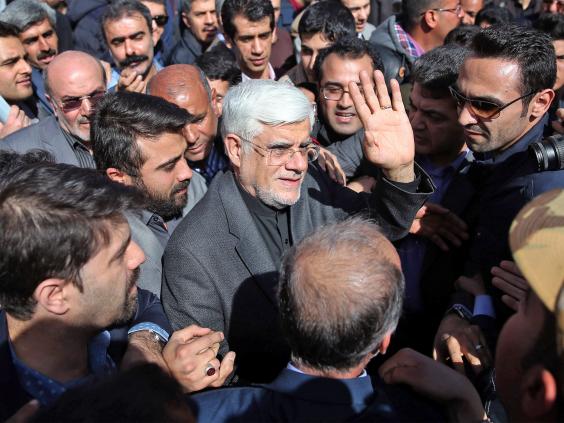 The liberal movement's leader for the parliamentary vote is Mohammad Reza Aref, a university professor who stepped down as a presidential candidate in 2013 to give Mr Rouhani a chance to win. Mohammad Khatami, the former president, a venerated figure among progressives, is their patron. 
Their choice for Supreme Leader is Ayatollah Ali Akbar Hashemi Rafsanjani, another of Iran's original leaders after the fall of the Shah, and a key adviser to Ayatollah Khomeini during the Iran-Iraq war.
But it is allies of the reformists in unexpected quarters who may be their salvation. Ali Larijani, the veteran Speaker of the Majlis who leads a group of around 50 conservative MPs, is likely to swing his considerable political clout to back them. Among other conservatives a well-known former MP, Ali Motahari, has officially joined the reform list.
Mr Larijani has become increasingly concerned about the hardliners. He supported President Rouhani in his search for the nuclear accord and attempt to institute economic reforms, and was castigated in return by zealots. 
Three of the most prominent hard-line leaders – Ayatollah Mohammad Yazdi, head of the Seminary Teachers of Qom; Ayatollah Mohammad Reza Kermani, chief of the Combatant Clergy Association, and Ayatollah Mesbah Yazdi, of the Endurance Front – asked Mr Larijani to join them against the common liberal enemy. He was quick to decline their invitation.
World news in pictures
World news in pictures
1/30 28 September 2016

Rescuers evacuate residents through floodwaters brought by typhoon Megi in Ningde, eastern China's Fujian province. Typhoon Megi smashed into the Chinese mainland, killing one person, after leaving a trail of destruction and four people dead in Taiwan

AFP/Getty Images

2/30 28 September 2016

A CalFire firefighter surveys a hot spot in the Santa Cruz Mountains near Loma Prieta, California. The Loma Fire has charred more than 2000 acres and burned multiple structures in the area

AFP/Getty Images

3/30 28 September 2016

A civil police officer carries a girl to a safe place during the demolition of over 300 settlements of the Bukit Duri neighbourhood located on the Ciliwung river banks, in order to improve the riverside infrastructure planned by the government in Jakarta. Authorities ordered the slum residents to vacate their settlements built on riverbanks and for the residents to relocate to new flats, as the government is trying to clear the flood-prone area, where more than 900 homes were demolished a year earlier

AFP/Getty Images

4/30 27 September 2016

A woman eats and struggles with her umbrella against powerful gusts of wind generated by typhoon Megi across the the island in Taipei, Taiwan. Schools and offices have been closed on Taiwan and people in dangerous areas have been evacuated as a large typhoon with 162 kilometers- (100 miles-) per-hour winds approaches the island

AP

5/30 27 September 2016

Alstom employees stage a protest in front of its headquarters in St Ouen, north of Paris, asking not to close a plant in Belfort, eastern France, which employs 400 people. Alstom's situation is considered by many French politicians as symbolic of France's difficulty of keeping a strong industry at home

AP

6/30 26 September 2016

A man poses as he gathers with others at Bogota's Bolivar main square, to celebrate the historic peace agreement between the Colombian government and the Revolutionary Armed Forces of Colombia (FARC). Colombia will turn the page on a half-century conflict that has stained its modern history with blood when the FARC rebels and the government sign a peace deal. President Juan Manuel Santos and the leader of the FARC, Rodrigo Londono, better known by his nom de guerre, Timoleon "Timochenko" Jimenez, are set to sign the accord at 2200 GMT in a ceremony in the colorful colonial city of Cartagena on the Caribbean coast

AFP/Getty Images

7/30 26 September 2016

Tourists pose in front of the illuminated Eiffel Tower during an event to mark the Breast Cancer Awareness month in October in Paris

AFP/Getty Images

8/30 26 September 2016

A nail house is seen in the middle of an area covered by a dust screen in Hangzhou, Zhejiang province, China

REUTERS

9/30 26 September 2016

Students at the Durban University of Technology march as countrywide protests demanding free tertiary education continue, in Durban, South Africa

REUTERS

10/30 26 September 2016

Palestinian women throw sweets at the militants from the al-Nasser Brigades, an armed wing of the Popular Resistance Committees (PRC), while marching on their vehicles during a rally to commemorate the 16th anniversary of their group in Gaza

AP

11/30 26 September 2016

A supporter of Awami Ittihad Party (AIP), a pro-India party, is detained by Indian police during a protest demanding to hold a plebiscite, in Srinagar

REUTERS

12/30 25 September 2016

A dog wipes out during the Surf City Surf Dog competition in Huntington Beach, California

REUTERS

13/30 25 September 2016

Indian folk dancers from the Panghat Group of Performing Arts perform during a dress rehearsal for an event to mark the forthcoming Hindu festival 'Navaratri', or the Festival of Nine Nights, in Ahmedabad

AFP/Getty Images

14/30 25 September 2016

An artisan hangs decorative pieces at a pandal, or a temporary platform, for the upcoming Hindu festival of Durga Puja, in Kolkata, India

REUTERS

15/30 25 September 2016

Runners take the start of the 43rd Berlin Marathon in Berlin

AFP/Getty Images

16/30 25 September 2016

The Five-hundred-metre Aperture Spherical Radio Telescope (FAST) is seen on its first day of operation in Pingtang, in southwestern China's Guizhou province. The world's largest radio telescope began operating in southwestern China, a project which Beijing says will help humanity search for alien life

AFP/Getty Images

17/30 25 September 2016

Australian knight Philip Leitch (R) has a floral basket on his helmet smashed by an opponent at the St Ives Medieval Fair in Sydney, one of the largest of its kind in Australia

REUTERS

18/30 25 September 2016

A security guard working at the Cascade Mall places flowers at a makeshift memorial in Burlington, to the five victims killed in a shooting at the mall. The 20-year-old man suspected of killing the five people with a rifle at a Macy's makeup counter had a string of run-ins with the law in recent years, including charges he assaulted his stepfather

AP

19/30 25 September 2016

A man works in a rice field where rice crop is planted in a shape which looks like a map of China, ahead of China's National Day, in Shanghai, China

REUTERS

20/30 25 September 2016

Law enforcement officials inspect a boat overturned on a jetty, off Miami Beach. Authorities said that Miami Marlins starting pitcher Jose Fernandez was one of three people killed in the boat crash the day before. Fernandez was 24

AP

21/30 24 September 2016

Syrians await to receive treatment at a make-shift hospital following air strikes on rebel-held eastern areas of Aleppo. Heavy Syrian and Russian air strikes on rebel-held eastern areas of Aleppo city killed at least 25 civilians, the Britain-based Syrian Observatory for Human Rights said, overwhelming doctors and rescue workers

AFP/Getty Images

22/30 24 September 2016

A fire broke out on a tanker belonging to the Mexican state oil company PEMEX, causing no injuries, according to a company official, in the Gulf of Mexico off the coast of Boca del Rio in Veracruz state, Mexico

AFP/Getty Images

23/30 24 September 2016

Participants attend a competition of the 2016 XTRAIL Expedition at Kanas National Geological Park in Altay, China's Xinjiang Uygur Autonomous Region

REUTERS

24/30 23 September 2016

Protesters march in the streets during another night of protests over the police shooting of Keith Scott in Charlotte, North Carolina

REUTERS

25/30 23 September 2016

Campaigners pose on a 'United To Stop Trump' cardboard wall in front of the Brandenburg Gate to urge Americans living abroad to register and vote in Berlin, Germany

REUTERS

26/30 23 September 2016

A man rests on his cart after unloading plastic jugs near a shop at a main market in Colombo, Sri Lanka

REUTERS

27/30 23 September 2016

Staff inspect the presentation before the Swiss Cheese Awards competition in Le Sentier, Switzerland. One hundred and fourty-two experts have to choose the best out of 777 cheeses from 353 producers competing in 28 categories

REUTERS

28/30 23 September 2016

Israeli settler bride Yael Levi (C) is surrounded by friends and relatives during her wedding ceremony at the plaza outside the Cave of the Patriarchs also known as the Ibrahimi Mosque, which is a holy shrine for Jews and Muslims, in the heart of the divided city of Hebron in the southern West Bank

AFP/Getty Images

29/30 22 September 2016

A South Korean army special forces soldier breaks bottles with his hand during the Naktong River Battle re-enactment in Waegwan, South Korea. South Korean Defense Ministry reenacted one of the important battles as part of commemoration events for the 66th anniversary of the Korean War

AP

30/30 22 September 2016

Women wait on a street in Pyongyang, North Korea

AFP/Getty Images
The decision to bar Hassan Khomeini caused regrets among some in the religious centre of Qom. "He is known as a moderate person, handsome, charismatic, articulate and open minded," said Fazel Meyboudi, a cleric. "He will come back strong for the next elections, he has eight more years to be popular." 
The Guardian Council has maintained that Mr Khomeini's disqualification was unconnected with politics, but that he was simply too inexperienced to become an Expert. "Let's face it, he is just a kid," said Hamidreza Taraghi, an analyst close to the clerical traditionalists. Most of the Council's 88 members are more than 80.
Reformists believe that if only half those who voted for Mr Rouhani when he ran for the presidency back the alliance of liberals and conservatives, three of Iran's most hard-line leaders will be thwarted in their own election attempts.
"Some politicians described as conservatives are not really conservatives in many issues so they can support reform," Kazem Jalali, an experienced MP, pointed out. "The situation is complex."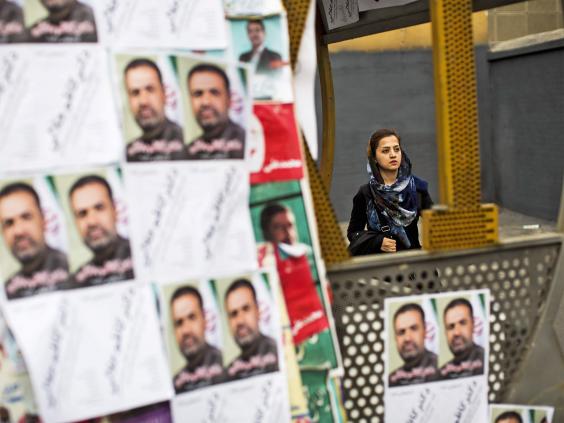 It is not always easy to place politicians in the mosaic of Iranian politics and religion. Former MP Mr Motahari had been a critic of the establishment and the security apparatus. He has since taken up the case of Sattar Beheshti, a blogger who died in police custody, and has declared that civil rights must continue to advance.
"The first step was the 2013 presidential elections, and the next step would be the Parliamentary elections," he has said. All this has burnished his new liberal credentials.
Yet Mr Motahari is also fiercely involved in another campaign – against women wearing leggings in public. Iran's interior minister, Abdolreza Rahmani Fazli, was summoned to Parliament for failing to clamp down on the fashionable garment. MPs peered at photographs of women wearing leggings. Mr Fazli protested that this was not proof that hijab laws were being widely flouted – but he was censured just the same.
Women's representation remains woefully low in Parliament; only 49 have served there since 1979. President Rouhani has talked of empowering women in politics but has done little to turn this into reality. A campaign was launched last autumn to raise the number of female MPs from the current nine to 30 per cent, but activists hold out little hope.
Young women as well as young men believe that, for now, the main problem they face is the lack of jobs. "The building block must be the economy which is in a terrible state," said Mohammad, a 26 year old student of English at Tehran University. "International sanctions have been damaging on both psychological and economic levels. But our politicians have also really mismanaged the economy. Ahmadinejad was the one guilty, Rouhani is trying to sort out the mess."
The students were also united in their fervent belief that the reformists will win   in the end. "OK, so they have unfairly dismissed many candidates," said Navid, a philosophy student. "But the secret is people turning up to vote. If enough people do that, reform will win. We are talking to people, telling them they will really regret it if they let this opportunity slip away."
Reuse content