Street rallies are banned, as are loudspeakers. Iran's first parliamentary election campaign since the nuclear deal with the West began as an understated affair.
But in the final days before voting on 26 February, the campaign has suddenly gathered pace. Posters, in vivid array, have appeared almost overnight on walls around Tehran. The number of campaign meetings has surged. Iran's voters are acutely aware of the huge importance of what is about to take place.
The results of the election will be crucial not only for the 77 million people of Iran, but for the wider international community as well. A good showing by the liberals will bolster the government of President Hassan Rouhani, which signed last year's historic nuclear agreement with world powers, and help its drive to bring the country in from the cold.
A victory for the hardliners, on the other hand, could mean a slide back into confrontation with world powers, the possibility of the nuclear agreement unravelling, and the return of the sanctions which for so long crippled Iran's economy. 
Yasmine, 23, an art student at Tehran University, said: "Foreign investment is coming in and this is the ideal opportunity to have a modern parliament which can make the right decisions to take advantage.
"We have been through very difficult times and we, the young people, want a better future. We think these elections could be the start. As young Iranians we want to be able to enjoy our full rights, without being afraid."  
The elections on 26 February are not only for Iran's parliament, the Majlis, but also the Assembly of Experts, the body of clerics who from time to time elect the country's Supreme Leader. Grand Ayatollah Ali Khamenei is now 76 and apparently ailing, so that the Experts, themselves elected for eight years, are likely to choose Iran's next ultimate holder of power.
There are fears that the result has already been fixed: the country's Guardian Council, which vets all candidates, has refused to allow thousands of reformists to run. Among them was Hassan Khomeini, who had been thought to be untouchable as the grandson of Ruhollah Khomeini, the founder of the Islamic Republic. The cleric, 43, who likes to send theological, political and social messages via Instagram, has just lost his appeal against disqualification.
But the reformists are not about to give up. They are not going to boycott the polls, as was initially proposed by a disillusioned few; such abstention by some in 2013 merely enabled Mahmoud Ahmadinejad, the hardline former president and bitter foe of liberalism, to consolidate his power. They have, instead, mobilised. 
Hundreds packed into a hall in central Tehran in one rally to show their support of a reformist coalition. The mood was one of defiance; the word "reform" in every chant, every cry, a demonstration of the insistent thirst for change. "Viva reform", "You cannot kill reform", "Reform will be the winner", they roared out.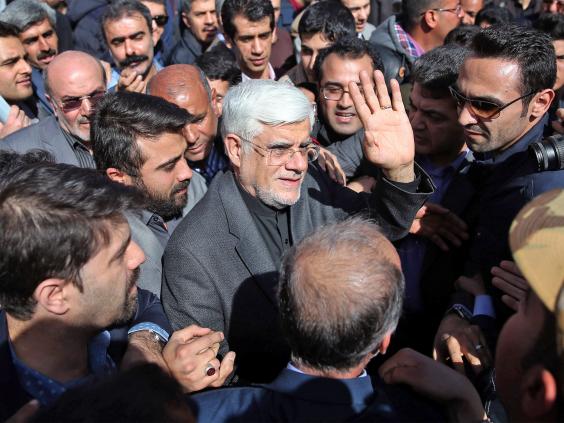 The liberal movement's leader for the parliamentary vote is Mohammad Reza Aref, a university professor who stepped down as a presidential candidate in 2013 to give Mr Rouhani a chance to win. Mohammad Khatami, the former president, a venerated figure among progressives, is their patron. 
Their choice for Supreme Leader is Ayatollah Ali Akbar Hashemi Rafsanjani, another of Iran's original leaders after the fall of the Shah, and a key adviser to Ayatollah Khomeini during the Iran-Iraq war.
But it is allies of the reformists in unexpected quarters who may be their salvation. Ali Larijani, the veteran Speaker of the Majlis who leads a group of around 50 conservative MPs, is likely to swing his considerable political clout to back them. Among other conservatives a well-known former MP, Ali Motahari, has officially joined the reform list.
Mr Larijani has become increasingly concerned about the hardliners. He supported President Rouhani in his search for the nuclear accord and attempt to institute economic reforms, and was castigated in return by zealots. 
Three of the most prominent hard-line leaders – Ayatollah Mohammad Yazdi, head of the Seminary Teachers of Qom; Ayatollah Mohammad Reza Kermani, chief of the Combatant Clergy Association, and Ayatollah Mesbah Yazdi, of the Endurance Front – asked Mr Larijani to join them against the common liberal enemy. He was quick to decline their invitation.
World news in pictures
World news in pictures
1/30 29 June 2016

A mother of victims reacts outside a forensic medicine building close to Istanbul's airport, a day after a suicide bombing and gun attack targetted Istanbul's airport, killing at least 36 people

AFP/Getty Images

2/30 28 June 2016

An injured woman covers her face as she is carried by paramedics into ambulance at Istanbul Ataturk airport, Turkey, following a blast. A triple suicide bombing and gun attack has killed at least 36 people, including foreigners, with Turkey's prime minister saying early signs pointed to an assault by the Islamic State group

REUTERS

3/30 28 June 2016

Caimans swim in an artificial reservoir in the San Jorge cattle ranch near the dried up Pilcomayo river, close the town of Fortin General Diaz, Paraguay. Apart from the lagoon, 18 wells have been dug to secure water sources for the reptiles

AP

4/30 28 June 2016

Women pose with guns in front of journalists in the Christian village of Qaa, where suicide bomb attacks took place, in the Bekaa valley, Lebanon

REUTERS

5/30 28 June 2016

French anti-riot police officer detain a man during a demonstration against controversial labour reforms in Paris

AFP/Getty Images

6/30 27 June 2016

Fishermen use a fire to attract fish on a traditional fishing boat in New Taipei City, Taiwan

REUTERS

7/30 27 June 2016

Members of Iraqi police forces celebrate on a street in western Fallujah, 50 kilometres (30 miles) from the Iraqi capital Baghdad, after Iraqi forces retook the embattled city from the Islamic State group

AFP/Getty Images

8/30 27 June 2016

A man pushes a tub carrying children as he gets them back home after school at a flooded area in Duchang, Jiangxi Province, China

REUTERS

9/30 26 June 2016

A LGBT member waves a rainbow flag during a rally staged by the LGBT community on Istiklal avenue in Istanbul. Riot police fired tear gas and rubber bullets to disperse protesters defying a ban on the city's Gay Pride parade. Authorities in Turkey's biggest city had banned the annual parade earlier this month citing security reasons, sparking anger from gay rights activists

AFP/Getty Images

10/30 26 June 2016

A burned out truck rests on a roadside after the Erskine Fire burned through Weldon, California

REUTERS

11/30 26 June 2016

Men flagellate during the Shiite Youm Ali procession in Islamabad, Pakistan

REUTERS

12/30 25 June 2016

A man raises his hands as he runs from the scene of a suicide bomb attack outside Nasahablood hotel in Somalia's capital Mogadishu

REUTERS

13/30 25 June 2016

A Ukrainian Forces soldier fires a heavy machine gun during a battle with pro-Russian separatists at Avdeyevka, in Ukraine's Donetsk region

AFP/Getty Images

14/30 25 June 2016

A man practices his contact juggling skills in Manila, Philippines

AFP/Getty Images

15/30 24 June 2016

A rider rears up on his horse while surrounded by a cheering crowd during the traditional Fiesta of Sant Joan (Saint John) in downtown Ciutadella, on the island of Menorca, Spain

REUTERS

16/30 24 June 2016

A man throws a bucket of water at a motorcyclist as residents join in a water-splashing frenzy to honor their patron St. John the Baptist's Feast Day in San Juan, Metro Manila, Philippines

REUTERS

17/30 23 June 2016

Migrant workers supporting Myanmar Foreign Minister and State Counselor Aung San Suu Kyi wave to her during a meeting at the coastal fishery centre of Samut Sakhon, Thailand

REUTERS

18/30 23 June 2016

A general view shows the financial district of Lujiazui in Shanghai

AFP/Getty Images

19/30 23 June 2016

A cat walks past Muslim women offering afternoon prayers at a mosque at the shrine of Sufi Saint Khawaja Naqashband during the holy month of Ramadan in Srinagar

REUTERS

20/30 23 June 2016

A test launch of ground-to-ground medium long-range ballistic rocket Hwasong-10 in North Korea

REUTERS

21/30 22 June 2016

Family members cry near coffins containing the bodies of Nepali nationals, who were killed when a suicide bomber struck a minibus in Kabul, lined up after being flown from Afghanistan at Tribhuvan International Airport in Kathmandu, Nepal

REUTERS

22/30 22 June 2016

Villagers carry banners which read "Plead the central government to help Wukan" (in red) and "Wukan villagers don't believe Lin Zuluan took bribes" during a protest in Wukan, China's Guangdong province

REUTERS

23/30 21 June 2016

A plane drops retardant on a wildfire as it attacks the flames on a hillside in the San Gabriel mountains near Monrovia, California

REUTERS

24/30 21 June 2016

Aymara indigenous hold up their hands to receive the first rays of sunlight in a New Year's ritual in the ruins of the ancient city Tiwanaku, Bolivia. Bolivia's Aymara Indians are celebrating the year 5,524 as well as the Southern Hemisphere's winter solstice, which marks the start of a new agricultural cycle

AP

25/30 21 June 2016

A resident making his way through a flooded area in a village in Poyang county, in southeast China's Jiangxi province

AFP/Getty Images

26/30 20 June 2016

Seagulls fly as the full moon rises behind the ancient marble Temple of Poseidon at Cape Sounion, southeast of Athens, on the eve of the summer solstice

AP

27/30 20 June 2016

An aerial view shows people practising yoga on a glass sightseeing platform ahead of the International Day of Yoga, on the outskirts of Beijing, China

REUTERS

28/30 20 June 2016

Dessana indigenous shaman Raimundo Dessana holds the Olympic Torch during a ritual at the Tupe Reservation in the outskirts of Manaus, Amazonas, Brazi

AFP/Getty Images

29/30 20 June 2016

An emu runs to escape an approaching wildfire as it burns near Potrero, California

REUTERS

30/30 20 June 2016

Wales' supporters cheer downtown Toulouse, before the Euro 2016 football match of Russia vs Wales

AFP/Getty Images
The decision to bar Hassan Khomeini caused regrets among some in the religious centre of Qom. "He is known as a moderate person, handsome, charismatic, articulate and open minded," said Fazel Meyboudi, a cleric. "He will come back strong for the next elections, he has eight more years to be popular." 
The Guardian Council has maintained that Mr Khomeini's disqualification was unconnected with politics, but that he was simply too inexperienced to become an Expert. "Let's face it, he is just a kid," said Hamidreza Taraghi, an analyst close to the clerical traditionalists. Most of the Council's 88 members are more than 80.
Reformists believe that if only half those who voted for Mr Rouhani when he ran for the presidency back the alliance of liberals and conservatives, three of Iran's most hard-line leaders will be thwarted in their own election attempts.
"Some politicians described as conservatives are not really conservatives in many issues so they can support reform," Kazem Jalali, an experienced MP, pointed out. "The situation is complex."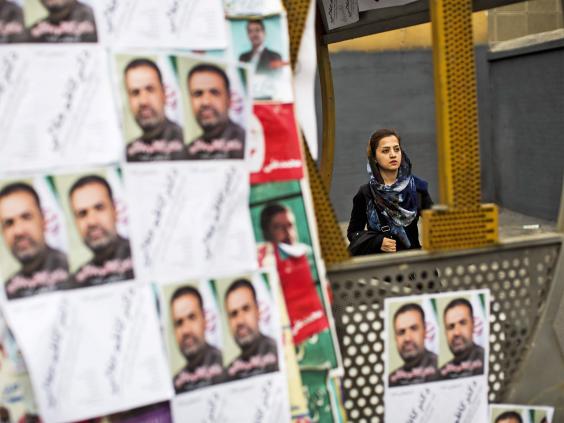 It is not always easy to place politicians in the mosaic of Iranian politics and religion. Former MP Mr Motahari had been a critic of the establishment and the security apparatus. He has since taken up the case of Sattar Beheshti, a blogger who died in police custody, and has declared that civil rights must continue to advance.
"The first step was the 2013 presidential elections, and the next step would be the Parliamentary elections," he has said. All this has burnished his new liberal credentials.
Yet Mr Motahari is also fiercely involved in another campaign – against women wearing leggings in public. Iran's interior minister, Abdolreza Rahmani Fazli, was summoned to Parliament for failing to clamp down on the fashionable garment. MPs peered at photographs of women wearing leggings. Mr Fazli protested that this was not proof that hijab laws were being widely flouted – but he was censured just the same.
Women's representation remains woefully low in Parliament; only 49 have served there since 1979. President Rouhani has talked of empowering women in politics but has done little to turn this into reality. A campaign was launched last autumn to raise the number of female MPs from the current nine to 30 per cent, but activists hold out little hope.
Young women as well as young men believe that, for now, the main problem they face is the lack of jobs. "The building block must be the economy which is in a terrible state," said Mohammad, a 26 year old student of English at Tehran University. "International sanctions have been damaging on both psychological and economic levels. But our politicians have also really mismanaged the economy. Ahmadinejad was the one guilty, Rouhani is trying to sort out the mess."
The students were also united in their fervent belief that the reformists will win   in the end. "OK, so they have unfairly dismissed many candidates," said Navid, a philosophy student. "But the secret is people turning up to vote. If enough people do that, reform will win. We are talking to people, telling them they will really regret it if they let this opportunity slip away."