Street rallies are banned, as are loudspeakers. Iran's first parliamentary election campaign since the nuclear deal with the West began as an understated affair.
But in the final days before voting on 26 February, the campaign has suddenly gathered pace. Posters, in vivid array, have appeared almost overnight on walls around Tehran. The number of campaign meetings has surged. Iran's voters are acutely aware of the huge importance of what is about to take place.
The results of the election will be crucial not only for the 77 million people of Iran, but for the wider international community as well. A good showing by the liberals will bolster the government of President Hassan Rouhani, which signed last year's historic nuclear agreement with world powers, and help its drive to bring the country in from the cold.
A victory for the hardliners, on the other hand, could mean a slide back into confrontation with world powers, the possibility of the nuclear agreement unravelling, and the return of the sanctions which for so long crippled Iran's economy. 
Yasmine, 23, an art student at Tehran University, said: "Foreign investment is coming in and this is the ideal opportunity to have a modern parliament which can make the right decisions to take advantage.
"We have been through very difficult times and we, the young people, want a better future. We think these elections could be the start. As young Iranians we want to be able to enjoy our full rights, without being afraid."  
The elections on 26 February are not only for Iran's parliament, the Majlis, but also the Assembly of Experts, the body of clerics who from time to time elect the country's Supreme Leader. Grand Ayatollah Ali Khamenei is now 76 and apparently ailing, so that the Experts, themselves elected for eight years, are likely to choose Iran's next ultimate holder of power.
There are fears that the result has already been fixed: the country's Guardian Council, which vets all candidates, has refused to allow thousands of reformists to run. Among them was Hassan Khomeini, who had been thought to be untouchable as the grandson of Ruhollah Khomeini, the founder of the Islamic Republic. The cleric, 43, who likes to send theological, political and social messages via Instagram, has just lost his appeal against disqualification.
But the reformists are not about to give up. They are not going to boycott the polls, as was initially proposed by a disillusioned few; such abstention by some in 2013 merely enabled Mahmoud Ahmadinejad, the hardline former president and bitter foe of liberalism, to consolidate his power. They have, instead, mobilised. 
Hundreds packed into a hall in central Tehran in one rally to show their support of a reformist coalition. The mood was one of defiance; the word "reform" in every chant, every cry, a demonstration of the insistent thirst for change. "Viva reform", "You cannot kill reform", "Reform will be the winner", they roared out.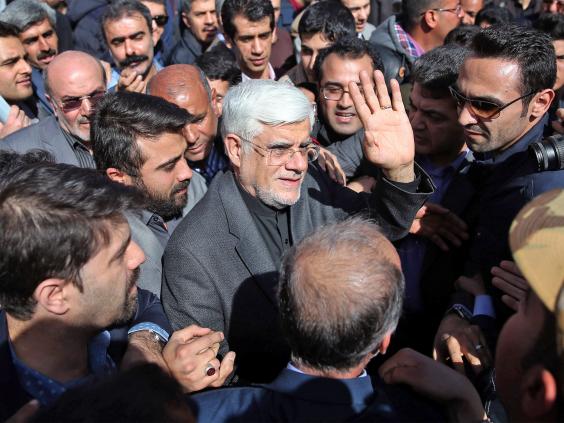 The liberal movement's leader for the parliamentary vote is Mohammad Reza Aref, a university professor who stepped down as a presidential candidate in 2013 to give Mr Rouhani a chance to win. Mohammad Khatami, the former president, a venerated figure among progressives, is their patron. 
Their choice for Supreme Leader is Ayatollah Ali Akbar Hashemi Rafsanjani, another of Iran's original leaders after the fall of the Shah, and a key adviser to Ayatollah Khomeini during the Iran-Iraq war.
But it is allies of the reformists in unexpected quarters who may be their salvation. Ali Larijani, the veteran Speaker of the Majlis who leads a group of around 50 conservative MPs, is likely to swing his considerable political clout to back them. Among other conservatives a well-known former MP, Ali Motahari, has officially joined the reform list.
Mr Larijani has become increasingly concerned about the hardliners. He supported President Rouhani in his search for the nuclear accord and attempt to institute economic reforms, and was castigated in return by zealots. 
Three of the most prominent hard-line leaders – Ayatollah Mohammad Yazdi, head of the Seminary Teachers of Qom; Ayatollah Mohammad Reza Kermani, chief of the Combatant Clergy Association, and Ayatollah Mesbah Yazdi, of the Endurance Front – asked Mr Larijani to join them against the common liberal enemy. He was quick to decline their invitation.
World news in pictures
World news in pictures
1/30 29 August 2016

A child holds a placard reading "Open the border" during a demonstration in support to refugees and migrants in front of Athens municipality building

AFP/Getty Images

2/30 29 August 2016

Police fire tear gas grenades at supporters of suspendend president Dilma Rousseff holding a demonstration during her impeachment trial in Sao Paulo, Brazil

AFP/Getty Images

3/30 29 August 2016

A rescue boat of the Spanish NGO Proactiva approaches an overcrowded wooden vessel with migrants from Eritrea, off the Libyan coast in Mediterranean Sea

REUTERS

4/30 29 August 2016

Indian troopers use shields to protect themselves during a clash with Kashmiri protesters in Srinagar. Authorities lifted a curfew in Indian-administered Kashmir after 52 days of lock down amid deadly violence, but street clashes broke out again between protesters and security forces

AFP/Getty Images

5/30 29 August 2016

A farmer checks hot peppers laid out on a road to dry under the sun before selling them to factories producing pepper products in Kilis province, Turkey

REUTERS

6/30 29 August 2016

Heavy rain clouds move over the central business district in Bangkok

AFP/Getty Images

7/30 28 August 2016

Dead wild reindeer are seen on Hardangervidda in Norway, after lightning struck the central mountain plateau and killed more than 300 of them

REUTERS

8/30 17 August 2016

Indonesian students play traditional drums called "Dol" from Bengkulu province as they participate in the Indonesian Independence day ceremony in Jakarta

AFP/Getty Images

9/30 17 August 2016

A woman attempts to cover a tear gas canister fired by police at a crowd in Srinagar protesting against the recent killings in Kashmir

REUTERS

10/30 17 August 2016

Participants struggle to reach the prizes on the top of greasy slippery poles in Jakarta, as part of Indonesia's celebrations to mark its 71st independent day anniversary

AFP/Getty Images

11/30 16 August 2016

An air tanker drops fire retardant on the Blue Cut wildfire in Lytle Creek, California. The fire is currently 9,000 plus acres, with 700 personnel on scene. Fifty-seven engines, 8 crews, 8 air tankers, 2 Very Large Air Tankers (VLATS), with additional firefighters and equipment on order

AFP/Getty Images

12/30 16 August 2016

Free Syrian army fighters stand atop of a hill as the moon is seen in the background in the south of Nawa city, in Deraa Governorate, Syria

REUTERS

13/30 16 August 2016

A Palestinian youth is being evacuated after he was wounded during clashes with Israeli soldiers conducting searches in the Palestinian al-Fawwar refugee camp, south of the West Bank city of Hebron

AFP/Getty Images

14/30 16 August 2016

AFP/Getty Images

15/30 16 August 2016

Mine workers sing as they wait for the commemoration to get under way near Marikana in Rustenburg, South Africa. On 16 August 2012 police shot and killed 34 Lonmin striking miners, apparently while trying to disperse them and end their strike. Ten people, including two police officers and two Lonmin security guards, were killed in the preceding week

AP

16/30 16 August 2016

People look at a crater caused by a Saudi-led coalition air strike at the yard of a hospital operated by Medecins Sans Frontieres in the Abs district of Hajja province, Yemen

REUTERS

17/30 15 August 2016

People cool off at a swimming pool in Daying county, China

REUTERS

18/30 15 August 2016

Turkish soldiers from a military guard of honor carry coffins during a mass burial ceremony for Turkish Cypriots who went missing in 1974 and whose remains have been found by the Committee on missing people in Cyprus (CMP), at a cemetery in the village of Tashkent (Vouno) in the self-declared Turkish Republic of Northern Cyprus. More than 30 Turkish Cypriots, who had disappeared in Tochni near the coastal southern city of Limassol in August 1974 and were found in 2014 in a mass grave in the village, were buried during the ceremony

AFP/Getty Images

19/30 15 August 2016

Indian paramilitary soldiers hug each other as they react to the news of killing of two suspected rebels in a gun-battle in the Nowhatta neighborhood of Srinagar, Indian controlled Kashmir. Suspected separatist rebels and government troops were engaged in two gun battles in Indian-controlled Kashmir despite a complete security lockdown in the disputed region as India celebrated its independence from British rule

AP

20/30 14 August 2016

A spectator poses ahead of the Women's Marathon during the athletics event at the Rio 2016 Olympic Games at Sambodromo in Rio de Janeiro

AFP/Getty Images

21/30 14 August 2016

Family members of Sylville Smith gather where he was shot and killed by police in Milwaukee. Police say a black man whose killing touched off arson and rock-throwing, was shot by a black officer after turning toward him with a gun in his hand

AP

22/30 14 August 2016

Men carry a dog, wearing a costume and seated on a stool, as a form of respect as they believe that dogs found water for their ancestors, during a local festival for the Miao ethnic minority in Jianhe county, Guizhou Province, China

REUTERS

23/30 14 August 2016

A truck burns in the town of Lower Lake, California. A wildfire destroyed at least four homes and forced thousands of people in two Northern California towns to flee as flames jumped a road and moved into populated areas

AP

24/30 14 August 2016

Kurdish Peshmerga forces fire a rocket toward Islamic State militants on the southeast of Mosul , Iraq

REUTERS

25/30 14 August 2016

An armed boy walks as he attends a gathering held by tribesmen loyal to the Houthi movement to show support to a political council formed by the movement and the General People's Congress party to unilaterally rule Yemen by both groups in Sanaa

REUTERS

26/30 13 August 2016

A jockey takes part in a traditional cattle race or "Pacu Jawi", to mark the end of the rice harvest in Tanah Datar, West Sumatra, Indonesia

REUTERS

27/30 13 August 2016

Rescue workers carry a survivor on a stretcher, after he was extracted from a collapsed wall in an informal settler house, just beside the city jail building in Manila

AFP/Getty Images

28/30 13 August 2016

Revellers take part in the Monsoon Holi Madrid festival in Madrid, Spain

REUTERS

29/30 13 August 2016

Revellers chat on Havana's Malecon seafront before performing at a carnival parade, Cuba

REUTERS

30/30 13 August 2016

A man fights against the active front of a forest fire near Arouca, Portugal

REUTERS
The decision to bar Hassan Khomeini caused regrets among some in the religious centre of Qom. "He is known as a moderate person, handsome, charismatic, articulate and open minded," said Fazel Meyboudi, a cleric. "He will come back strong for the next elections, he has eight more years to be popular." 
The Guardian Council has maintained that Mr Khomeini's disqualification was unconnected with politics, but that he was simply too inexperienced to become an Expert. "Let's face it, he is just a kid," said Hamidreza Taraghi, an analyst close to the clerical traditionalists. Most of the Council's 88 members are more than 80.
Reformists believe that if only half those who voted for Mr Rouhani when he ran for the presidency back the alliance of liberals and conservatives, three of Iran's most hard-line leaders will be thwarted in their own election attempts.
"Some politicians described as conservatives are not really conservatives in many issues so they can support reform," Kazem Jalali, an experienced MP, pointed out. "The situation is complex."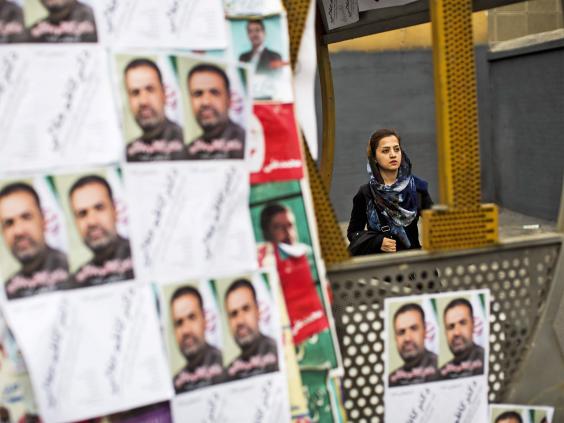 It is not always easy to place politicians in the mosaic of Iranian politics and religion. Former MP Mr Motahari had been a critic of the establishment and the security apparatus. He has since taken up the case of Sattar Beheshti, a blogger who died in police custody, and has declared that civil rights must continue to advance.
"The first step was the 2013 presidential elections, and the next step would be the Parliamentary elections," he has said. All this has burnished his new liberal credentials.
Yet Mr Motahari is also fiercely involved in another campaign – against women wearing leggings in public. Iran's interior minister, Abdolreza Rahmani Fazli, was summoned to Parliament for failing to clamp down on the fashionable garment. MPs peered at photographs of women wearing leggings. Mr Fazli protested that this was not proof that hijab laws were being widely flouted – but he was censured just the same.
Women's representation remains woefully low in Parliament; only 49 have served there since 1979. President Rouhani has talked of empowering women in politics but has done little to turn this into reality. A campaign was launched last autumn to raise the number of female MPs from the current nine to 30 per cent, but activists hold out little hope.
Young women as well as young men believe that, for now, the main problem they face is the lack of jobs. "The building block must be the economy which is in a terrible state," said Mohammad, a 26 year old student of English at Tehran University. "International sanctions have been damaging on both psychological and economic levels. But our politicians have also really mismanaged the economy. Ahmadinejad was the one guilty, Rouhani is trying to sort out the mess."
The students were also united in their fervent belief that the reformists will win   in the end. "OK, so they have unfairly dismissed many candidates," said Navid, a philosophy student. "But the secret is people turning up to vote. If enough people do that, reform will win. We are talking to people, telling them they will really regret it if they let this opportunity slip away."
Reuse content