Iraq's security forces destroyed entire villages and displaced thousands of Sunni residents after pushing back Isis's advance in the besieged town of Amerli, a human rights group has claimed.
Militias, volunteer fighters, and Iraqi security forces forced Isis militants to retreat from Amerli, in northern Iraq, in September, where at least 12,000 people had been trapped for almost three months.
A report by Human Rights Watch (HRW) says it found evidence that militias ransacked properties belonging to civilians living in the predominately Sunni villages around the town who had fled the fighting before burning their homes and businesses to the ground.
Its 31-page report referenced field visits, analysis of satellite imagery, interviews with victims and photos of the "campaign of destruction" allegedly carried out by government forces after the militant group was driven out.
In pictures: Fight for Tikrit
In pictures: Fight for Tikrit
1/16 Fight for Tikrit

Shiite fighters pose in front of a mural depicting the emblem of the Islamic State group outside one of the presidential palaces in Tikrit, on April 1, 2015

Getty Images

2/16 Fight for Tikrit

Iraqi Prime Minister Haider al-Abadi tours the city of Tikrit after it was retaken by the security forces in Baghdad, Iraq, on April 1 2015

AP

3/16 Fight for Tikrit

An Iraqi flag waves over the Tigris River om April 1 2015

AP

4/16 Fight for Tikrit

Iraqi security forces playing football in Tikrit after their country declared a 'magnificent victory' over the Islamic State group in the city on April 1 2015

Reuters

5/16 Fight for Tikrit

A member of the security forces holds Iraq's national flag in front of a painted Isis emblem

Getty Images

6/16 Fight for Tikrit

Iraqi security forces arrest a member of the Islamic State in Tikrit on April 1, 2015

Reuters

7/16 Fight for Tikrit

A member from the Iraqi security forces beats an Isis insurgent, who was captured in Tikrit

Reuters

8/16 Fight for Tikrit

Shiite fighters from the Popular Mobilisation units celebrate in front of the the provincial council building inside the northern Iraqi city of Tikrit on March 31, 2015

Getty Images

9/16 Fight for Tikrit

Iraqi soldiers stand on a damaged tank during fighting against IS militants near Tikrit

Corbis

10/16 Fight for Tikrit

Fighters of Iraqi Shiite militias who volunteered to support the Iraqi forces make their way towards Daquq town near Tikrit

Corbis

11/16 Fight for Tikrit

Iraqi security forces and Shia fighters chant slogans as they gather at Udhaim dam, north of Baghdad, where they have been massing in preparation for an attack on Isis along the Tigris River

Reuters

12/16 Fight for Tikrit

Pro-government volunteer Shia fighters in Awaynat near Tikrit

AFP/Getty

13/16 Fight for Tikrit

Iraqi government forces and allied militias firing weaponry from a position in the northern part of Diyala

AFP

14/16 Fight for Tikrit

A volunteer in the Iraqi Shiite Badr Army militia taking up position outside Tikrit

Corbis

15/16 Fight for Tikrit

Volunteers of the Iraqi Shiite Badr Army militia patrol an area at eastern Tikrit city

Corbis

16/16 Fight for Tikrit

Members of the Iraqi security forces coming from the city of Samarra drive towards al-Dawr south of Tikrit to launch an assault against the Islamic State

AFP/Getty
Militias destroyed at least two entire villages, "violating the laws of war", according to the report.
It said when considered together, all of the evidence appeared to suggest that the alleged attacks were either undertaken as a combination of revenge attacks against civilians believed to have collaborated with Isis or as "collective punishment" against Sunnis and other minorities on the basis of their sect.
HRW is now urging the Iraqi Government to "rein in" militias, while calling on the coalition of countries leading bombing campaigns against Isis to ensure operations are not paving the way for such abuses to be carried out.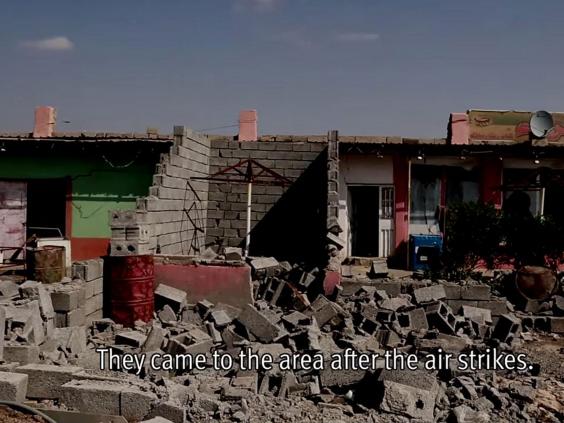 Witnesses told HRW that Shia militias returned to the villages around Amerli the day after Isis was defeated and began destroying homes and businesses.
One witnesses said: "From what I saw, they used fire [to burn houses] but we also heard explosions. We thought it was bombs that [Isis] had left behind, but 10 days ago when we [came] back, we saw that houses had been blown up with explosives."
A Peshmerga officer told HRW that some houses and shops survived US-led coalition air strikes against Isis but were later demolished by Shia militias.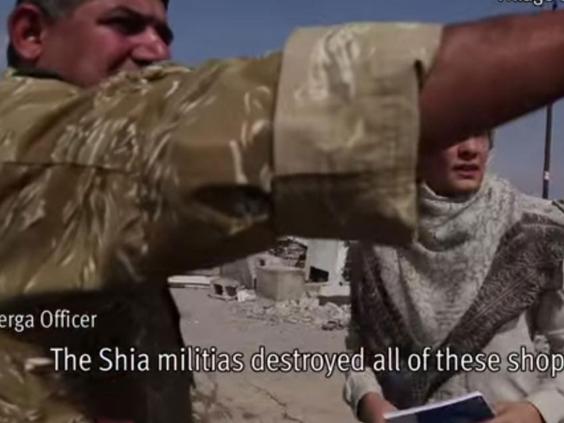 HRW conducted field visits to villages in October, seven weeks after the siege had ended, where it found some homes were still burning and others were showing signs of arson. Some buildings had sectarian slogans sprayed across them.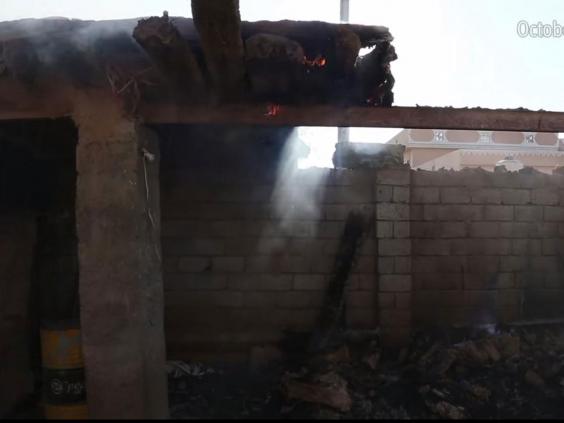 The group claims its analysis of satellite images produced evidence of a "systematic and sustained campaign of arson and demolition" in villages, which it says continued for over two months after the siege was broken.
"Iraq clearly faces serious threats in its conflict with Isis, but the abuses committed by forces fighting Isis are so rampant and egregious that they are threatening Iraq long term," said Joe Stork, HRW's deputy Middle East and North Africa Director. "Iraqis are caught between the horrors Isis commits and abusive behaviour by militias, and ordinary Iraqis are paying the price."
In a letter responding to HRW's allegations, the office of the Iraqi premier Haidar al-Abadi acknowledged that there were "individual lapses unconnected to government conduct".
It conceded that there were arrests in some of these individual cases, but claimed the alleged victims did not appear before the court to testify, meaning prosecutions could not go forward.
It said alleged abuses attributed to Hashd al-Shaabi (Popular Mobilization) forces were committed by Isis fighters.
Reuse content