The Australian Foreign Minister has expressed her belief that Isis is capable of building chemical weapons, in a speech to an anti-chemical weapons group.
Julie Bishop, who has been Minister for Foreign Affairs since 2013, made the comments while speaking to a meeting of the Australia Group, an informal international forum that focuses on stopping the export and development of chemical and biological weapons. 
At Friday's meeting in Perth, Western Australia, she said: "Apart from some crude and small scale endeavours, the conventional wisdom has been that the terrorist intention to acquire and weaponise chemical agents has been largely aspirational."
She continued: "The use of chlorine by Daesh [the Arabic term for Isis], and its recruitment of highly technically trained professionals, including from the west, have revealed far more serious efforts in chemical weapons development."
30th Australia Group meeting in Perth - my speech on nonproliferation of WMD: http://t.co/plV7Sa9rDm

— Julie Bishop (@JulieBishopMP) June 6, 2015
"Daesh is likely to have amongst its tens of thousands of recruits the technical expertise necessary to further refine precursor materials and build chemical weapons."
Multiple reports from the area where the battle with Isis is currently raging have suggested that the group has already used chemical weapons, although in a more limited way than the scenario that Julie Bishop described.
Ancient monuments under Isis threat
Ancient monuments under Isis threat
1/8 Isis seizes Palmyra

The ancient oasis city of Palmyra

Getty

2/8 Isis seizes Palmyra

A partial view of the ancient ruins

Getty

3/8 Isis seizes Palmyra

The ancient Palmyra theater

Reuters

4/8 Isis seizes Palmyra

A view of the ancient Syrian city of Palmyra

Getty

5/8 Isis seizes Palmyra

The Temple of Bel

Reuters

6/8 Isis seizes Palmyra

Palmyra's famous graves

AP

7/8 Isis seizes Palmyra

The ancient castle

Getty

8/8 Isis seizes Palmyra

A sculpture depicting a rich family from the ancient Syrian oasis city of Palmyra, displayed at the city's museum

Getty
Kurdish authorities said in March that Isis had used chlorine gas against Peshmerga fighters. A Kurdish official told the Associated Press that dozens of fighters had experienced "dizziness, nausea, vomiting and general weakness" after being exposed to gas.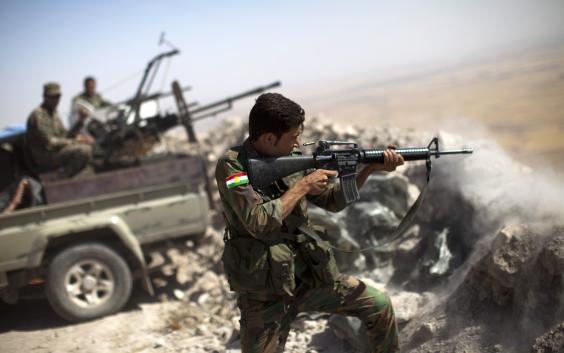 They said that chemical analysis of clothing and soil near the area where a truck apparently laden with gas canisters was destroyed showed that chlorine gas was present.
The majority of nations are signatories to the 1993 Chemical Weapons Convention (CWC), which outlaws the use, development and stockpiling of chemical weapons.
The UK ended its chemical weapons programme in the 1950s. The USA still has some chemical weapons, but is a signatory to the CWC, and is underway with the long process of destroying its once-extensive stockpiles.